Inside Tom Cruise's Relationship With Hayley Atwell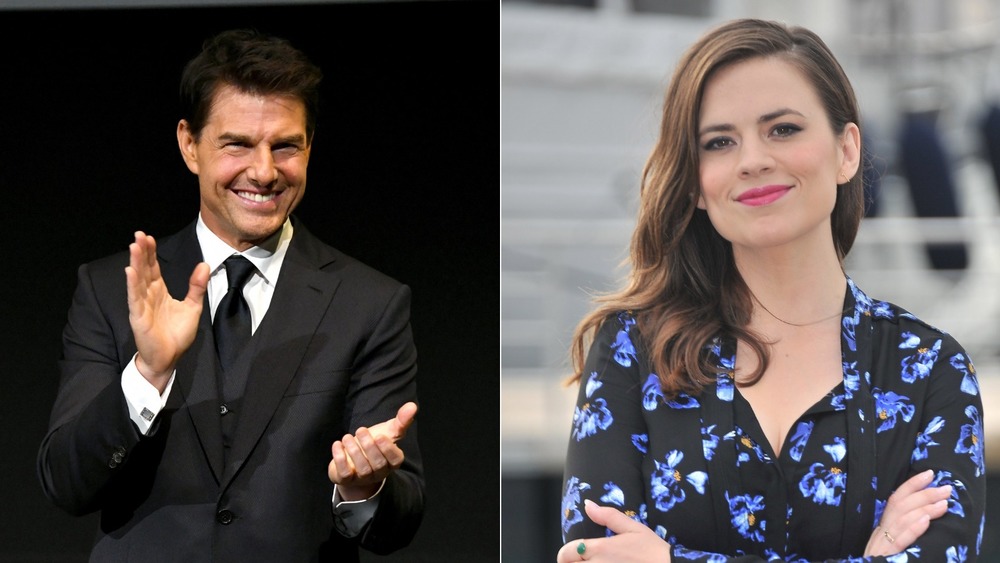 Michael Kovac, Eric Catarina/Getty Images
Vulture may be calling news of Tom Cruise's relationship with British actress Hayley Atwell (i.e. Peggy Carter in Avengers: Endgame) a "brazen attempt by Cruise's publicist" to divert attention from his apparent outbursts on the Mission Impossible 7 set. But, we'd be lying if we told you we weren't in the mood for some holiday season romance. Cruise and Atwell, who have been hanging out together in Rome, Venice, Britain, and Norway, including in handcuffs (steamy), while filming Mission Impossible 7, are now, apparently, an item (via Daily Mail and Metro).  
Atwell, per The Sun, is 38, which makes her about four years younger than Katie Holmes, Cruise's last serious partner, and a good 20 years younger than the action star, himself. (For what it's worth, there's a 17-year age gap between George and Amal Clooney, and they seem to be doing just fine.) We wish all the best for Atwell and Cruise, because if IMDb is right, Atwell's also filming Mission Impossible 8 with Cruise, and heaven forbid future relationship drama cause hiccups during filming. 
Everything we know about Tom Cruise and Hayley Atwell's relationship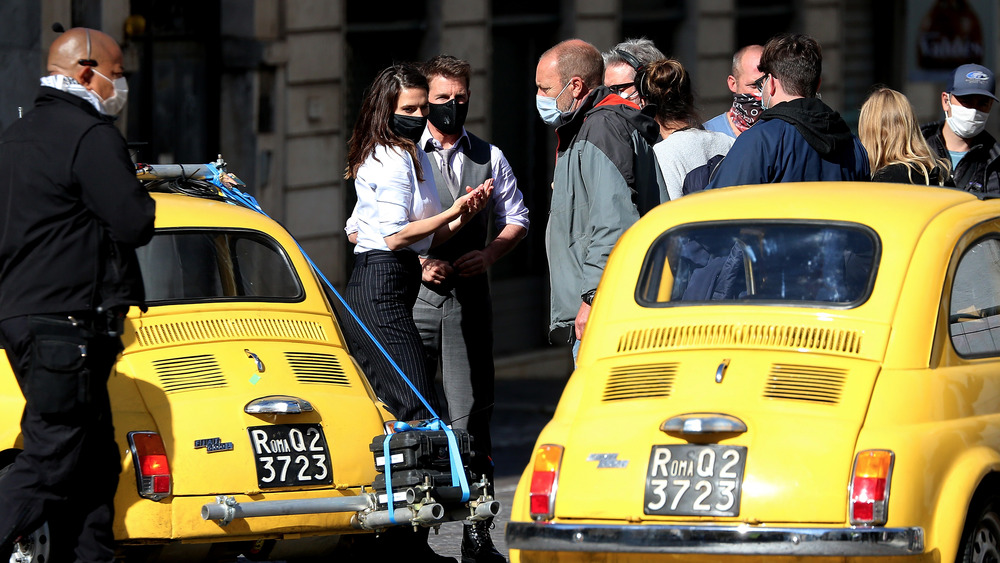 Ernesto Ruscio/Getty Images
To the best of our knowledge, neither Cruise nor Atwell has publicly spoken about their relationship, yet. (The closest they've come to admitting it is hand-holding in London and in Rome. But a mysterious inside source has told The Sun, "Lockdown, and all the difficulties that came with it, brought them even closer and they've become fairly inseparable." The source added that Cruise and Atwell have "been meeting up after hours," (racy) and that Atwell has "been to [Cruise's] London pad" (oh my!). "They get on brilliantly, and both seem very happy," the source concluded.
It's not the first time that Cruise and Atwell have rubbed shoulders. Back in 2011 the actress apparently auditioned as the female lead for a project that would become Tom Cruise's Jack Reacher, a thriller based on Lee Child's book, One Shot (via The Hollywood Reporter). Rosamund Pike got the role instead. (Incidentally, Pike told  Entertainment Weekly that the movie was "a chance to see, to be so thoroughly impressed with, Tom Cruise and all that he is.") Of course, Tom Cruise was still married to Katie Holmes at the time, so it seems unlikely that anything would have come of it had Atwell clinched the roll in Jack Reacher instead of Pike.