What To Know About Arnold Schwarzenegger's Girlfriend Heather Milligan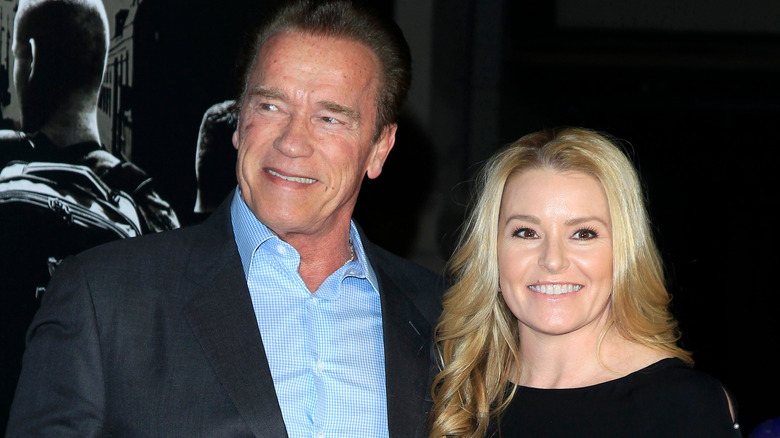 Kathy Hutchins/Shutterstock
After his divorce from author and journalist Maria Shriver in 2011, Arnold Schwarzenegger eventually found love again with Heather Milligan, a physical therapist and former athlete. During a May 2023 interview with The Hollywood Reporter, Schwarzenegger explained that while it took a while, he has completely moved on from his 25-year marriage and is in a good place these days. "I have a wonderful girlfriend, Heather Milligan, who is very successful," the actor gushed about his new partner to the outlet, adding that he's "really proud of her, and I love her." 
There's a 27-year age gap between the couple, but it doesn't seem to get in the way of their romance. Schwarzenegger and Milligan were first spotted enjoying a few romantic outings in Santa Monica, California, in 2013, and they appear to have been happily linked for more than a decade now. When Milligan isn't busy running her own booming physical therapy business, she enjoys hitting the red carpet with Schwarzenegger and spending quality time with her boyfriend as well as his children and his animals. 
She has her own physical therapy practice
In 2013, Heather Milligan founded her physical therapy company, Elite Orthosport. According to the company's website, Milligan has more than 20 years of experience in the field and holds a degree in physical therapy as well as a Master's in business administration from the University of Nevada Las Vegas. She also "maintains three highly regarded certifications, placing her in an elite class of physical therapists in the country." The company's services include physical and manual therapy, wellness and bodywork, sports performance, pre -and post-surgery care, and more. 
Before she founded Elite Orthosport, Milligan was also a competitive gymnast for 20 years. She's worked with athletes "of all ages and competition levels including professional boxing, MMA, NFL, NBA, MLB, tennis, figure skating, volleyball, soccer, track, gymnastics, and a variety of recreational athletes." In an October 2021 Instagram post, Milligan gave some insight into her physical therapy philosophy. "The art of teaching is the art of assisting discovery," she captioned a photo of her working with a client. A few months earlier, she shared a snapshot of her working with UFC star Conor McGregor. According to the post, Milligan helped him heal from a torn ACL in 2013, and they've worked together since.
She's super in love with Arnold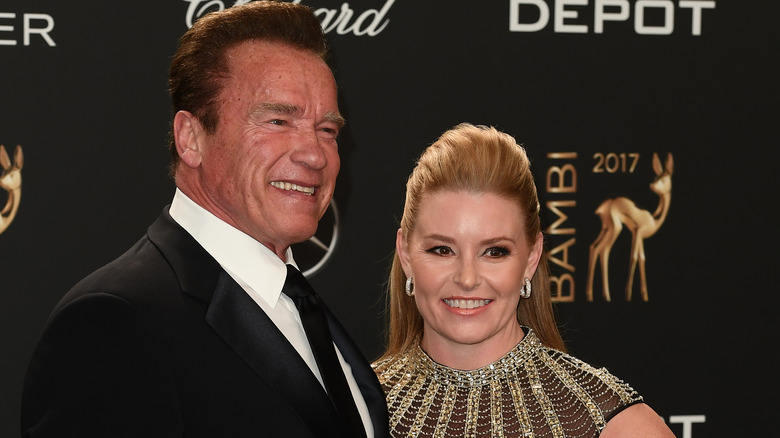 Matthias Nareyek/Getty Images
It's evident that Heather Milligan adores her Hollywood icon boyfriend, Arnold Schwarzenegger, and is serious about their relationship. The two have shared a variety of sweet dates both at Hollywood events and outside of them. They've shown off their love on red carpets at the 2014 Environmental Media Awards, the 2015 Goldene Kamera reception, and the 2017 GQ Men of the Year Awards. In June 2023, the couple enjoyed a bike ride together through a residential area in Venice Beach, California. Over the years, they've also attended multiple Oktoberfest festivities together.
The physical therapist has a special bond with several of the former California governor's family members as well, including his donkey, Lulu, and his pony, Whiskey. She posted a photo of herself smiling and posing with Arnold's pets in April 2021 and has shared lots of other Lulu and Whiskey social media content, too. In 2018, Heather had breakfast with Arnold's daughter, Katherine Schwarzenegger, and Chris Pratt, Katherine's now-husband. According to People, their table seemed like a "lively bunch." Heather, Arnold, and two of his sons, Patrick Schwarzenegger and Christopher Schwarzenegger, celebrated Oktoberfest together in September 2022, per The Daily Mail.