Why Mila Kunis Refuses To Join Social Media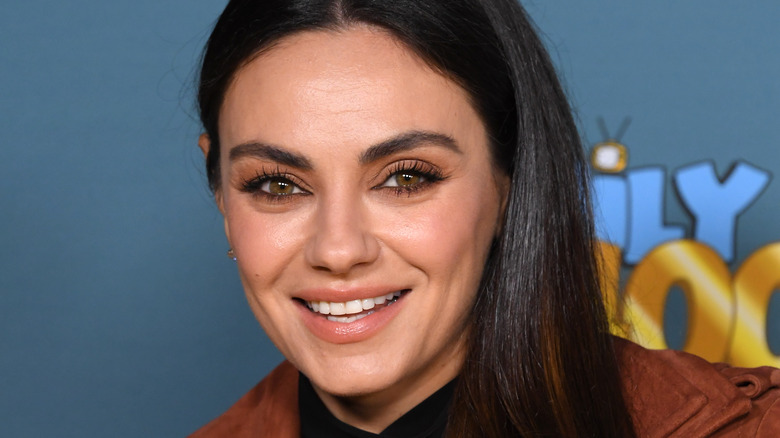 Steve Granitz/Getty Images
If you weren't around in the late '90s or early-aughts, Mila Kunis got into acting much earlier than you probably thought. Many of us have watched her grow from the resident teenage beauty queen on "That '70s Show" to a super down-to-earth mom, parenting her two children with former castmate Ashton Kutcher. And, as an #honestmom, Kunis isn't afraid to tell people exactly why she isn't on one of the biggest obsessions of the 21st century — social media.
Kunis admitted to Cosmopolitan that she was really late to the game. However, she did dabble in it for a while, "But it took an ugly turn and became all about who can be the loudest, who can be the angriest and the most negative. Then it's just not a fun game to play." The "Black Swan" star dislikes reading anything about herself on or off social media platforms as it is. 
Kunis continued, "I genuinely don't know what's written about me ... other than I know that I'm pregnant about once a year and my husband and I are getting a divorce once a year. I know this because I go down the grocery store aisle, and I see it on the cover of magazines and I'm like, 'Oh boy, okay!'" We can't blame her for wanting to protect her sanity, peace, and privacy.
Mila Kunis occasionally still makes her way onto social media
Mila Kunis doesn't want to know what people are saying about her, and she also doesn't think she has anything to say to others on social media either. The actor divulged on "The Late Show with Craig Ferguson," "I just don't think people need to know when I'm going to the restroom. What am I gonna tweet? Like, 'Hey now I'm moving from room to room.' I don't really know what I would tweet." 
While appearing on "The Kelly Clarkson Show," Kunis compared social media posts to a filtered version of what someone is really experiencing internally. She further acknowledged, had she had social media back in the day, "I would've been canceled. Me being who I am would've gotten me in trouble." Kuns was referring to her younger self and what she used to think was smart or cool in high school.
Even though the "That '70s Show" star has sworn off Facebook, Twitter, and Instagram, her husband, Ashton Kutcher, hasn't. While chatting to Cosmopolitan, Kunis noted that Kutcher "used to be incredibly forward-thinking with social media, when the intent was to connect to people." Though the nature of the beast has changed, Kutcher is still on several platforms and posts photos of his wife from time to time. 
Will Kunis's kids follow in her anti-social media footsteps?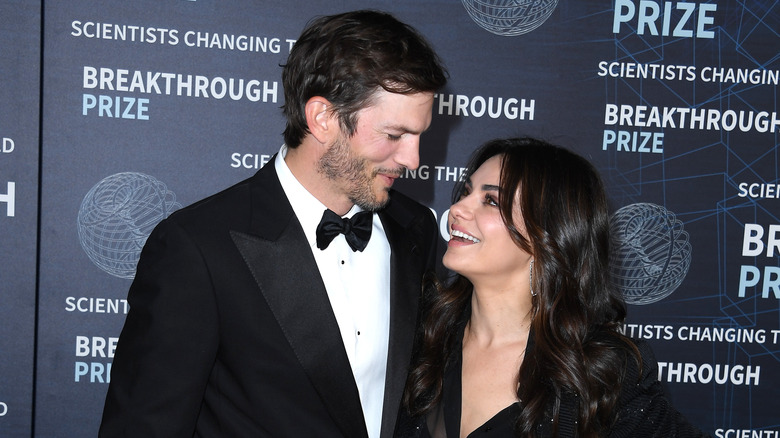 Steve Granitz/Getty Images
Ashton Kutcher also hasn't lost his future mindset, becoming a thriving tech investor over the past decade. Nevertheless, he and Kunis seem to be on the same page about whether or not their kids, daughter Wyatt Isabelle and son Dmitri Portwood, will be on social media. The Kunis-Kutcher children are just approaching the age where many jump onto social media, but both parents are likely telling them "not so fast."
We've found out plenty through their honest parenting confessions but otherwise, neither actor posts photos of their children online or shares much publicly about them. Instead, they have a private social channel exclusively for close relatives like grandparents where they can post updates and photos. In an interview with "American Optimist," Kutcher spoke about his approach to social media and his children. 
"If the trend line continues on the path that it's on today, my kids will not be on social media. If the trend line pivots, as I think it likely will, there's a chance that I will allow them to use it," he said. As Kunis informed Kelly Clarkson, she tells her kids, "'No decision in life is permanent, except for the ones on the internet.'" If Kunis and Kutcher have anything to say about it, we probably won't see Wyatt or Dmitri on Insta anytime soon.