GH's Tyler Christopher Opens Up About His Guardianship Battle That Ignited A Family Feud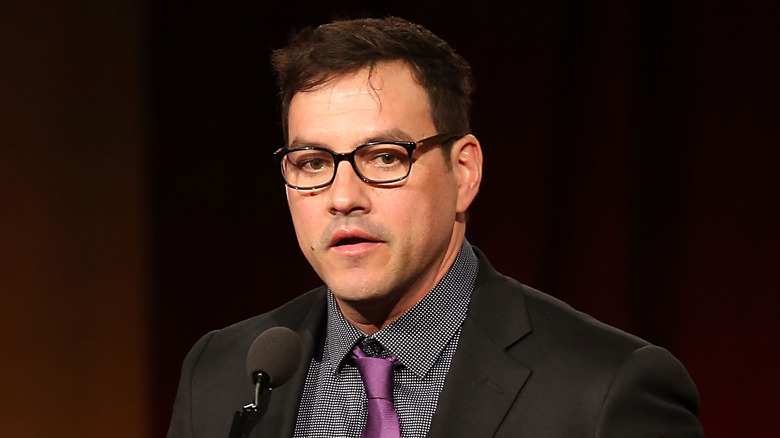 Joe Scarnici/Getty Images
In a bizarre turn of events, it would seem that a current "General Hospital" storyline is eerily similar to the real life struggles of former star, Tyler Christopher (ex-Nikolas Cassadine). Presently, after several public breakdowns, Sasha Gilmore (Sofia Mattsson) was put under conservatorship and appointed a guardian to manage her life and finances in the form of her mother-in-law, Gladys Corbin (Bonnie Burroughs). However, Gladys has fallen into gambling debt with mob boss Selina Wu (Lydia Look) and is stealing Sasha's funds to pay it off. Christopher ran into a similar issue when his sister was appointed as his conservator in January 2020, after his alcoholism caused him to not only lose his jobs at "GH" and then "Days of Our Lives," but also to have brain surgery after he fell and hit his head.
Christopher would eventually give fellow soap star Maurice Benard (Sonny, "GH") his harrowing account of reaching rock bottom on the YouTube series, "State of Mind." He explained in graphic detail what he had gone through and lamented the loss of his soap roles, stating, "it was devastating for a myriad of reasons. One, the thing that I love the most was taken away. Two, I threw it away. Nobody took it away from me. I dropped it, okay?"
The actor didn't work between 2019 and 2022 because of his life's turmoil and his own conservatorship, which hadn't been reported very widely, and the drama continues to roll on.
Christopher claims his guardian misappropriated his money
In 2020, as Tyler Christopher was recuperating from brain surgery, Susan Asmo Baker filed for emergency guardianship of her brother and was successful. This meant that Baker completely controlled almost every aspect of Christopher's life, and unfortunately, a guardian's actions are rarely monitored. "I didn't know what I was getting myself into and I didn't have a choice," he told Bloomberg Law, explaining that he was completely unaware of the guardianship until it already was put in place, adding, "I was recovering from a brain injury so the choice for guardianship was made for me without my knowledge." Baker stated that her rationale for obtaining a conservator role was because Christopher wouldn't accept treatment, and was unable to "make decisions for his care or care for himself."
As he eventually tried to figure out where his money was going, he claimed that his sister could not "legitimately account for" over $40,000 which allegedly was spent on her family's relocation to Ohio to be near Christopher, her credit card debt, and several household items including electronics and furniture. Although the guardianship had ended in September 2021, Christopher's lawyer filed a motion to look into Baker's spending in February 2022. Denying Christopher's accusations, Baker has agreed to hire a forensic examiner to investigate where the money actually went. If she's proven innocent, Christopher will pay the examiner tab, and vice versa.