Why Kelly Clarkson Didn't Want To Work With Mariah Carey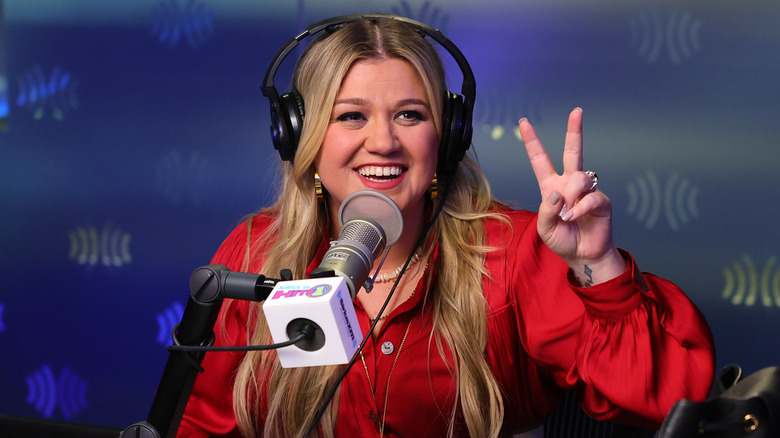 Theo Wargo/Getty Images
Collaboration between iconic artists creates unforgettable musical moments. It opens up the realm of endless possibilities which allows the artists to combine their talents, styles, and musical perspective. There have been several collaborations in the entertainment industry over the years, but apparently, the world has been robbed of a legendary collaboration that could have been an iconic song! 
Kelly Clarkson is a self-confessed fan of the Elusive Chanteuse, Mariah Carey. As proof of how much of a fan she is, she shared during an interview on the podcast Las Culturistas, hosted by "Saturday Night Live" star Bowen Yang and actor Matt Rogers, that when she was in junior high school, she performed Carey's "Vision of Love" on stage. As iconic as the song is, it actually gave Carey one of her first Grammy awards — best female pop vocal performance in 1990.
Not everybody gets to meet their idols—so when Clarkson met Carey, it was hard to imagine that she did the seemingly unthinkable: turn down Carey's invitation to write a song together. 
Kelly realized she missed a golden opportunity to work with Mariah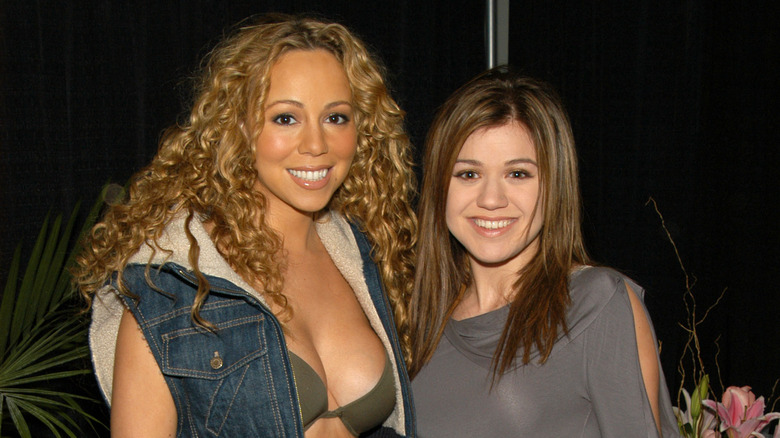 Kmazur/Getty Images
On Las Culturistas, Kelly Clarkson shared a conversation she had with Mariah Carey, wherein she unconsciously said no to the "We Belong Together" singer's request. She recalled, "She was like, 'Oh, we should write together." Clarkson answered Carey's request by sharing her songwriting process, she explained, "I don't write in the same room with people. I have really done that twice in my life because I'm just not a vulnerable writer." 
Soon after,  realized she just turned down Mariah Carey's collaboration offer, she added, "I start telling Mariah about my process and I'm like, 'Did I just...?' Then I walked away and they're like, 'Do you realize you just kind of said no to [Mariah]?' I was like, 'Wait, what?'". Clarkson, who was clearly a Lamb—a term that refers to Carey's fans—even joked about how she refused to be with Carey in the same room because of how immensely talented Carey is. "I don't want to sit in a room with you, ma'am, you have like a billion No. 1s," she quipped.
"The Kelly Clarkson Show" host also commended Carey's songwriting capabilities. "I'm such a huge fan of being her street team as far as her being one of the best writers ever... No one talks about it! They always talk about [Mariah being] the "Songbird" and I'm like 'Great, vocals for days.' But... name another artist that's that successful that wrote it all," she said. 
On her new album Chemistry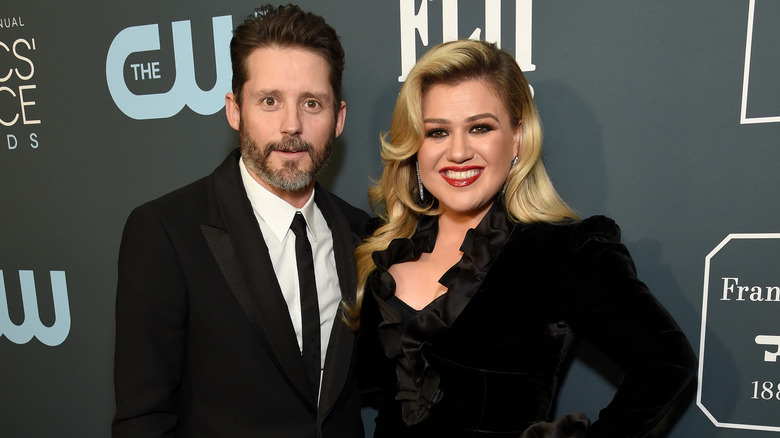 Michael Kovac/Getty Images
While making music with Mariah Carey would have been a great idea, Kelly Clarkson went on to make music of her own. On June 23, 2023, Clarkson released a new album titled, "Chemistry," which was her 10th studio album. This marked her return to the music scene after almost five years since her last album "Meaning of Life" was released in 2017.
The album came out three years after Clarkson's divorce with music manager Brandon Blackstock. The pair got married in October 2013, but Clarkson filed for divorce in June 2020 and it was finalized in 2022. She and her ex-husband share two children together, River Rose and Remington Alexander. 
"Chemistry" mainly talked about Clarkson's marriage up until her divorce. However, the album also explored what she went through during the divorce itself. However, in an interview with NPR, she explained that it's more than just a divorce album and she hopes people who are going through similar situations won't feel isolated. She reiterated the same thing in a separate interview with Variety. "When you are alone and you feel like ... no one knows that in their world like you do in yours. I think that's one of the main reasons for releasing it for me ... If this helps one person relate to something or helps them through the grieving process, it's worth it," she said.