The Royal Family's Best Royal Ascot Looks Over The Years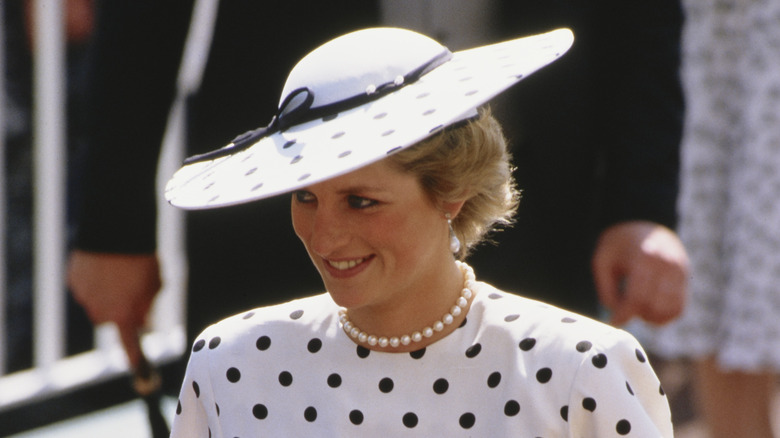 Princess Diana Archive/Getty Images
If there's one event among Britain's high society that has a grip on royal, fashion, and aristocratic watchers, it's the Royal Ascot. The self-described "social event of the season," the Royal Ascot is a combination of horse racing events, showcases, entertainment, and more — just say the word "horse" around a royal and you're pretty much guaranteed to spark interest.
The royal family has a long-standing love for all things related to equestrian sports. The late Queen Elizabeth II had a particular interest, as did her husband, Prince Philip, who famously raced carriages. Princess Anne had a fruitful equestrian career — even representing Great Britain at the Olympic Games — and her daughter, Zara Tindall, followed in her footsteps. Camilla, Queen Consort, has famously loved horses throughout her time in the spotlight, and King Charles III, Prince William, and Prince Harry have all played polo — clearly, the love of horse-related sporting events runs deep, making the Royal Ascot a favorite event.
Royal watchers can almost always count on the ascot to deliver not only great monarchal interactions but standout fashion moments. From the late Princess Diana's iconic looks over the years to Princess Catherine's replication of her mother-in-law's outfits, the Royal Ascot has delivered fashion fans incredible looks time and time again. However, some stand out more than others, and we're taking a closer peek at all things Royal Ascot fashion.
Meghan Markle's 2018 look at the ascot was incredibly chic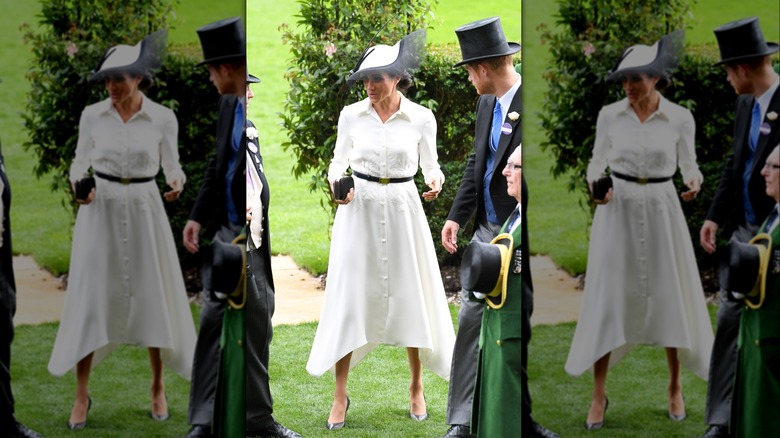 Karwai Tang/Getty Images
Due to the coronavirus pandemic — and of course their exodus from their roles as senior royals — we've only gotten to see Prince Harry and Meghan Markle at Royal Ascot once, but the Duchess of Sussex did not disappoint. On the first day of events in June 2018 — just weeks after her royal wedding — Meghan stepped out in a gorgeous dress from Givenchy, working closely with the same artistic director behind her wedding dress, Clare Waight Keller. Though the palace originally claimed that Meghan wouldn't be working with a designer for Royal Ascot at all, Vanity Fair revealed that the former actress asked Waight Keller to assist her for the occasion. 
The white dress she opted for featured delicate embroidered detailing around the waistline and a suit-like silhouette, using buttons and a perfectly placed collar to mimic more professional attire. The duchess kept her jewelry simple, choosing a pair of understated stud earrings for the day and skipping a necklace altogether. As for makeup, she went with a smokey eye and a subtle lip, perfectly complimenting her attire.
Capping off her 2018 look, Meghan opted for a fascinator from Philip Treacy, a favorite milliner among the royals. Using a black leather belt to cinch the dress at the waist, Meghan wasted no time between her wedding and the Royal Ascot to establish just how chic her royal wardrobe really was.
Princess Diana looked stunning in 1990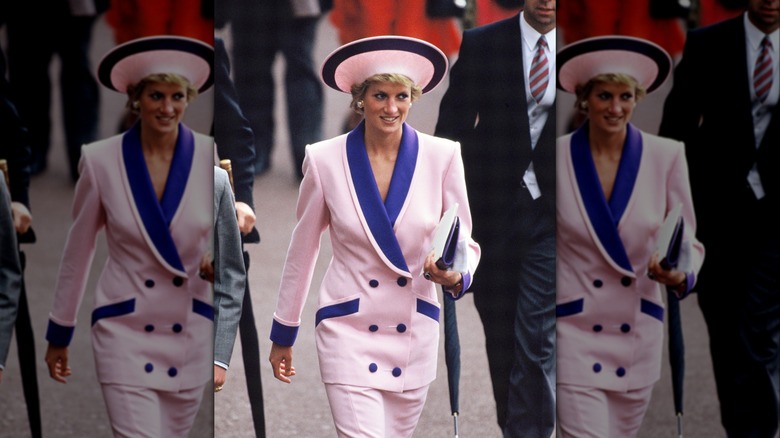 Georges De Keerle/Getty Images
When Princess Diana was on the royal scene, her fashion was arguably the most watched among the royal family. Not only did she incorporate trends into her wardrobe, but she started them, and her appearance at Royal Ascot in 1990 was no exception. Embracing the look that would come to define the decade, Diana opted for a blush pink skirt suit from designer Catherine Walker. The jacket featured color-blocked purple lapels and a deep V neckline, subtly showing off her décolletage while maintaining a royally-appropriate level of modesty. She flashed her famous smile to the crowd while making her appearance, letting the cameras take in what would become one of her most famous looks.
Of course, we can't talk about this particular look of Diana's without talking about the hat. Wearing a headpiece or fascinator is usual for Royal Ascot, but Diana chose a bold hat that was more akin to Saturn than a dainty feather piece or headband. Its bold purple stripe mimicked the lapels on her suit, and Diana upped the ante with a pair of statement gold and pearl earrings.
In classic Diana style, the Princess of Wales focused on her eye makeup and wore top-lid and undereye eyeliner, opting for a darker hue than her iconic blue option. Choosing a subtle lip, Diana fully embraced the bold styling of the '90s and looked fabulous while doing so.
Princess Beatrice chose a delicate dress for 2023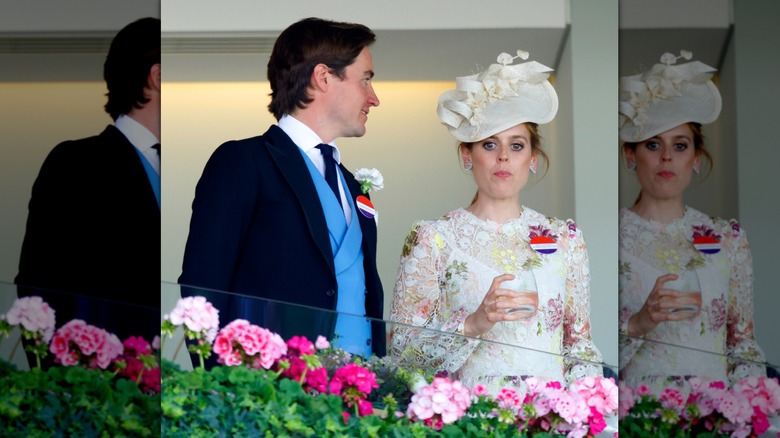 Max Mumby/indigo/Getty Images
As Princess Beatrice grew up in the public eye, she was consistently dragged for her outfit choices, with no look more famously judged than her ensemble for Prince William and Princess Catherine's wedding day. But the daughter of Prince Andrew and Sarah Ferguson not only put the past behind her but came back with a fashion vengeance, proving that she can rock the most gorgeous dresses with little effort. Beatrice's Royal Ascot look in 2023 certainly caught the attention of onlookers as she showed up in a delicate lace ensemble chosen for the occasion. Popping her cheekbones with subtle highlights and emphasizing her notable eye shape, Beatrice stepped out like the star she is, looking amazing while doing so.
The princess' dress was straight out of the lookbook from designer Monique Lhuillier and featured long sleeves, a high-neck silhouette covering a tight bodice, and 1980s-inspired shoulder pads. Its subtle green, purple, and yellow floral designs brought a level of sophistication to the dress, and she paired the ensemble with a coordinated fascinator featuring delicate flowers. Though a horse racing event is a high heel's worst nightmare, Beatrice didn't let the grass deter her, choosing a pair of stilettos from Gianvito Rossi. Carrying an Anya Hindmarch clutch, Beatrice was the picture of elegance on day four of the event.
Princess Catherine made a statement with her 2023 ascot outfit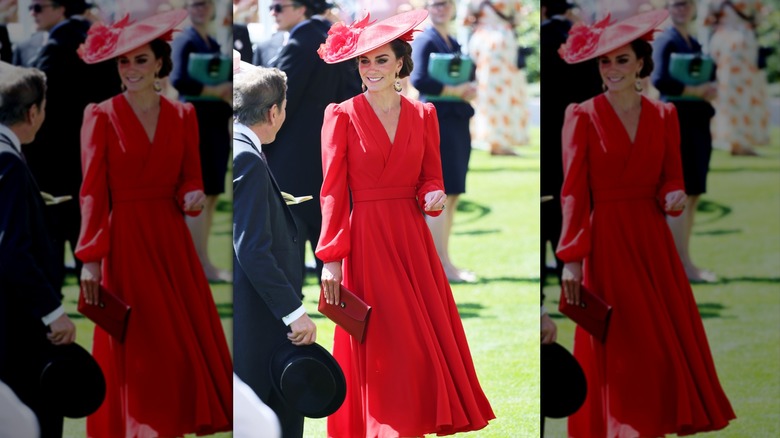 David M. Benett/Getty Images
When it comes to Royal Ascot, Princess Catherine never misses, but her 2023 look definitely stole the attention of royal watchers everywhere. Arriving in style, Catherine looked stunning in an Alexander McQueen bespoke dress, but it was the color that really packed a wow factor. Instead of opting for her usual white, creams, and blues — the palette for Royal Ascots of the past — Catherine went for daring red, matching the dress with a pair of Jennifer Chamandi heels and a Philip Treacy hat. Even Catherine's jewelry choice captured attention, as she opted for a pair of ornate gold earrings.
Catherine's 2023 Royal Ascot appearance marked the first time she attended as the Princess of Wales, and she certainly made a point to stand out. Commenting on her poignant decision, royal commentator Amanda Matta looked back at Catherine's previous Royal Ascot looks, highlighting her blue Elie Saab dress and white lace options of years past, contrasting them with her very bold 2023 choice.
"The bright, bold color of Kate's look is an outlier for Royal Ascot in several ways," Matta said on TikTok, pointing out the intentional color departure. "The color palette among royal women this year seems to be very heavy on the pastels and the whites ... [Catherine] wanted to stand out from the pack of royals attending in 2023."
Princess Anne looked flawless in yellow at the 1970 ascot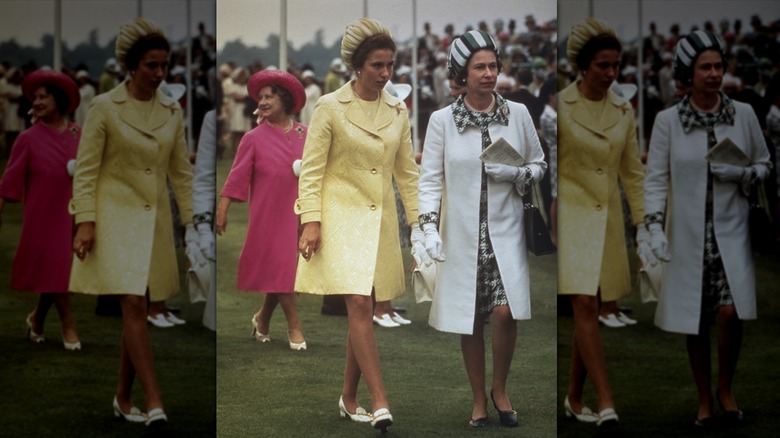 Fox Photos/Getty Images
Of all the royal family members to be interested in horse-related sporting events, Princess Anne takes the cake. An accomplished equestrian and Olympian, Anne enjoyed a fruitful career and continues to express her passion for horse racing. She is a staple on the Royal Ascot scene and attends regularly, still serving looks to this day. However, it was Anne's ensemble in 1970 that captured attention, as it was the princess' fashion-forward approach to a tee.
Appearing alongside her mother, Queen Elizabeth II, and her grandmother, Queen Elizabeth The Queen Mother, Anne looked gorgeous in a yellow coat dress and coordinated hat. The ensemble featured a delicate embroidered pattern and came to a close with gold buttons, while Anne's hat incorporated varying shades of yellow and white. The princess kept her jewelry simple, opting for a string of pearls and stud earrings. If 1970 was an outfit, it would be this one, and Anne again proved that she had her finger on the pulse of all things royal style.
Though people often think of Princess Diana as the royal family's fashion icon, Anne charged forward with her own unique sense of style early on. As part of her equestrian career, the princess often opted for pants, oversized jackets, outdoor wear, and sunglasses. Not the typical royal, Anne didn't — and still doesn't — let fussiness get in the way. Her Royal Ascot look is the perfect definition of fashion and function.
Princess Diana's polka dot look will go down in history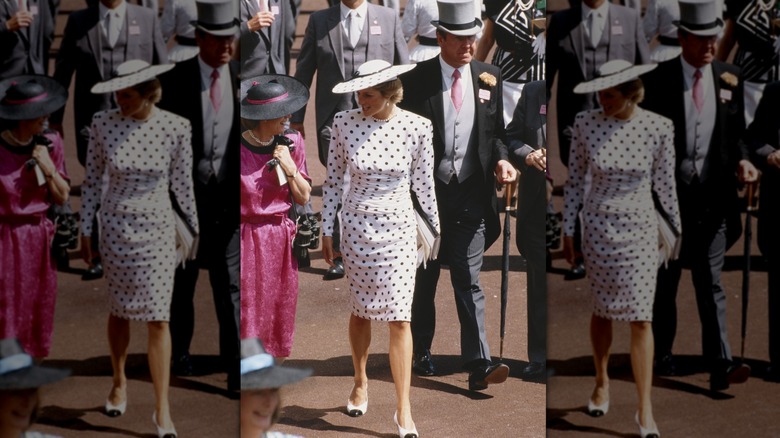 Princess Diana Archive/Getty Images
Of all the Royal Ascot looks, Princess Diana's polka dot outfit in 1988 might just be the best. Wearing a playful white dress with black dots — that fitted incredibly, we should add — Diana was the picture of daytime regality. The dress was by designer Victor Edelstein, and the princess paired it with a Philip Somerville hat. The polka dots were, as many royal watchers know, a favorite of Diana's so the fact that she sported them at Royal Ascot didn't come as a huge shock. What set this outfit apart, however, was the incredible coordination. Between the dress, the hat, the shoes, the string of pearls, everything about the look was intentional.
Speaking about Diana's love of playing with fashion, former Vogue editor and Diana's stylist, Anna Harvey, recalled that the princess loved all things funky. "She was delighted that I thought she might wear something this zany," Harvey told Vogue in 2020, noting that it was certainly within Diana's wheelhouse to try out daring looks.
Of this particular look, fashion expert Karine Laudort told Express that wearing such a pattern was bold for the princess. "Diana's style was unique given the time period during [which] she wore the most polka dots which was the 1980s ... [she] was not afraid to wear them in a multitude of bright colours and dot sizes."
Queen Elizabeth II was the picture of happiness in 2013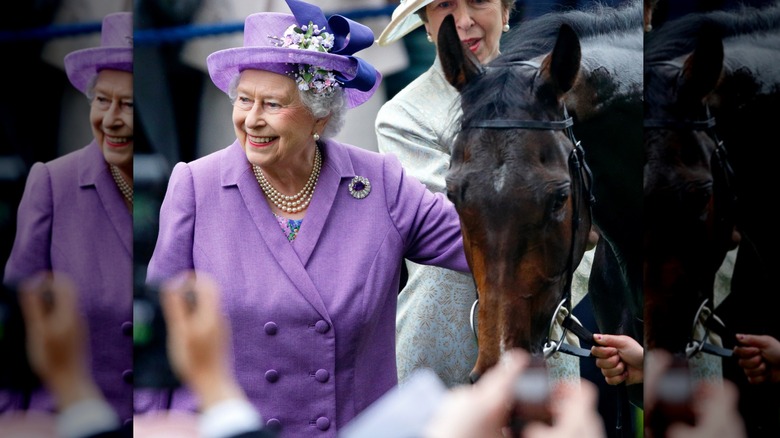 Max Mumby/indigo/Getty Images
Of all years Queen Elizabeth II was on the throne, she rarely sported a wide smile. Maintaining a Mona Lisa expression, the monarch kept a cool demeanor and reserved a wide grin for choice occasions — luckily for royal watchers, Royal Ascot was one such occasion that the queen thoroughly enjoyed. An avid lover of all things horses, the queen rode late into her life and owned a number of competition steeds. During Royal Ascot 2013, Elizabeth's horse — named Estimate — entered the competition on day three, surely to the bated breath of the monarch. Estimate was victorious, and took home the Ascot Gold Cup, much to the excitement of the queen. Joining her horse in the winners' circle with her daughter, Princess Anne, the queen lit up the day with a wide smile and her gorgeous purple ensemble — it truly was the look of champions.
Elizabeth was known for wearing bright colors throughout her time on the throne, and Royal Ascot saw her in a bold shade of purple. Accompanying the look with a coordinated hat and three strands of pearls, her best accessory was her expression. Purple not only suited the queen in her fashion habits but was indicative of the day. Centuries ago, purple was one of the most costly dyes to get a hold of, and was reserved only for royals. Therefore, it's no wonder the queen chose the monarchal color for this special occasion.
Princess Catherine took a play out of Diana's book in 2022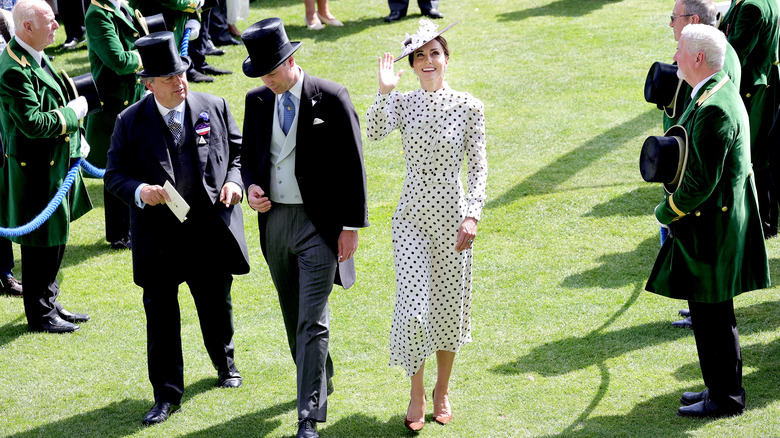 Chris Jackson/Getty Images
Ever since Princess Catherine came onto the royal scene, she's subtly paid tributes to Princess Diana through her wardrobe and jewelry choices. However, her Royal Ascot look in 2022 took things to the next level, as she replicated Diana's 1988 look at the same event, and royal watchers absolutely took notice. Stepping out in an Alessandra Rich polka dot dress and Sally-Ann Provan hat, Catherine was the picture of elegance at the event. Nodding to Diana's use of the polka dot pattern as well as the fitted silhouette, Catherine's intentions were not subtle, and she received a huge amount of praise and attention for the choice.
Commenting on her decision to replicate one of Diana's most iconic outfits, fashion expert Karine Laudort told Express that while she paid tribute to her husband's mother, Catherine made sure to honor her own sense of style while doing so. "Kate has modernised her polka dots looks by wearing more sophisticated designs (split dresses, shorter sleeves dresses) and trendy accessories (bags and shoes)," Laudort said of Catherine's fashion choice, noting the dated references like shoulder pads and ornate jewelry that were present in Diana's ensemble back in the day. No matter how close to Diana's look, however, Catherine's ability to harness the late Princess of Wales' sense of style did not go unnoticed.
Prince Harry was the picture of English gentlemen in 2018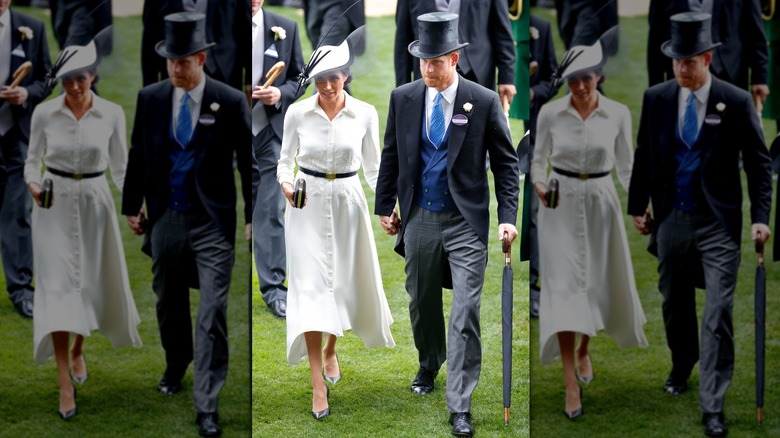 Max Mumby/indigo/Getty Images
While Prince Harry left the posh circles of high society behind in January 2020, instead trading it for a much more relaxed life in California, he did serve up some very dapper looks before heading out. His Royal Ascot 2018 ensemble was no exception, and he was the picture of the perfect English gentleman alongside Meghan Markle. On day one of Royal Ascot, Harry wore a black day suit, pairing it with a white collared shirt, a dark blue waistcoat, and a tie of a brighter blue featuring a subtle white pattern. A white rose was delicately placed in his lapel, and his name tag — simply reading HRH The Duke of Sussex — was prominent. Harry topped off his Royal Ascot attire with a black top hat, truly rounding out the look with impeccable styling.
Throughout the day, Harry made sure that Meghan didn't falter while walking on the grass in her heels, and the two simply looked stunning together. Coming off the flurry surrounding their wedding, the Duke and Duchess of Sussex were asked to present the St. James' Palace stakes trophy, with a source telling Vanity Fair of the occasion: "It's a great honor to be asked to present a cup and a wonderful opportunity for the Duchess of Sussex to see the thrill of Ascot."
Princess Diana was the picture of perfection in 1986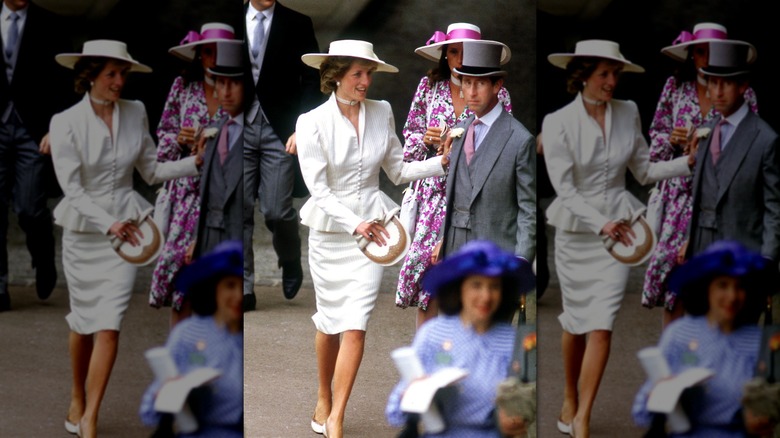 Princess Diana Archive/Getty Images
Princess Diana rocked some incredible looks to Royal Ascot over the years, and yet another standout ensemble was her 1986 outfit. Wearing a cream skirt suit that featured a peplum silhouette and intricate buttons, Diana was the picture of daytime-appropriate elegance, choosing a design that was not only on-trend with the decade's looks, but fashionable for the high-profile event. The Princess of Wales paired the look with three strands of pearls and statement pearl earrings, complementing the hue of the suit. Her hat was both functional and fashionable, and her hair was perfectly styled underneath. What we will be turning a blind eye to in this moment is the lackluster expression on King Charles III's face.
Diana's 1986 Royal Ascot look is the perfect example of how she went about dressing for the time period, while also keeping a royal sense of style in mind. Janelle Okwodu, Vogue's senior fashion and culture editor, noted that Diana had to walk the line during the 1980s, so as not to overly indulge the trends of shoulder pads and wild patterns. "Still, she was able to cultivate a look that felt unique to her," Okwodu wrote for Vogue. "Once she became a princess, Diana switched gears and began to rely on trusted designers like Catherine Walker, Anya Hindmarch, and Murray Arbeid to create exquisite custom pieces."
Princess Catherine's 2019 dress is one of her best ascot looks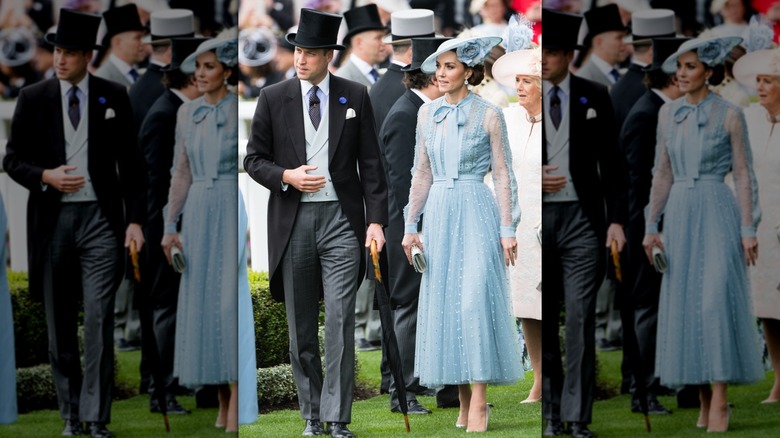 Samir Hussein/Getty Images
While her 2023 look made a splash in red and her 2022 ensemble was a nod to Princess Diana, Princess Catherine's 2019 Royal Ascot dress is certainly one of her best. Arriving on day one of the event, the royal stunned in an Elie Saab dress that featured sheer paneling and sleeves, subtle buttons up the torso, and a pussy-bow collar. Keeping her makeup soft for the occasion, Catherine chose a subtle pink lip and brown-toned eyeshadows, maintaining the focus on her dress. Due to the dress's high neckline, Catherine didn't wear a necklace but instead chose a pair of blue-toned gem earrings. She topped off the look with a fascinator from Philip Treacy that featured delicate flowers along the hairline.
As it was Catherine's third appearance at Royal Ascot at the time, all eyes were on what she would wear. Having attended in 2016 and 2017, the royal's star had only risen since, and she was expected to do something a bit different as compared to her prior looks. For both years, Catherine chose white ensembles featuring lace. While beautiful, the outfits were very similar to each other, leaving royal fashion watchers wanting more. Her Elie Saab dress in 2019, by comparison, did not disappoint and breathed new life into her Royal Ascot lookbook.
Prince William coordinated with his wife for a great 2023 look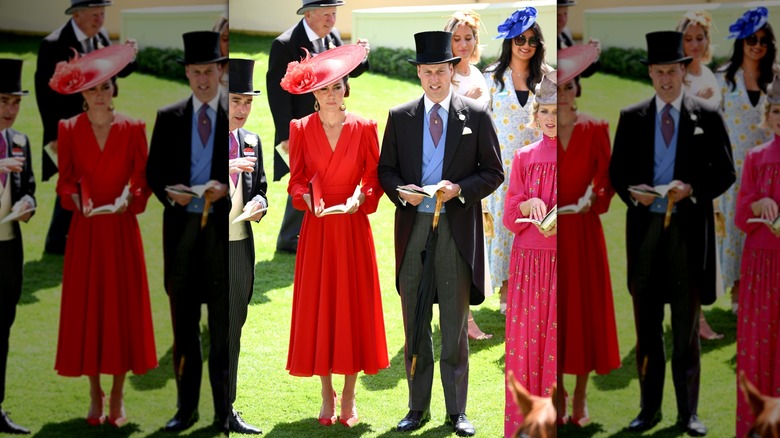 Karwai Tang/Getty Images
When Prince William and Princess Catherine are on official duty, they may not be matching exactly, but royal watchers can almost always count on the two to coordinate their looks. Royal Ascot 2023 was no exception, and William looked dapper on the fourth day of the event. Matching bright red is difficult, but the prince didn't let his wife's bold outfit choice stop him from his efforts. William opted for complimentary blue when choosing his waistcoat for the outing, and hinted back to Catherine's dress with his tie of choice. Opting for a darker red, William's tie featured a subtle white pattern and a tie pin. His lapel was adorned with a white rose and a pocket square, and he finished the look with a top hat — if there's anything that turns a royal ensemble truly into a gentleman's game, it's the top hat.
Unfortunately for William, the day did have a little bit of a hiccup thanks to Catherine's ensemble choice. Though absolutely beautiful in red, royal watchers did point out that the bold color cast an unfortunate hue over William's face, especially while the two were riding in their open-air carriage on their way to the Ascot Racecourse. While Catherine was glowing underneath her fascinator, William looked a bit more like he was suffering from a high fever, though we're sure he's fine with his wife taking the spotlight (once again).