What We Know About Matthew Perry And Courteney Cox's Real-Life Friendship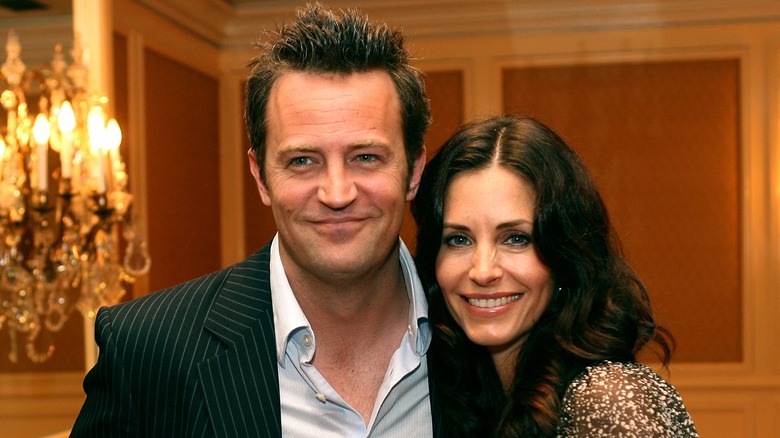 Kevin Winter/Getty Images
Actors Matthew Perry and Courteney Cox made the perfect couple as Chandler Bing and Monica Gellar on the iconic TV series "Friends." The pair played the couple flawlessly as fans watched them start out as friends and slowly fall in love over the course of the show. The duo delivered the emotional moments and the laughs as Chandler and Monica, and in reality the actors have a close relationship as well.
Although Perry has dated many famous women such as "Baywatch" star Yasmine Bleeth, Neve Campbell, Lauren Graham, Lizzy Caplan, and Julia Roberts, "The Whole Nine Yards" actor has admitted to having crushes on his female co-stars, which included Jennifer Aniston and Lisa Kudrow as well as Cox. "That made it kind of difficult to go to work because I had to pretend that I didn't have these crushes," Perry told Diane Sawyer during an interview while promoting his tell-all memoir, "Friends, Lovers, and the Big Terrible Thing," per Insider.
Inside the pages of his book, Perry called Cox "cripplingly beautiful." However, the pair never got romantic. "There was a rule that we had — it was really important to the six of us, that we were friends. And if we were hooking up or if there was any strangeness going on, that might mess with things," Perry told Access Hollywood of his relationships with his co-stars.
Matthew Perry and Courteney Cox worked together after Friends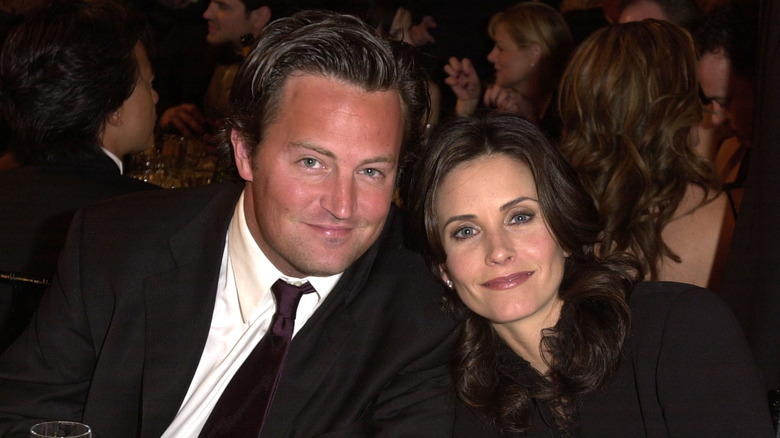 Trench Shore/Getty Images
While Matthew Perry and Courteney Cox never took their friendship to the next level like their "Friends" characters Chandler and Monica, they did remain very close over the years. After "Friends" ended, the duo worked together again when Perry guest starred on Cox's comedy series "Cougar Town." For her part, Cox also made an appearance on Perry's series "Go On" that same year. "It was really fun to see the two of them together," said Scott Silveri, the creator of "Go On" (via The Hollywood Reporter). 
Eventually, Cox and Perry reunited with the entire "Friends" cast for an epic, unscripted reunion. During the show, Perry, who has been open about his years of addiction struggles, revealed he felt like he would die if his jokes didn't land with the live audience. "That was a lot of pressure he put on himself. That's a lot to think how much he relied on that for his own self-worth," Cox later told The Times of London about her co-star. "He's just struggled for a while. I think he's doing great now." Cox also supported Perry's decision to release his brutally honest memoir.
Cox was proud of Perry for sharing his experiences with addiction
Chris Weeks/Getty Images
When Matthew Perry announced that he had written a memoir about his struggles with addiction, as well as other personal insights into his life, it was clear that the book would be an open and honest portrayal of the actor's life. "So much has been written about me in the past," he tweeted alongside his book announcement. "I thought it was time people heard from me. The highs were high, the lows were low. But I have lived to tell the tale, even though at times it looked like I wouldn't. And it's all in here. I apologize it's not a pop-up book," he added.
After the book was released it became a New York Times bestseller, and Perry's former on-screen wife Courteney Cox couldn't help but gush over her longtime friend's bravery and success. "So proud of my friend @mattyperry4 for writing this brave book and for making the New York Times Bestsellers list 4 weeks in a row!" the "Scream" star posted on her Instagram story, per OK! Magazine.
Despite all of the ups and downs that Perry has been through, Cox has seemingly always been there for him, and the two share a great love for each other, and with the rest of the "Friends" cast.
If you or anyone you know needs help with addiction issues, help is available. Visit the Substance Abuse and Mental Health Services Administration website or contact SAMHSA's National Helpline at 1-800-662-HELP (4357).