The Date Night Disaster That Led To Mila Kunis Banning Ashton Kutcher From Cooking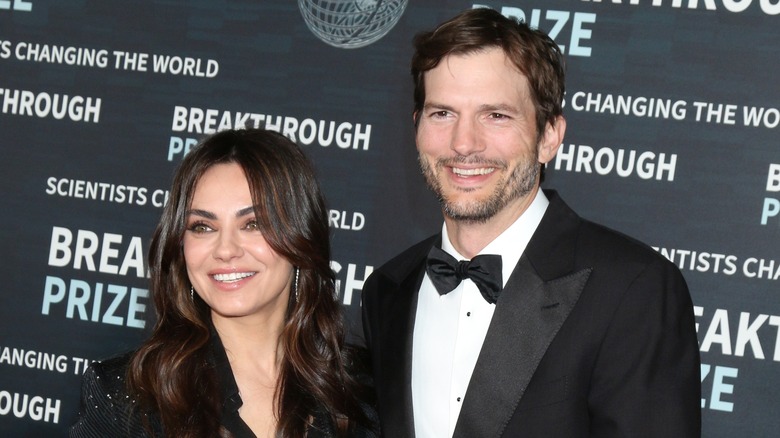 Kathy Hutchins/Shutterstock
Cooking is a life skill that everyone should know how to do. However, when you have enough money to pay someone else to do it for you, then it becomes something you don't need to worry about. A lot of celebrities actually have some skill in the kitchen regardless, but some can attest to the fact that cooking is just not up their alley. One celebrity who we know should stay away from the kitchen altogether is "That '70s Show" actor Ashton Kutcher.
The "No Strings Attached" star was outed by Mila Kunis, his wife and fellow "That '70s Show" star, for his lack of culinary expertise. They say that the couple that cooks together stays together, but we doubt this statement holds any water in the Kunis-Kutcher household. While preparing a nice, hot meal may be a loving way to show your partner you love them, Kutcher's romantic yet disastrous attempt at feeding his wife has gotten his cooking privileges revoked.
Ashton tried to feed Mila raw seafood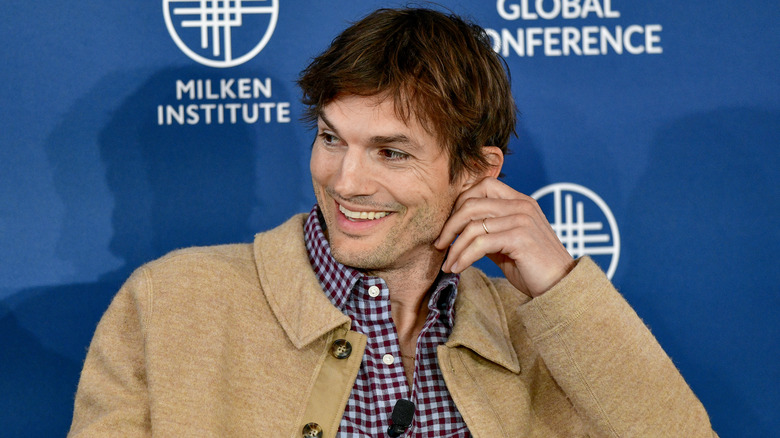 Jerod Harris/Getty Images
Date-night dinners have to be special and can serve as the perfect bonding experience, which is likely what was going through Ashton Kutcher's mind as he prepped a meal for Mila Kunis, whom he started dating in 2012 and married in 2015. There's something intimate and romantic about eating food a loved one prepares for you. However, there's nothing romantic about giving your significant other food poisoning, and Kutcher had to learn that the hard way. The actor spilled the beans on his date night disaster in a "Tiny Talk" video for Tastemade with his "Your Place or Mine?" co-star Reese Witherspoon.
"Mila won't really let me cook anymore," Kutcher admitted. "I tried to be really sweet one time. I was like, 'We're doing a date night.' She's like, 'Where are we going?' I'm like, 'Home.' She was like, 'What?'" he recalled. "And then I tried to cook fish and it was raw." The "What Happens In Vegas" actor said he was subsequently banned from kitchen duty by his "Family Guy" star wife. His well-intentioned gesture of love didn't exactly go according to plan, but hey, it's the thought that counts — salmonella or not. 
Mila also banned Ashton from THC edibles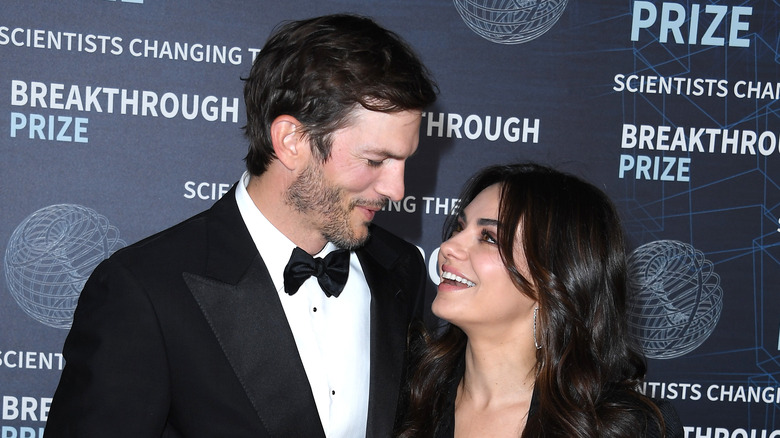 Steve Granitz/Getty Images
Unfortunately for Ashton Kutcher, preparing food isn't the only thing he's banned from doing in the household. Mila Kunis has also banned Kutcher — who also first told Kunis he loved her after drinking tequila – from having weed edibles and the reason behind it is equally as hilarious as the reason he won't be doing any more cooking from now on.
The "That '90s Show" couple took a trip to Italy for a friend's wedding just after Kutcher had gotten a vasectomy, and that's where things started heading downhill. The actor told Esquire that he had popped a THC mint and it "did not go well." As he had just undergone a vasectomy, Kutcher spiraled thinking he had gone numb from the waist down. He also flew into panic mode after checking their finances and convinced himself he and Kunis were too broke to be in Italy right then. "The next day, I realized I had moved the decimal point," the "Jobs" actor confessed. 
It was the last hurrah for Kutcher, who quipped that "The minute weed became legal in California, I got banned from doing it." If a high Ashton Kutcher managed to convince himself that he couldn't afford a trip to Italy with the insanely lavish lifestyle he and Mila Kunis lives, then we're with his wife on this one.