Inside Seth Green's Horrifying Experience With Bill Murray As A Child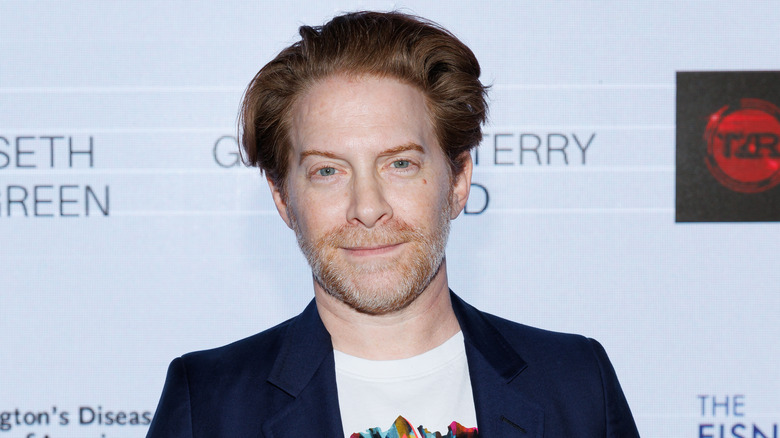 Rich Polk/Getty Images
The following article includes allegations of sexual assault.
Bill Murray has encountered his fair share of controversy over the years, with several former co-stars and colleagues calling out his problematic on-set behavior. Seth Green, who's starred in shows like "Buffy the Vampire Slayer" and "Family Guy," called Bill Murray the "rudest" celebrity he ever met on an episode of "Good Mythical Morning." When Green was just nine years old, he was cast to play a bit part in a "Saturday Night Live" skit. Murray, who was in his 30s at the time, was hosting that week. When the "Groundhog Day" star stumbled upon the 9-year-old sitting on the arm of "his seat," he told the young actor to get off. Green refused. "He picked me up by my ankles... he dangled me over a trashcan and he was like, 'The trash goes in the trash can.' And I was screaming, and I swung my arms and flailed wildly, full contact with his balls, full contact." Murray dropped the 9-year-old into the can. "I was horrified. I ran away, hid under the table in my dressing room, and just cried and cried," remembered the former child actor.
Eventually, he was persuaded by "SNL" cast members Eddie Murphy and Tim Kazurinksy to continue with the show. "Everybody knows Bill's a d***," they told a young Green, asking him to "be a pro" and go on stage. According to Green, he hasn't seen Bill Murray since.
Bill Murray was a controversial figure at SNL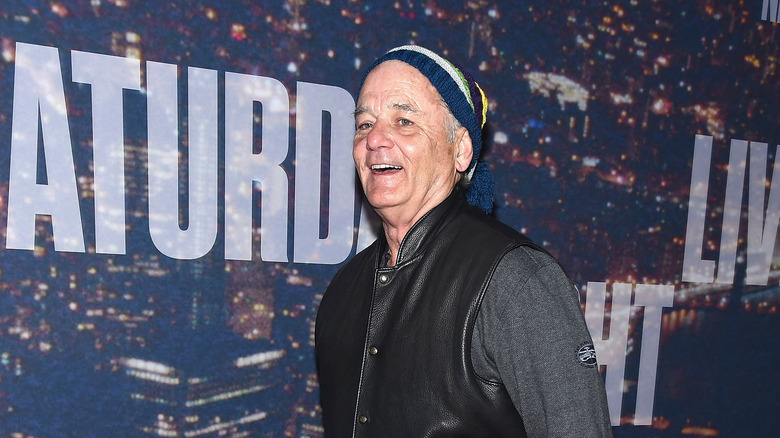 Gary Gershoff/Getty Images
Seth Green wasn't the only person Bill Murray had an issue with on the set of "Saturday Night Live," as it turns out. "He's super nice to fans. He wasn't very nice to us," remembered former cast member Rob Schneider on an episode of SiriusXM's Jim Norton & Sam Roberts Show, per The Hollywood Reporter. According to Schneider, most of Murray's animosity was directed towards Chris Farley and Adam Sandler. "He hated Chris Farley with a passion. Like he was just seething looking at him," said the "Grown-Ups" star.
In 1978, Chevy Chase and Bill Murray got into a physical fight at "SNL." "It was very sad and painful and awful [to watch]," Laraine Newman commented on "Watch What Happens Live." Jane Curtain, who also witnessed the infamous backstage brawl, described them as "two bull-mooses" going after one another. In 2016, Murray was implicated in yet another behind-the-scenes conflict at "SNL." "Your yearly reminder that I saw Bill Murray put both his hands into Solange's scalp after asking her three times if her hair was a wig or not," alleged TV writer and producer Judnick Maynard in a 2022 tweet.
The comedian was also accused of getting violent with Oscar-winning actor Richard Dreyfuss, throwing a glass ashtray at his face, per Yahoo Entertainment.
Bill Murray has faced numerous assault allegations
In April 2022, Bill Murray shut down production on Aziz Ansari's film, "Being Mortal," when a young production assistant accused him of inappropriate behavior. "I did something I thought was funny and it wasn't taken that way," the comedian told CNBC. Murray and the unnamed PA have since reached a $100,000 settlement. However, this isn't an isolated incident."Thelma and Louise" star Geena Davis alleged that Murray inappropriately massaged her while they were filming "Quick Change," Bill Murray's 1990 directorial debut. "I said no multiple times, but he wouldn't relent," she wrote in her memoir, "Dying of Politeness." She also referenced feeling uncomfortable during promotional interviews with Murray — in one instance, he tried to pull down her dress strap on stage.
Other people who've come forward regarding Murray's inexcusable behavior include the actor's ex-wife, Jennifer Butler Murray, and Lucy Liu — the latter said he insulted her on the set of "Charlie's Angels." Regardless of the accusations directed his way, Bill Murray will always have a place onscreen thanks to his long-time friend Wes Anderson. "I don't want to speak about somebody else's experience, but he's really part of my family," the director told IndieWire. Like Morgan Freeman, Brad Pitt, and Dustin Hoffman before, harassment allegations don't seem to be getting in the way of Murray's career.
If you or anyone you know has been a victim of sexual assault, help is available. Visit the Rape, Abuse & Incest National Network website or contact RAINN's National Helpline at 1-800-656-HOPE (4673).