Bill Murray Shuts Down Production On Film Set For An Alarming Reason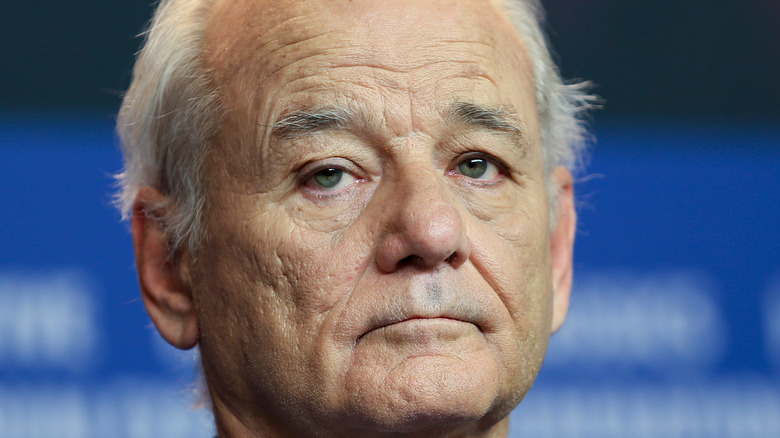 Denis Makarenko/Shutterstock
It was announced in February that Aziz Ansari would be making his directorial debut with the film "Being Mortal." According to Deadline, Ansari also wrote the dramedy and will be starring in it alongside Bill Murray. Both Ansari and Murray have checkered pasts in Hollywood. Sexual misconduct allegations were brought against Ansari, according to Vox, during the height of the #MeToo movement in 2018. Since then, Ansari has made a few statements on the situation, without actually apologizing. In his Netflix special, "Right Now," Ansari said, "I felt so many things in the last year or so: There's times I felt scared, there's times I felt humiliated, there's times I felt embarrassed, and ultimately I just felt terrible that this person felt this way."
While Murray has not been accused of any sexual misconduct, he has received a sort of bad reputation in Hollywood. While audiences see him as a beloved comedian on screen, his attitude on set can be reportedly quite the opposite. According to Page Six, Richard Dreyfuss once called Murray a "drunken bully" after working with him in the '90s, and both Lucy Liu and the director of "Charlie's Angels," McG, also had issues with Murray on the set of the 2000 film. Knowing all of this, it may not seem like a shock that earlier this week, it was announced that production on "Being Moral" had been suspended (via Deadline). However, fans may be wondering what is the exact reason for the shut down.
Bill Murray's on set behavior is to blame for the suspension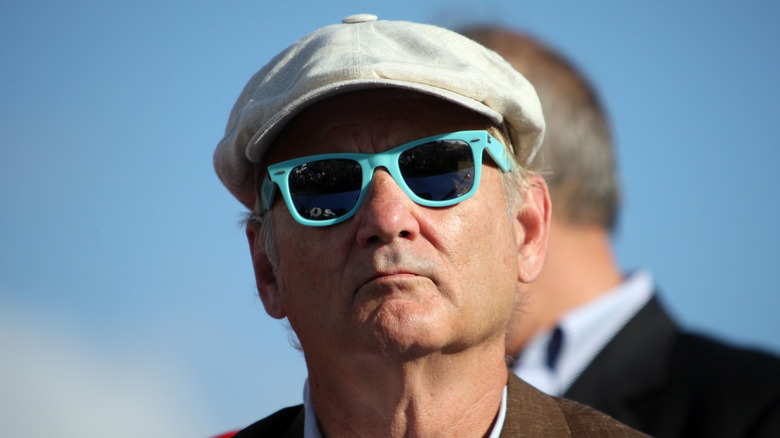 Marco Iacobucci Epp/Shutterstock
It seems Bill Murray's bad behavior reputation is the reason for the shut down. According to Deadline, the production on "Being Mortal" was suspended due to Murray's "inappropriate behavior." Deadline also reports that Aziz Ansari and the film's other star, Seth Rogen, are not a part of the complaint as well. Also, since the investigation into Murray's behavior is still ongoing, Searchlight Pictures has declined to comment on the situation. However, The New York Times obtained a copy of the letter sent to the crew about the halt in production. The letter said, "After reviewing the circumstances, it has been decided that production cannot continue at this time." While the letter did not name Murray, someone working on the film confirmed it was about him. 
In 2021, Lucy Liu spoke out about the inappropriate behavior Murray displayed on the set of "Charlie's Angels" when she was a guest on the podcast "Asian Enough." Liu revealed, "As we're doing the scene, Bill starts to sort of hurl insults, and I won't get into the specifics, but it kept going on and on. I was, like, 'Wow, he seems like he's looking straight at me.'" She later said she stood up for herself, because she alleged, "Some of the language was inexcusable and unacceptable, and I was not going to just sit there and take it." 
The production for "Being Mortal" began March 28 with half of the film already shot, according to Deadline. With the investigation still underway, there is not word at this time if the film will continue, whether that is with or without Murray.