How Donald Trump Once Snubbed His Daughter Tiffany On Her Birthday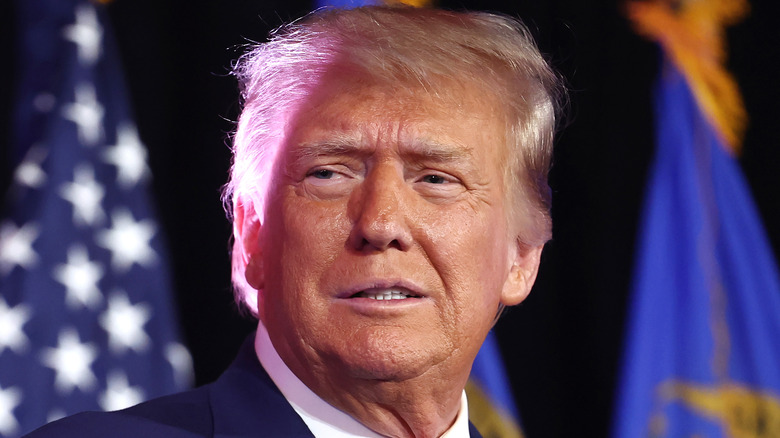 Mario Tama/Getty Images
Tiffany Trump is the forgotten daughter. The law student is not usually included in the trifecta of Donald Trump's adult children. Donald Jr., Ivanka, and Eric Trump are the eldest from the former president's first marriage to Ivana Trump. It was a 15-year matrimony that ended partly because of Donald's affair with Marla Maples — Tiffany's mother. Despite the twisted family tree, the businessman-turned-politician declared his love for his youngest daughter on several occasions. However, he has also made it clear it's a different level of love.
Tiffany's relationship with her father is not a close one. For Donald's birthday in June 2019, the jewelry store namesake wrote, "Happy Birthday dad @realdonaldtrump. I love you!" A photo of the two accompanied the Instagram post. However, when it was Tiffany's time to celebrate, her father did not return the love. What's worse, the former commander-in-chief gave birthday wishes to another instead. Tiffany was born a Trump, but she is not always treated like a member of the family.
Everyone got birthday wishes except Tiffany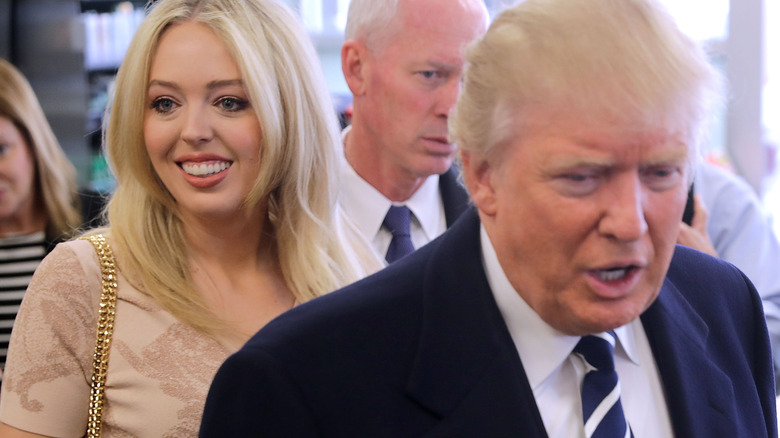 Chip Somodevilla/Getty Images
On Oct. 13, 2019, Tiffany Trump turned 26, and the U.S. Navy turned 244. Guess who Donald Trump gave his well wishes to? You'd think it was his daughter, but unfortunately, the former president doesn't win Father of the Year. He tweeted "Happy Birthday @USNavy!" with a photo of the division's battleships. Tiffany received zilch.
This wasn't the first time the former president forgot about his youngest daughter. He did not wish Tiffany a happy 24th but posted about his eldest three children on their birthdays that same year.
Luckily, the head of the Trump organization is not Tiffany's only parent. Marla Maples gave her a shoutout on Instagram, posting a photo of her daughter as a child with the caption, "Today we celebrate the gift of you! Your sparkle & joy lights up the world! Your mom loves you to eternity and back again."
Her sister, Ivanka Trump, also posted Tiffany on Instagram. "Happy, happy birthday Tiffany!" the caption read. "You have grown into an amazing woman, despite my many babysitting fails!" However, the photo with Ivanka dressed to the nines and Tiffany sitting on her knee in a diaper blurs who is actually being celebrated. The anniversary of her birth is one of many occasions where Tiffany is shown to be the black sheep of the family.
Tiffany is 'separate' according to her father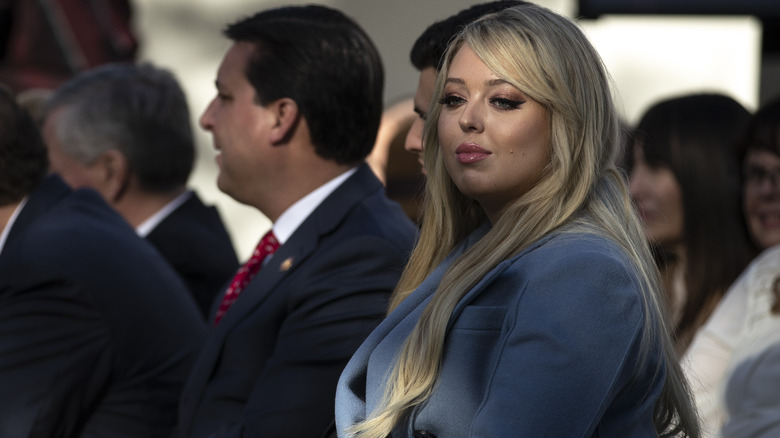 Drew Angerer/Getty Images
In an interview with Jonathan Van Meter for New York Magazine, Donald was asked if he had any favorites. "Come on! Daddy's little girl!" He said, referring to Ivanka before adding, "You know I have another daughter, with Marla, named Tiffany? She's just a beautiful great kid also. But it's very separate. When you have separate wives, it's sort of ... separate."
That "othering" of Tiffany was evident, as she was often the only one left out of events and seen the least in her father's campaign trails. Her relationship with the Trump side of her family isn't a close one. "Since the inauguration, Tiffany and her father have sometimes gone for months without speaking and she went a very long time without seeing him," a source told People. "The last time she was at a family function with him, it was awkward for her and she didn't feel totally welcome."
However, being on the outs might be a good thing. The UPenn alum can enjoy the perks without the tarnish. Tiffany had a stunning wedding at Mar-a-Lago, has a famous mother, and was the only adult Trump child exempt in the fraud lawsuit against their business empire.