How The Love Is Blind Abuse Allegations Led To Danielle Ruhl And Nick Thompson's Reunion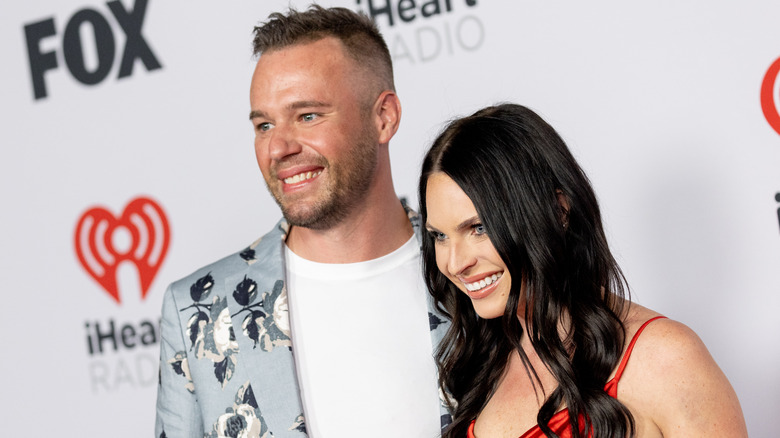 Emma Mcintyre/Getty Images
Danielle Ruhl and Nick Thompson have agreed that their marriage is over and done with, but neither is ready to leave the other behind completely. Even if there's reportedly no romance involved in their relationship now, the couple who matched on the popular Netflix show "Love Is Blind" are still seeing one another, and the reason why is pretty wholesome but also sad to hear. According to them, their problem-riddled experience on the controversial dating show is the reason for their reunion.
Thompson had ex-wife Ruhl on his podcast "Eyes Wide Open" for an episode titled "The Real BTS of Our 'Love Is Blind' Marriage," in which they went into details about their time on the show and the current status of their relationship. During the podcast, Ruhl confided in Thompson that after being on "Love Is Blind," there was no one else she could open up to about her experience on the dating show.
They posted a snuggled-up selfie after the podcast
It sounds crazy: Thirty people are placed in small, isolated pods to talk to each other and, unable to see the other's face, decide if they want to get engaged. The premise of "Love Is Blind" is that people are attempting to prove the age-old adage that love really is blind.
If there was one couple we were rooting for during Season 2 of "Love Is Blind," it had to be Danielle Ruhl and Nick Thompson. They were one of the only couples to actually tie the knot at the end of their season, and despite some rough patches that had us wondering if they were actually ready to say their vows, the couple's marriage managed to last well after the season had wrapped up. But later, despite attending couples therapy to save their struggling marriage, Danielle Ruhl filed for divorce from Nick Thompson in August 2022, just one week after Season 2's Iyanna and Jarrette announced their own divorce (via TMZ).
A sweet selfie of Ruhl and Thompson looking extra cozy together was posted to Ruhl's Instagram story after the podcast aired, giving fans hope that the two are reconnecting after a bumpy road. A fan was able to capture the moment on their own Instagram account, with other fans commenting that they hope this is the beginning of something new and healthy for the healing LIB contestants.
Their alleged abuse on set left Danielle feeling 'suicidal'
Their marriage may be over, but Danielle Ruhl and Nick Thompson remain united over their claims of abuse while filming on Season 2 of "Love Is Blind." Jeremy Hartwell, one of the other contestants on the show, filed a lawsuit against the creators of the show and Netflix for what he calls an extremely "uncomfortable" experience while filming. Hartwell told CNN that each contestant's belongings were rifled through, much like a "military movie," their IDs were all confiscated, and they were forced into a 24-hour period of isolation where they were rarely given snacks and water.
Ruhl and Thompson mirrored Hartwell's claims of troublesome behavior from producers while on "Love Is Blind." In a report collected by Business Insider, Ruhl revealed that she had been forced to isolate herself from others during the newly-engaged couples' trip to Mexico due to concerns about COVID-19. Thompson, who had been around Ruhl and was likely to have contracted it as well, was still allowed to go and mingle with the other contestants.
The situation left Ruhl in a dark place; she even admitted to having "suicidal thoughts." Her isolation led to a panic attack and an angry Thompson throwing his mic at producers when he saw how upset Ruhl was. Even though Ruhl allegedly told the LIB producers she wanted off the show, she says she was coaxed into staying when they compared her and Thompson to Season 1's successful couple, Lauren and Cameron.