Ty Pennington Shares ICU Photo Behind His Social Media Absence (He'll Be Fine)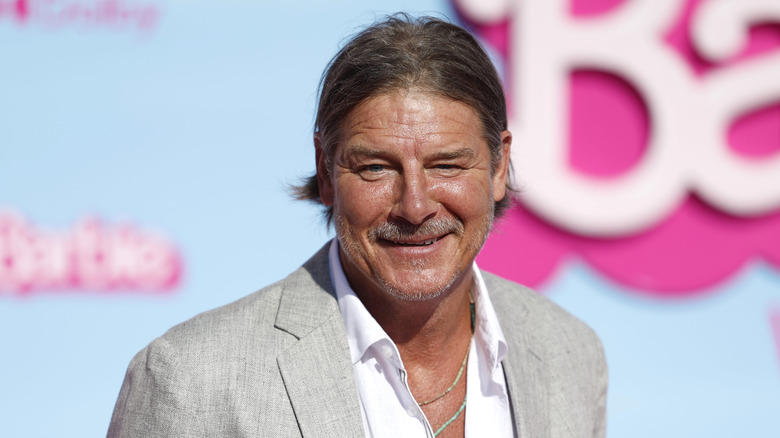 Frazer Harrison/Getty Images
Carpenter and TV presenter Ty Pennington recently had a hospital scare that took both him and his fans by surprise.
The beloved HGTV host, who has delighted his fans for years with his high energy and fun-loving behavior on various home improvement shows, took to Instagram to share his unexpected trip to the hospital. The story unfolds alongside Pennington's shared myriad of photos, which begin with a shot of Pennington in a hospital gown hooked up to an IV and other medical instruments.
"From the red carpet, to the ICU... this last week has been interesting!" begins Pennington in the caption. In the next photo, he's seen on the fabulous pink carpet for the "Barbie" movie premiere in Los Angeles. He looks like the picture of health; not a sign to show he would be rushed to the hospital not even a week later. "To shed some light on why I was MIA... Sunday I hit the red carpet for @barbiethemovie. I flew to Colorado to start filming in Breckenridge and Tuesday morning I woke up at 4am and could barely breathe," he penned.
He was flown to the ICU
In a dramatic transformation, Ty Pennington went from dapper premiere attendee to intubated hospital patient in a few short days. "Turns out, that sore throat I've had for the last month was actually an abscess which had grown so large it was closing off my airway," the Extreme Makeover: Home Edition star explained. "Next thing I know, I was intubated and flown to the ICU in Denver." After undergoing surgery on Wednesday, Pennington was released from the hospital and seems to be doing much better. He gives thanks to the staff at St. Anthony Hospital for "taking such good care of me."
In usual Pennington fashion, he ended the post with something that gave his IG followers a much-needed laugh. His second-to-last photo shows a piece of paper on which Pennington attempted to write the sentence, "I need to put on my speedo." He closed his Instagram post with a laughing emoji and an explanation for the barely legible writing: "Even through heavy sedatives it's good to see I was still in the right frame of mind."
His replies were full of well wishes and relief, including this funny quip from fellow HGTV star Brian Kleinschmidt. "Here's to a Speedo recovery! And no, that wasn't a typo," he joked.
Pennington was at the 'Barbie' premiere because of HGTV's dreamy new show
Many HGTV stars have been tapped for "Barbie Dreamhouse Challenge," HGTV's new competition show. Ty Pennington was one of them, which is why he attended the "Barbie" premiere before his health scare.
Each week on "Barbie Dreamhouse Challenge," two pairs will compete and redesign a few rooms in a house with the Barbiecore aesthetic in mind. Each pair is also assigned a decade to emulate in their designs to represent each decade the Barbie Dreamhouse has been around. This special miniseries premiered July 16, 2023, and there will be four episodes in total. One team is chosen as the winner in each episode, and at the end of the show, one overall winner will be picked.
Pennington's design prowess will be shown in the second episode of "Barbie Dreamhouse Challenge." According to HGTV's description of the show, he will be paired with Alison Victoria to create a '70s-themed man cave for Barbie's best guy, Ken. Pennington shared the show's trailer on Instagram the day of its premiere, and many people in the comments gave him "get better soon" messages. One brutally honest commenter was unimpressed by the trailer and said, "No Barbie for me. Get well soon, Ty."