Ivanka Trump Remembers Her Mother Ivana On The First Anniversary Of Her Death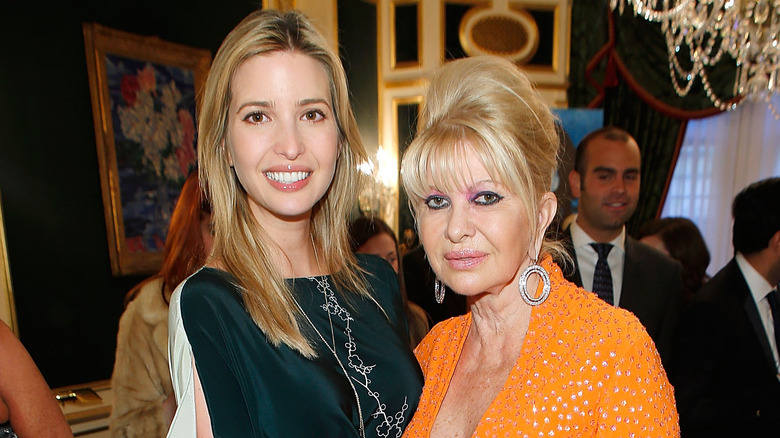 Jemal Countess/Getty Images
Ivanka Trump has posted a tribute to her mother, Ivana Trump, who heartbreakingly died one year ago. "Today marks one year since my mom passed. Her illuminating and immeasurable imprint on our lives remains with us every day.
Miss you more than you know mama," Donald Trump's oldest daughter wrote in an Instagram post. Along with the caption, Ivanka shared some throwback photos and memories of her mother from years past. Dozens of Instagram users commented on the post, sending Ivanka love and support as she remembers her mom. 
"I can not believe it's been a year! I've always admired her, a beautiful example on being a strong mother and wife. I hope she continues to rest in peace," one Instagram user wrote. "Losing my mother made me a different person, in a different space. I see that you feel that way, like you will never be quite the same person again without your mother on the planet," read another Instagram comment. Ivana's death was completely unexpected and came as quite a shock to her whole family.
Ivana Trump died from injuries sustained in a fall at her home
July 14, 2022, started off like a normal day on the Upper East Side in New York City. However, Ivana Trump's kids were about to get a phone call that no one ever wants to get. Within hours, the news made its way to the internet: Ivana had died after a fall at her apartment home at the age of 73. She was "found unconscious and unresponsive at the bottom of a set of stairs," according to ABC News. "Our mother was an incredible woman — a force in business, a world-class athlete, a radiant beauty, and caring mother and friend," Ivana's three kids — Ivanka Trump, Donald Trump Jr., and Eric Trump — said in a statement.
Ivanka later took to social media to post another statement following the tragic loss. "Heartbroken by the passing of my mother. Mom was brilliant, charming, passionate and wickedly funny. She modeled strength, tenacity and determination in her every action. She lived life to the fullest — never forgoing an opportunity to laugh and dance," she wrote on Instagram. "I will miss her forever and will keep her memory alive in our hearts always," she added. Ivana was married to former president Donald Trump from 1977 through 1990, and despite their divorce, Ivana said she and Donald had a good relationship in her later years. She is survived by her three kids and her 10 grandchildren.