What Does Christina Hall's New Husband Josh Do For A Living?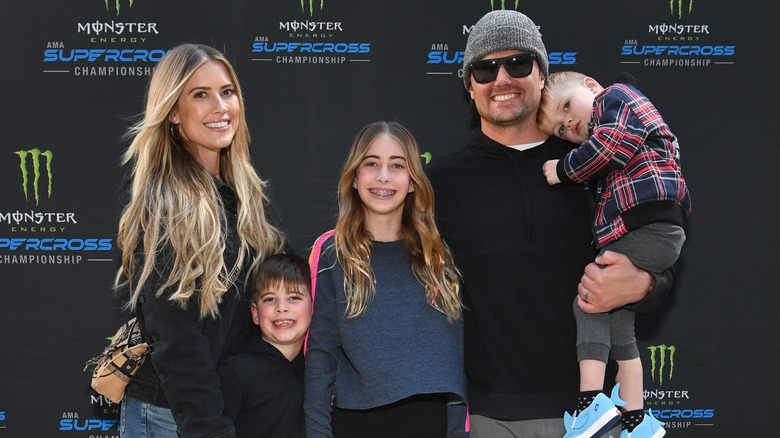 Jon Kopaloff/Getty Images
Christina Hall (formerly El Moussa and Anstead) is a famous face among HGTV fans. The real estate investor, renovator, and designer first made a splash in the reality TV world with "Flip or Flop," which she filmed with her ex-husband Tarek El Moussa. Despite two divorces, one from El Moussa and the other from Ant Anstead, Christina's passion for making homes beautiful has never faded. But now she has a new love —  her husband, Josh Hall.
The "Christina in the Country" star wed Josh in April 2022, and fans can expect to see him popping up on her show more and more, not least because he is in a similar line of work. Josh is a self-described "Real Estate Advisor" as an agent for The Foundry Group, who are based in central Texas. Licensed in Austin, Josh may have some advice for Christina if she ever brings a show to the area. Interestingly, a real estate agent is Josh's second career title. 
First, he was a police officer. Unfortunately, after serving 16 years, injuries forced him to reevaluate his career. Now, Josh may be making a career change again, as an Instagram post from March stated that he was no longer a Lone Star State resident. Christina's Instagram, meanwhile, describes him as a co-producer on "Christina in the Country," so it remains to be seen what Josh plans to do for a living in the future.
Josh has another important job too
Being a co-producer on HGTV's hit spinoff, "Christina in the Country," isn't the only role Josh Hall has to fill, though. In an interview with Entertainment Tonight, he and Christina got candid about being co-parents. Josh is the stepdad to Christina's three children; daughter Taylor and son Brayden, whom she shares with Tarek El Moussa and Christina's son who she shares with Ant Anstead, Hudson. 
Josh acknowledged that the transition took some getting used to. "It's adjusting my time. Instead of having to just take care of you, I've got three little ones that I have to give attention to as much as you do," he said. Christina agreed that time management can be an issue, mainly because the celebrity parents don't have as much help as people think. 
"We don't have assistance. We don't have full-time nannies. Both of us like to do almost everything on our own, so we really do parent on our own," she clarified. Nevertheless, Josh confirmed that being a stepdad is "very rewarding," especially knowing he'll have impacted the people the kids become later in life.
Bringing their work home with them
Christina and Josh Hall truly bring their work home when filming "Christina in the Country." Their house, located near Nashville, Tennessee, which was initially purchased as a vacation home, is currently the setting of the HGTV show. It follows Christina as she creates "breathtaking renovations for eager clients," states HGTV, and makes "memories with her kids and husband, Josh, in the beautiful countryside."
However, as Josh pointed out, there's increasingly less of the fun memory-making and more and more work. According to Heavy, during the couple's Instagram Live, Josh remarked, "It's mainly work lately. We used to go there and have a lot of fun. And now the fun is kind of on the back burner. It's been a lot of work putting together these episodes." His wife noted that his statement isn't entirely true, mentioning a recent episode where Josh and James, her design partner, were seen driving around in an RZR off-road vehicle. 
But she did concede that since filming began in Tennessee, their vacation home is less of an escape than it once was: "It used to be ... We went to Tennessee to get away and hide and turn off the phones and everything was so quiet, and then when it became work." It definitely sounds like the couple has their hands full with work and family life (and maybe a little bit of fun too).