Has Mayim Bialik's Ex Michael Stone Dated Anyone Since Their Divorce?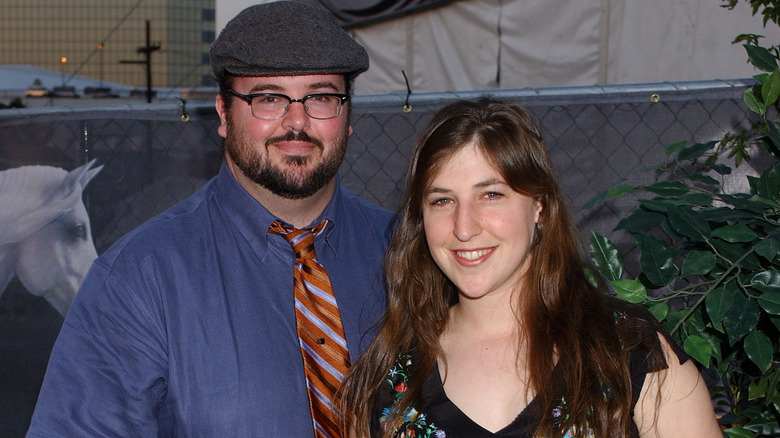 Gregg Deguire/Getty Images
Divorce is such an emotional and life-altering experience, especially since it involves parting ways with someone you once deeply loved. It's indeed inevitable as love and relationships are dynamic, subject to change, and evolve over time. Unfortunately, you just have to accept it and move on, which was exactly what the "Big Bang Theory" star Mayim Bialik did after she officially called it quits with her husband of nine years, Michael Stone. Bialik filed for divorce in November 2012 and cited irreconcilable differences. The divorce was finalized in May 2013.
In a blog post published through Kveller, Bialik said, "The main priority for us now is to make the transition to two loving homes as smooth and painless as possible." The pair shares two children, sons Miles and Frederick, and for the sake of her kids, the actor sought joint custody. While their marriage didn't work out, Bialik and Stone still have an amicable relationship to this day. So much so that the ex-lovers even spent Thanksgiving together with Stone's girlfriend in tow. The "Call Me Kat" star confessed that she was nervous during the event, and who wouldn't be? In a post published on the lifestyle website Grok Nation, Bialik explained, "It was our first time doing this kind of meal together. I would be lying if I didn't say I was nervous."
The adorable meet-up of the blended family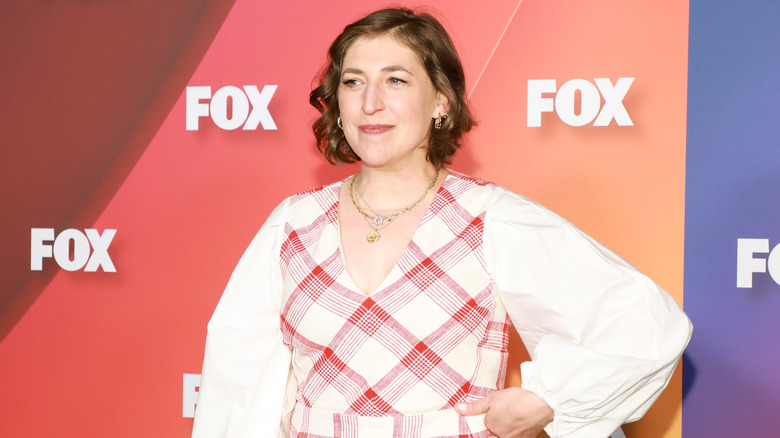 Jason Mendez/Getty Images
In the blog post published in 2018, Mayim Bialik recounted the lovely meet-up and heartwarming Thanksgiving she spent with her ex-husband. She explained that she normally hosts Thanksgiving, but her husband insisted on hosting, so she gave in. They all pitched in and cooked food for the celebration, and Bialik was relieved she didn't have to clean up after the party.
Upon meeting the new woman in her ex-husband's life, Bialik was elated. She revealed, "He has a fantastic girlfriend — truly. She's delightful. And she wants her family intact even though they are divorced." It was indeed a blended family celebration attended by Bialik, her kids, her mom, her best friend Elsa, her ex-husband, his new girlfriend, and the girlfriend's kids and ex-husband.
The "Blossom" alum said that it was a little overwhelming, but she would rather spend it that way than be alone. She said, "I am single again, and it was painful to be 'alone'." Aside from wanting to spend the event with family, she had many reasons, but it was mainly for the kids. The good friend of Jim Parsons further added, "Doing separate holidays seems excessive and sad. We are a family even though we are divorced." In the end, Bialik said that it felt good to sit down as a family and enjoy the holiday together.
Mayim Bialik is also in a relationship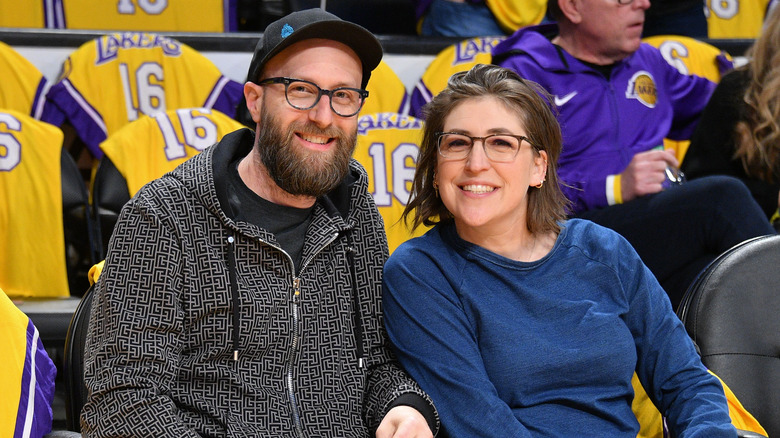 Allen Berezovsky/Getty Images
A few years down the road, Mayim Bialik has since moved on and found her person, Jonathan Cohen. Bialik first shared about her relationship with Cohen in a 2021 interview with Jewish News Syndicate. Without giving too many details, she revealed, "I am in a relationship. I got divorced eight years ago, so I've been single plenty in my life. I promise you, I know what it's like."
The lovely couple has known each other for years after meeting at a children's party and eventually started dating. It seemed like a match made in heaven. They're both multitalented and have obtained higher education. While Bialik has a Ph.D. in neuroscience from UCLA, Cohen has a Master's in Fine Art. But besides their education, the couple really connected through their shared passion for mental health awareness.
Their decision to launch a podcast together in January 2021 called "Mayim Bialik's Breakdown" was mainly to educate other people about mental health. In an interview with Forbes, Bialik said, "So many more people have either occurrences of mental health challenges or they were experiencing intense anxiety for the first time in their life. So many people didn't even know what to call it or what it was or what you could do about it. So we decided to start a podcast. The idea is to explore all the aspects of mental health that many of us are not told about. That's how Mayim Bialik's Breakdown was born."