A Look At Maria Shriver's Relationship With Cousin Caroline Kennedy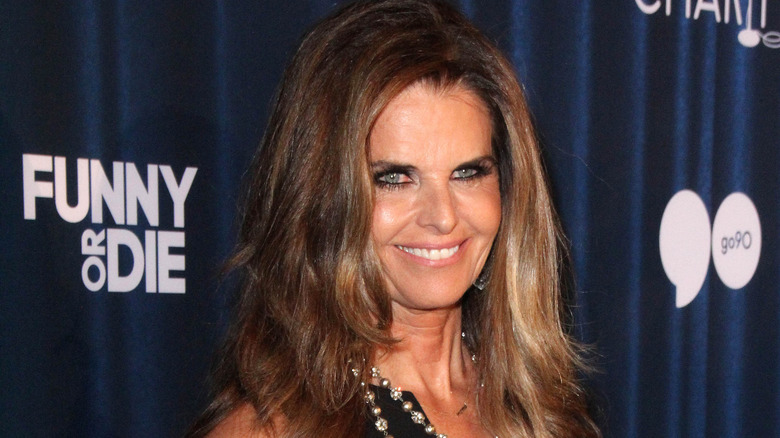 Kathy Hutchins/Shutterstock
Maria Shriver has many titles. She's the former First Lady of California, the ex-wife of Arnold Schwarzenegger, a longtime news anchor for NBC, a journalist, and a nonprofit organization founder. They're all positions that reflect Shriver's efforts to be successful in things she is passionate about, professionally and personally. However, there is one designation she didn't earn as it can only be inherited — the family name Kennedy.
Shriver is the niece of the famed 35th president of the United States, John F. Kennedy. Her mother, Eunice Kennedy Shriver, was his younger sister and the fifth child in the Kennedy clan. Shriver has said that when she was young, she spent time with the Kennedys, notably near their estate near Nantucket Sound in Massachusetts. Shriver likely connected most with her cousin Caroline Kennedy, the only daughter of John F. Kennedy and Jacqueline Kennedy, when holidaying with the Kennedy family. As children, the two joined in a family photo taken in 1961 on the White House lawn. While on vacation, the young cousins were also photographed swimming in the ocean with then-president JFK in Hyannis Port, Massachusetts.
While attending dinner with Caroline Kennedy and fellow cousin Sydney McKelvy in 2021, Shriver snapped a photo of the happy family and captioned it on Instagram, "I never had a sister, but these two have made up for that. I've known them my entire life." The trio looked incredibly similar with matching hairstyles and black tops, a classic ensemble reminiscent of their aunt, Jackie Kennedy Onassis — a style icon also known to the world as Jackie O.
Who is Caroline Kennedy?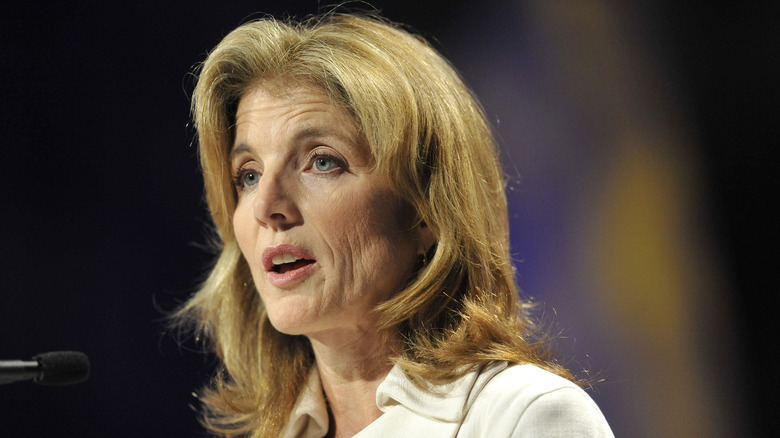 Toby Canham/Getty Images
It seems like very few (if any) members of the Kennedy family fall into obscurity, so you know that Caroline Kennedy isn't "just" the cousin of Maria Shriver. The political powerhouse has made a name for herself as an attorney, author in constitutional law, and diplomat. In 2022, she became the U.S. ambassador to Australia after serving as the U.S. ambassador to Japan under President Barack Obama's administration.
As the daughter of John F. Kennedy and Jacqueline Kennedy Onassis (and the only surviving child after the unfortunate death of her brother, John F. Kennedy Jr., in a plane crash), Caroline unsurprisingly grew up in the limelight. But nevertheless, the hardworking and upright ambassador is known for making her own way in the world. For example, she refused to use her mother's publishing contacts when she finished her book, instead opting for a company she found and wooed herself. She also shocked politicians and the media alike by turning down the position of the chairwoman of the Democratic National Convention in 1992. 
The Kennedy clan has remained close throughout the years, and Maria Shriver and Caroline are no exception, even when it comes to politics. Shriver even showed up at a campaign rally in 2008 with Caroline to support then-presidential candidate Obama.
Do Maria Shriver and the Kennedys get together often?
The Kennedy clan is historically known for being tight-knit, so it stands to reason that Maria Shriver and her cousin Caroline Kennedy spent a lot of time around each other as kids. As they grew into young adults, their relationship persisted, and the two seemed to form a bond outside of just being friends due to proximity and family ties. When Caroline married Edwin A. Schlossberg in 1986, Maria was her matron of honor. A few months prior, Caroline had served as Maria's maid of honor at her nuptials to Arnold Schwarzenegger.
Sadly, Shriver and Schwarzenegger's divorce was made official after 35 years of marriage (and a decade after filing). But Caroline never left her cousin's side, giving her sage advice. According to one insider who told the National Enquirer, Caroline said, "'Don't do it, Maria. Don't be a fool. Once a cheater, always a cheater.'" The pair have also been seen dining together and calling out one another on social media. "Happy birthday to my beloved cousin, Caroline Kennedy ... To one of the greats — loving, smart, so fun and funny," Maria posted on Facebook in 2017.
Though the Kennedys' support for one another has faced hiccups in the family's long history, it's evident that the love between these two cousins can survive thick and thin!