The Powerful Meaning Behind Lindsay Lohan And Bader Shammas' Newborn Son's Name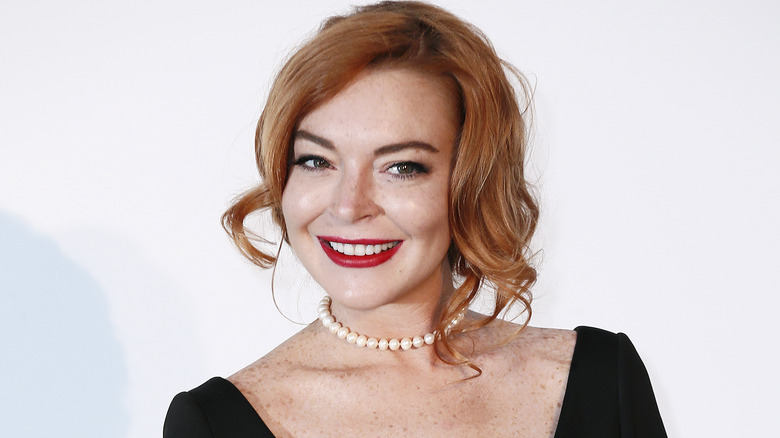 Andrea Raffin/Shutterstock
Lindsay Lohan is officially a mom! Lohan and Bader Shammas got married in 2022, and they've now expanded their family to include a baby boy. "The family is over the moon in love," a rep for the couple told People. And they chose a powerful Arabic name for their baby — Luai, which means "strong" and "steady." It's easy to imagine that the name they choose is the kind of person they want their son to be.
Lohan spoke with Allure about being excited for this next chapter in her life. "I can't wait to see what the feeling is and what it's like to just be a mom," she said. It's something Lohan is well suited for if you ask her little sister, Ali. Ali told People, "[Lindsay's] incredible, and she's a born mama. I love her so much, and I really look up to her so much." We're sure that Aunt Ali can't wait to meet little Luai if she hasn't already!
Lindsay Lohan will be raising her baby boy in Dubai
Hippolyte Petit/Getty Images
Lindsay Lohan became a star after playing twins Annie and Hallie in the 1998 remake of "The Parent Trap." Then, thanks to the early 2000s movies "Freaky Friday" and "Mean Girls," she hit superstardom. Things took a turn with some box office flops and legal troubles, including a couple of DUI charges. She ended up taking some time away from acting and moved to Dubai and opened some now-defunct nightclubs. But she seems to be pivoting back to acting, and Lohan is proving she's ready to handle a career reboot with a two-film deal with Netflix. 
The first film for the streamer was "Falling for Christmas," and it was during her press tour for the film that she thought she might be pregnant, according to Allure. A pregnancy test taken back home confirmed things, and she said she revealed the news to her husband pretty much right after she found out. "I walked into the room," Lohan told Allure. "I threw the test down. I was like, 'Guess what?' He goes, 'We are?'" And that was that! They told the world via Instagram with a picture of a onesie that read "Coming Soon." 
Lohan and Shammas are planning to raise Luai in Dubai. And while Lohan will be dedicating much of her time to her new baby, she still plans to keep acting, according to Us Weekly.