Meet Bader Shammas, Lindsay Lohan's Husband
Lindsay Lohan has had incredible difficulty finding love over the years. Her dating history is filled with heartache, including failed relationships with the likes of Wilmer Valderrama and Russian businessman Egor Tarabasov, whom the actor also claims abused her, Us Weekly reports. Likewise, Lohan's sexuality was questioned after she dated British DJ Samantha Ronson. 
Although the "Parent Trap" breakout has clearly been open to love all these years, it appears that she doesn't always pick the right people to return those feelings. Thankfully, that all seems to have changed with her husband, and the father of her son, Bader Shammas. The businessman and Lohan have been going strong for years, but, in direct contrast to essentially every other relationship she's been in, they've kept their love entirely out of the public eye. 
In fact, there are very few photos of the two of them together — especially since Lohan deleted the shot that set tongues wagging in the first place from her Instagram account. However, what we do know is that the former child star is happier than ever before. 
Lindsay Lohan is keeping this relationship extremely private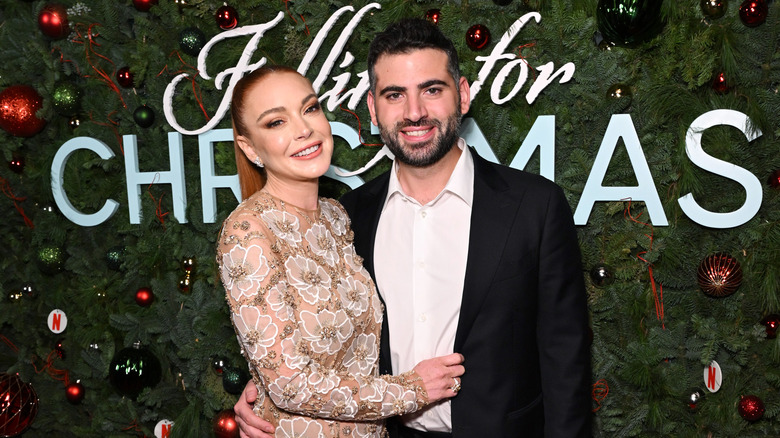 Bryan Bedder/Getty Images
According to YourTango, Lindsay Lohan casually mentioned that she was dating someone on Instagram in 2020. Immediately, fans started guessing who her mystery man might be. The "Mean Girls" star shared a since-deleted group shot with the caption, "Lovely night with sister and my boyfriend bader. such a magical night" and web sleuths quickly pounced on the information she supplied. 
Bader Shammas' Instagram is private and his LinkedIn is just as sparse, but it does reveal that he's located in Dubai (Lohan also currently lives in the U.A.E.) and worked as an assistant vice president at an international wealth management company. The actor scrubbed her account of any photos of them in the early stages of their relationship, though she did post a birthday tribute to Shammas. 
Facts Ninja confirms Shammas has a connection to the U.S. since he studied mechanical engineering at the University of South Florida before obtaining a Bachelor of Science degree in finance from the University of Tampa. Shammas has been based in Dubai since 2017. An insider told The Sun in 2021, "Lohan's relationship with Bader [Shammas] is going strong. She has been with him for about two years now." The source added that he "is a legitimate guy" rather than someone who works in the entertainment industry. Maybe that was what Lohan needed all along?
The couple welcomed their first child in 2023
In a 2023 cover story with Allure, Lindsay Lohan recalled how she immediately knew her now-husband, Bader Shammas, was the one upon initially meeting him in a restaurant in Dubai. After chatting amiably for hours, the actor told Shammas, "I feel like you're the person I'm going to be with forever," adding, "I'd never been able to talk to someone like this." The happy couple announced their engagement in November 2021, per People, and by the following July they were officially married.
Lohan inadvertently spilled the beans when she described the financier as her "husband" in a since-deleted post on Instagram. Then, just over a year later, Lohan and Shammas welcomed their first child, a son named Luai, with a rep confirming to People: "The family is over the moon in love." As Allure pointed out, the couple continues to value their privacy above all else, with the wedding and the pregnancy kept firmly under wraps for the most part. Fans aren't even sure where they tied the knot. 
The "Freaky Friday" star has frequently detailed how much safer and more comfortable she feels living in Dubai, where the paparazzi are illegal, and clearly, Shammas is a big part of that. As an insider told Us Weekly, "She's in such a healthy place," and her husband has "helped make her a better person."