Meet Hoda Kotb's Kids, Haley And Hope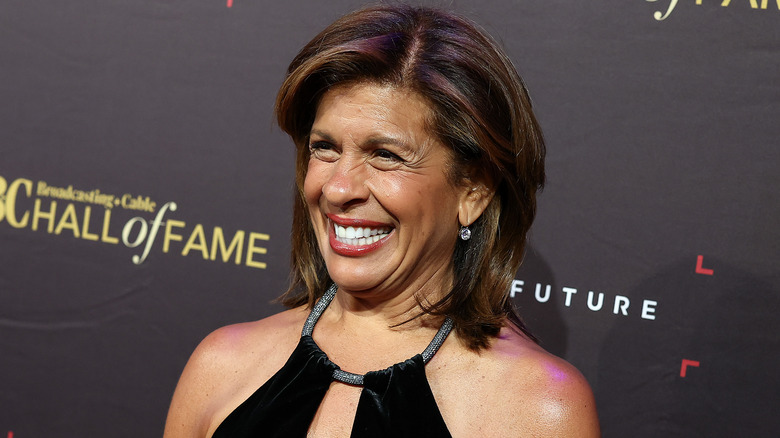 Arturo Holmes/Getty Images
Hoda Kotb is a proud mom. One look at the "NBC News' Today" anchor's Instagram illustrates just how much she adores her two children, Haley Joy and Hope Catherine. Both adorable girls were adopted by Kotb and her ex-fiancé, Joel Schiffman. After being left unable to conceive naturally following her 2007 breast cancer diagnosis, Kotb initially thought a family of her own wasn't in her future.
However, Haley Joy changed all that in 2017. Born on Valentine's Day 2017, she made her way to Kotb via an adoption agency. When the longtime Today host got the call, she knew everything was about to change, telling Bethenny Frankel on her podcast "Just B with Bethenny Frankel," "I don't know what birth feels like, and I bet it was amazing, but this was really close." It was such a once-in-a-lifetime event that Kotb named her daughter after the elusive cosmic occurrence of Halley's Comet.
Though Kotb occasionally travels for work, she never misses a moment to partake in the more mundane parts of motherhood, like picking Hayley up from school. Hayley also doesn't seem spoiled just because her mom is a celebrity. Kotb once revealed how Hayley used her chore money to buy a local restaurant owner ice cream and gushed about her eldest daughter's kind heart. Now in her early childhood years, Haley has made an appearance on "The Tody Show," inspired her mother to write a children's book, and become a big sister.
Hope Catherine
Nine months after adopting Hayley, Hoda Kotb and then fiancé Joel Schiffman applied to adopt again. Born April 12, 2019, Hope was named before she even made it into Kotb and Schiffman's arms, being named so "because there are a lot of women out there who are hoping that their day is coming too," the anchor told Today. On People's "Me Becoming Mom" podcast, Kotb talked about Hope and Hayley's special relationship, "It is as if they share the same blood. The same everything. She and Haley, they are intertwined."
As 2021 turned into 2022, Kotb and Schiffman separated, though both remain involved in their daughters' lives. Sadly, in 2023, Hope faced quite the health scare, brought to the public's attention by the celeb's sudden disappearance from "The Today Show." It was revealed that the toddler spent time in the ICU and the hospital. It wasn't until a few months later that Kotb spoke to People about her daughter's health complications, noting that she is "doing much better, much better," but also stating, "I think it's going to be a longer road, but she is doing great." Kotb has yet to detail exactly what her youngest is facing.
Since then, the star has posted pictures of both her girls cuddling with their dad for Father's Day and enjoying a summer beach day with her mom, Sameha Kotb.
Is another baby on the horizon?
Despite breaking up with longtime fiancé Joel Schiffman, Hoda Kotb hasn't closed the door on adopting a sibling for her girls Hayley and Hope. In 2022, post-separation, Kotb revealed to People that a third child is "definitely in the universe for me," continuing, "I feel like whatever is meant to be is meant to be. But I know a few things. I have love and time, and we have an open space." Reportedly the pandemic put her plans on hold but didn't stop them completely.
Some fans were quick to speculate that her third little one had arrived during her prolonged absence from "The Today Show" in 2023, only to later learn it was due to Hope's hospitalization. It's also unclear as to whether or not Schiffman would partake in the adoption process with his ex. Kotb has said before that Schiffman is a "great dad" and that the two co-parent together really well. Nevertheless, Kotb hasn't shut the door on a future relationship, stating to People, "I've had past loves, and I feel like I'll have future loves."
It remains to see who (romantic or otherwise) will enter Kotb's life in the future. But for now, the morning show host is completely in love with her two daughters and all that motherhood entails.