What We Know About Dream Kardashian's Relationship With Her Mom, Blac Chyna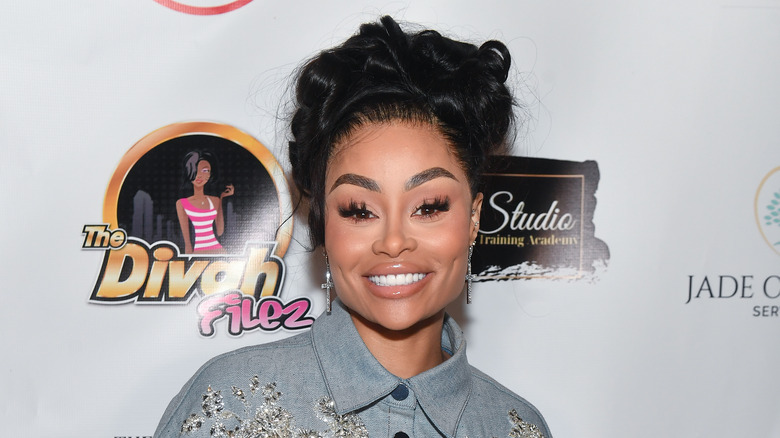 Paras Griffin/Getty Images
As the children of reality-TV royalty, the Kardashian kids lead insanely glamorous lives. Such is the story of Dream Kardashian, daughter of Rob Kardashian and model Blac Chyna. She has recently given fans a peek into her life with Dream and son King, who she shares with rapper Tyga. "They're so smart. Dream is so beautiful, King is so handsome," Chyna gushed to "Sway In the Morning." "And they love each other so much! They love each other so much, it's just awesome."
The model, who now goes by Angela White, has spoken openly about committing to changing her lifestyle. The decision, which included deleting her OnlyFans and converting to Christianity, was heavily inspired by her children. "Right now, I feel like anything that I do, they're like real sponges now, and they're gonna be on to me," White explained. "I'm spelling out the curse words and they know how to spell quite well, and they catch on to everything."
In June 2023, she shared heartfelt snaps from Dream's kindergarten graduation on Instagram Stories, per People. While Rob wasn't photographed at the event, he has been very active in his daughter's life. The co-parents, however, have long been at odds with each other, sharing 50/50 custody of Dream and landing on opposite sides of a nasty defamation case. Despite their tumultuous relationship, White assured The U.S. Sun that they share a functioning co-parenting relationship for the sake of their daughter.
Chyna and Dreamy are super close
Angela White only provides peeks into her children's lives on social media, due to privacy concerns. Glimpses of Dream can be seen on her mother's Instagram – from brushing out extensions to accompanying White to a tattoo removal appointment. Of their incredibly close relationship, she told The U.S. Sun: "My Dreamy is really into art and she loves math." White added, "I asked her what she wants to be, she said she wants to be a scientist." 
The Lashed Cosmetics owner also explained that she aims to maintain her children's privacy on social media for as long as she can. "We have to protect our little girls, and our little boys too," she argued, confirming that Dream won't be allowed to have her own accounts until she's 16, while her son, King, will have to wait until he's 14. Likewise, "They need to stay kids and be creative and worry about school and not be worrying about like how they look. They need to just focus on school and love. That's it." 
White has reached this positive outlook on life after turning over a new leaf in 2022. The former stripper pledged sobriety and is currently undergoing a spiritual rebirth. She is also documenting her journey as she reverses her cosmetic surgeries and dissolves her facial fillers, as reported by Page Six. Prior to her major lifestyle turnaround, Rob Kardashian accused White of harmful parenting and pled for custody re-evaluation in 2017 (via TMZ). 
Claims made against Blac Chyna's parenting
Angela White co-parents with Kardashian and rapper Tyga. She and Tyga had their son, King Cairo, in 2012, before splitting in 2014. Afterward, White and Rob Kardashian's whirlwind relationship turned heads in 2016. Within a year, the couple would break up many times, break off an engagement, and ultimately welcome their daughter, Dream. They even had their own reality show, "Rob & Chyna," which aired on E! for one season.
Since then, the single mom of two has repeatedly claimed that she receives no child support from her children's fathers. Rob addressed these comments publicly in 2022, clarifying that he covers Dream's tuition and she lives with him for the majority of the week (per E! News). Khloe Kardashian has also stepped in as a central figure in her life, going so far as to call herself a "third parent" to Dream, who needs a "great maternal influence," (via Page Six) 
Following her apparent criticism of White's involvement in her daughter's life, Khloe took to Instagram to clear things up. "The focus is on Dream and her happiness and making sure she feels unconditional love at her mommy's house, her daddy's house, and any family member's house for that matter," her Story read, per People. Echoing these sentiments, White told The Sun: "They're good on both sides: my side, and the fathers' side, the main focus is the kids and whatever it is that they are into, we gonna support."