The Tragic True Story Of The Cast Of Grease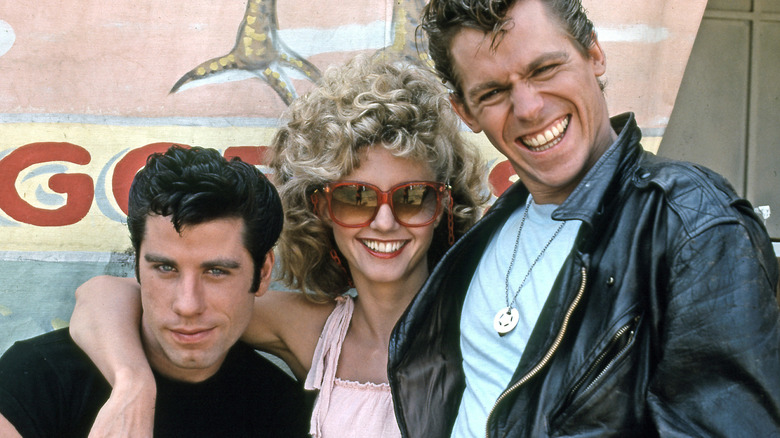 Sunset Boulevard/Getty Images
This article contains references to drug and alcohol misuse that some may find triggering.
In 1978, a groundbreaking musical hit theaters and left audiences singing along for decades to come. "Grease" was a smash hit, with four songs from the soundtrack reaching the top five hits. Olivia Newton-John spoke with Billboard in 2018 saying, "I think the songs are timeless. ... The '50s-feel music has always been popular, and it's nostalgic for my generation, and then the young kids are rediscovering it every 10 years or so, it seems." Because of its catchy, ageless tunes, "Grease" is a feel-good movie that the younger generations have continued to enjoy, with many considering it to be the original "High School Musical" (just with less basketball and more drag racing).
The musical brought several of the stars (who were much older than their characters at the time of filming) monumental success, particularly Olivia Newton-John as Sandy and John Travolta as Danny. However, it seems that the actors also faced a significant amount of hardship, and rumors of a curse on the cast began spreading. The tragic true story of the cast of "Grease" involves illnesses, addictions, familial losses, and more. If you're thinking "tell me more, tell me more," read on as we delve into the tragedies that befell the actors of this beloved musical.
Edd Byrnes became dependent on drugs and alcohol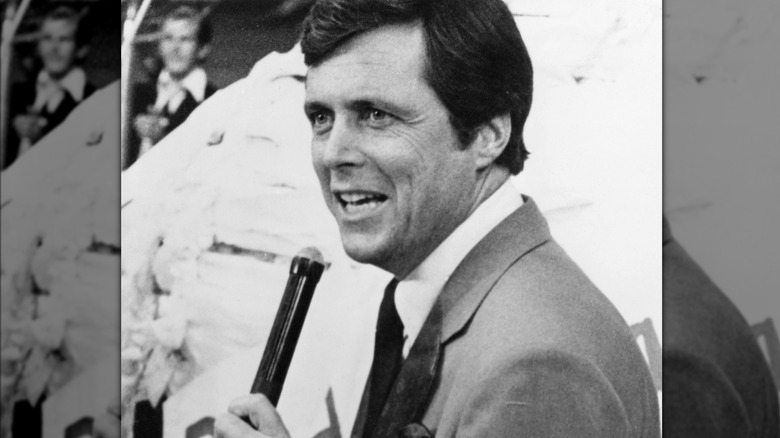 Paramount Pictures/Getty Images
Like countless movies of its time, "Grease" had its fair share of problematic moments, including a line Edd Byrnes delivered as Vince Fontaine, the radio announcer who visits the high school for the National Dance-Off: "Do your folks know I come into your room every night? Over KZAZ, that is." Byrnes was best known for his role as Kookie in "77 Sunset Strip," from 1958 to 1963, which he described as the highlight of his career, although he also played a number of roles that spanned from the early '50s to the late '90s.
In 1988, a decade after playing Fontaine in "Grease," Byrnes dedicated a rehabilitation clinic and spoke to The Washington Post about his own addiction. The actor explained that his excessive substance use began with wine but later expanded to drugs before he became sober in 1982 with the help of a 12-step program.
Byrnes attributed this point of his life in part to his struggle to land roles outside of his renowned character, Kookie. "I was the last person to know I had a disease. It was hard to admit I had a problem when I still had money, property, prestige. How can I have a problem when I'm driving my new Mercedes and it's paid for and I have a house at Malibu?" Byrnes said. The iconic actor died in his Santa Monica home on January 8, 2020, at the age of 86.
Sid Caesar had a 21-year blackout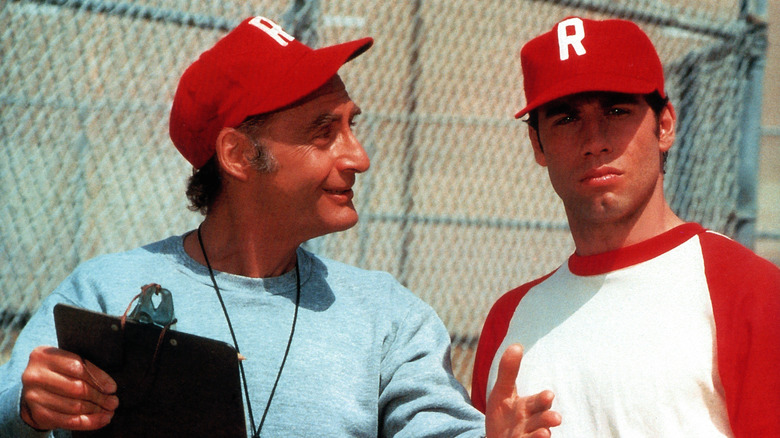 Archive Photos/Getty Images
In "Grease," the character of Coach Calhoun was a gym teacher who helped Danny Zuko find the right sport for him. He was played by Sid Caesar, a musician, comedian, and actor perhaps best known for his two long-standing comedy shows in the '50s, "Your Show of Shows" and "Caesar's Hour," prior to performing in "Grease."
Caesar was wildly popular in his prime, but he was also an alcoholic and became a ticking time bomb for his writers on set. In his memoir "Where Have I Been?" Caesar wrote, "I was the spoiled child who had all the toys. What I needed was someone to question me and make me face up to how I was slowly destroying myself."
While filming "Your Show of Shows," the comedian was earning millions of dollars but had become dependent on drugs and two bottles of Scotch daily. In his memoir, Caesar wrote, "I remember how I slipped further into darkness," he wrote. "I kept working in films, on the stage, and in TV — but I wasn't really there. It was like a 21-year blackout." His erratic behavior gave him an unfavorable reputation, and although his good friend Mel Brooks tried to help book him roles, the studios would decline when Caesar was mentioned. Eventually, enough was enough and Caesar checked himself into a hospital in 1977. He died in February 2014 at the age of 91.
Joan Blondell's third marriage cost her a lot of money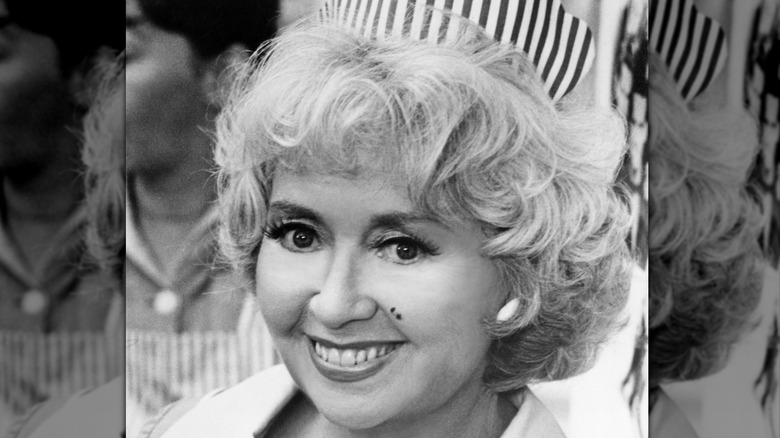 Paramount Pictures/Getty Images
Joan Blondell had a long career, with credits that date back to 1930. In "Grease," she played Vi, the head waitress at the Frosty Palace. Blondell became a fixture of Hollywood's Golden Age during her mid-20s and continued working until her death in 1979, one year after "Grease" was released. However, it was for a tragic reason that she never stopped working.
Blondell met cinematographer George Barnes while filming "The Greeks Had a Word for Them" in 1932, and they married the following year. A few years later, Blondell set her sights on her "Gold Diggers of 1933" co-star Dick Powell, so she divorced Barnes and married him in 1936. They were together for eight years and had two children together, Norman and Ellen Powell, but ultimately divorced in 1944.
Blondell's third husband was producer Michael Todd, whom she married in 1947. Unfortunately, Todd lost virtually all of his money the year prior and had married the actress in what appeared to be a gold-digging scheme. This was also because he had previously been suspected of murdering his previous wife, Bertha Freshman. Todd was a reckless, debt-ridden gambler who spent all of Blondell's fortune over the course of their three-year marriage. By 1950, he had moved on to another rich and beautiful woman, Elizabeth Taylor, and Blondell had to work hard to dig herself and her children out of the near-bankruptcy he had caused them.
Dennis C. Stewart died from AIDS
Leo Balmudo (aka Craterface), portrayed by Dennis C. Stewart, was the antagonistic leader of the Scorpions gang and always wreaked havoc with the rival T-Birds. Like many of his castmates, Stewart was already in his 30s when "Grease" was filmed, despite playing a teenaged hooligan; however, his career was tragically short lived.
After his appearance in the musical, Stewart played a series of minor roles on television shows between 1978 and 1991 and reprised his "Grease" role in 1982's significantly less successful "Grease 2." Sadly, he contracted AIDS in 1993 and, after developing pneumonia due to complications from his disease, he died the following year at the age of 46.
On July 29, 2019, on what would have been Stewart's 72nd birthday, The AIDS Memorial shared a touching tribute on Instagram from his friend Peter Robinson Jr., a New York-based photographer who also has HIV. Robinson explained that he and Stewart met in a bar in the '80s and they used to dance together whenever he visited New York City. He was very private about his personal life but also "carefree and upbeat." Part of the caption read, "Dennis was 'out' about his sexuality in New York City, very much so. I'm not sure about Hollywood, though. He was so sweet, and after we cleared we had no sexual interest in each other, he would hang out at my apartment in Murray Hill and we would laugh all night long."
Olivia Newton-John's ex-boyfriend seemingly vanished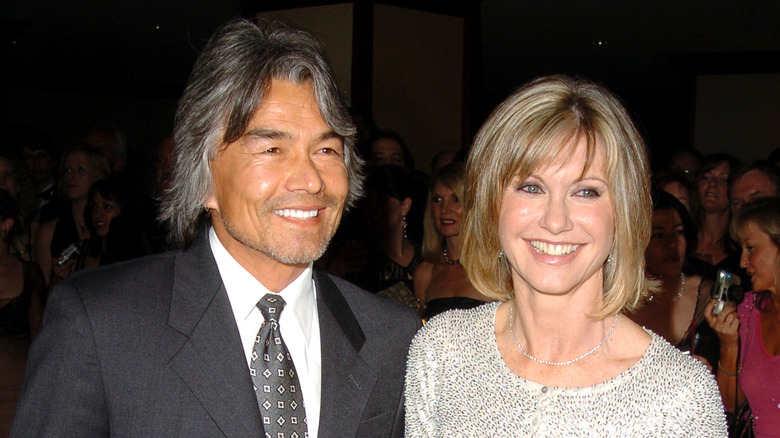 Steve Granitz/Getty Images
On June 30, 2005, Olivia Newton-John (who played Sandy in "Grease") received the terrible news that her on-again off-again boyfriend of nine years, cameraman Patrick McDermott, had gone missing. He was on an overnight fishing trip with 22 other people off the coast of Los Angeles when he disappeared. Following a Coast Guard investigation that concluded McDermott likely drowned, he has been assumed dead ever since.
Newton-John spoke with "The Early Show" in October 2005, just months after his disappearance. "It's really, really painful for me. And it is really, really personal. We miss him. We love him. We're still kind of praying that there's a chance he'll come back," she said. However, McDermott has tragically never resurfaced.
There are of course theories as to whether the cameraman actually drowned, with some speculating that he perhaps faked his own death. There have been several supposed sightings of McDermott in Mexico and some speculate that he fled his life in Hollywood due to mounting debts. But Newton-John managed to find love again and began dating John Easterling in 2007. The happy couple tied the knot in November 2008, and they remained married until Newton-John's death in 2022.
John Travolta's son died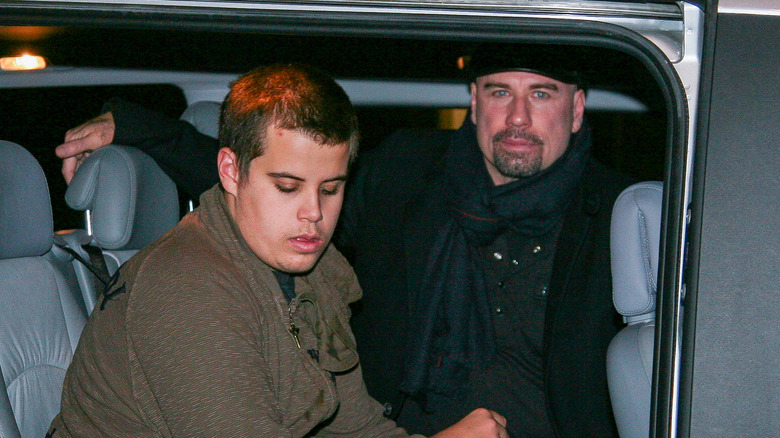 Marc Piasecki/Getty Images
Danny Zuko was a heartthrob, if not a little shady, all thanks to the iconic John Travolta. And along with the success of "Saturday Night Fever," which he'd starred in a year before "Grease," he set himself up nicely for a well-to-do Hollywood career. But sadly, Travolta faced significant tragedy and loss behind the scenes.
While on a family vacation in the Bahamas on January 2, 2009, Kelly Preston and Travolta's son Jett reportedly had a seizure, hit his head in the bathtub, and died. Jett was only 16 years old when a caretaker found him unresponsive in the bathroom. Later, he was declared dead at the hospital. Preston had previously shared that her son was diagnosed with Kawasaki disease, a rare condition that can cause inflammation of the blood vessels, at the age of 2. Although Jett's cause of death was listed as a seizure, it's been disputed that Kawasaki disease does not typically cause seizures. Instead, many speculated that Jett had autism, which carries a higher association with epilepsy, and that perhaps Preston and Travolta have denied this because of their association with the Church of Scientology; there have been many reports that the church does not recognize autism.
Travolta shared a touching tribute to his late son on Instagram on April 13, 2022, what would have been Jett's 30th birthday. "My dearest Jetty, I miss you more than words can say. I think about you every day," Travolta wrote.
Jeff Conaway suffered an injury on set that led to his death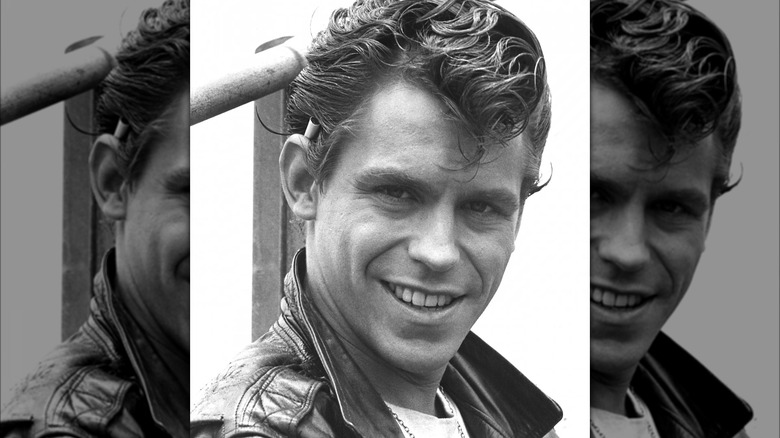 Silver Screen Collection/Getty Images
Before Jeff Conaway played Kenickie, Rizzo's beau and Danny's sidekick, he had been landing roles in a handful of '70s television shows. After "Grease," he became known for playing Bobby Wheeler on "Taxi" between 1978 and 1982 and managed to keep working in front of the camera all the way up until his death in 2011, at the age of 60. However, what some might not have realized is that it may have been an injury on the set of "Grease" that ultimately led to the actor's demise.
While filming the scene for "Greased Lightning," Conaway had been dancing on the car when he reportedly fell, causing a back injury that would plague him for the rest of his life. After the injury, he developed an addiction to painkillers that would eventually be linked to his untimely death. Dr. Drew Pinsky had treated the actor for years and, during a taping for "Dr. Drew," he said, "Jeff was a severe, severe opiate addict with chronic pain, one of the most serious and dangerous combination of problems you could possibly interact with ... The pain seemed to be motivating him back to the opiates, and I told him for years that it was going to kill him." Conaway had been admitted to the hospital for pneumonia and sepsis and was placed into a medically induced coma. He was taken off of life support two weeks later.
Annette Charles died from cancer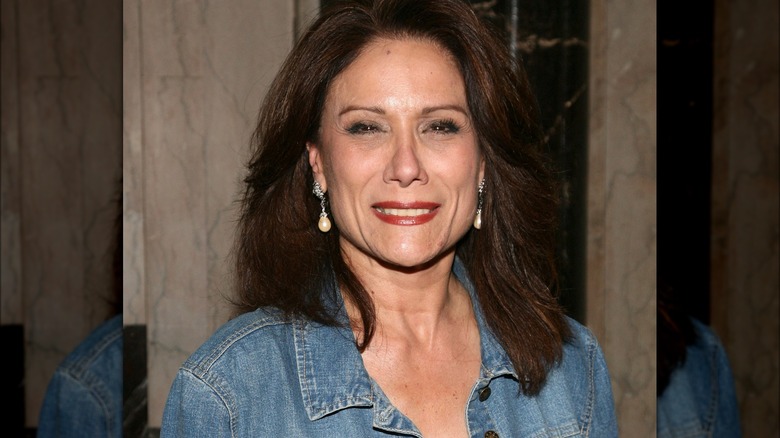 Angela Weiss/Getty Images
"They call me Cha Cha because I'm the best dancer at St. Bernadette's." This was the first line Annette Charles uttered in "Grease," in which she played the girlfriend of rival gang member Leo with incredible dance moves (and the worst reputation, according to Frenchie). She made a handful of television appearances throughout the '70s, including on "Bonanza" and "The Bionic Woman," before she was cast in the film. Although it wasn't a particularly large role, Cha Cha was an iconic character with some of the best costumes and indeed the most killer moves on the dance floor. Charles continued to act until the '80s when she decided to begin teaching instead.
In August 2011, after only recently having been diagnosed with cancer a few months prior, she sadly died due to complications of the disease. A family member told TMZ at the time, "Annette had recently started having difficulty breathing ... and when she went to the doctor she learned that she had a cancerous tumor in one of her lungs." Charles was just 63 when she died, mere months after Jeff Conaway's death.
Dinah Manoff's son died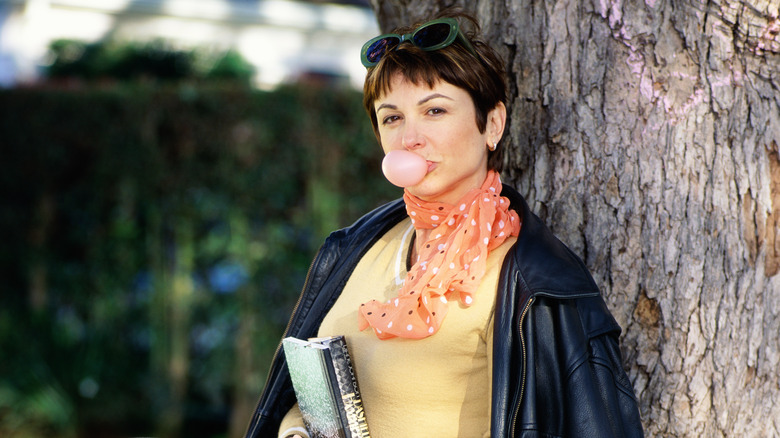 Maureen Donaldson/Getty Images
One of the Pink Ladies in "Grease," Marty Maraschino (you know, like the cherry), was played by Dinah Manoff. She got her start in the mid-'70s with a few television shows and TV movie roles before landing the musical. She continued acting with a part in "Child's Play" and recurring roles on "Empty Nest" and "State of Grace," but Manoff took a step back from her career in 2008. Since then, many have wondered what this Grease cast member is doing today, and as Manoff explained to Empty Nest TV, "Well, when my twins turned 3 and my oldest turned 9, my wonderful husband and I decided it was time to get out of Dodge, aka Los Angeles."
But in 2017, the ex-actress was back in the spotlight for a tragic reason; her son Dashiell Mortell, a Washington State University Student, had been killed in a car wreck on his way back to campus through snowy conditions on January 7. He was a passenger in the car, which hit another vehicle, flipped onto its side, and got hit by an oncoming truck.
Manoff spoke with BainbridgeIsland.com after the tragedy, saying, "After Dashiell died, I was in so much pain and grief that I felt the only people I could be around were people who were also suffering." However, eventually, Manoff was able to find solace in teaching fine arts.
John Travolta's wife Kelly Preston died in 2020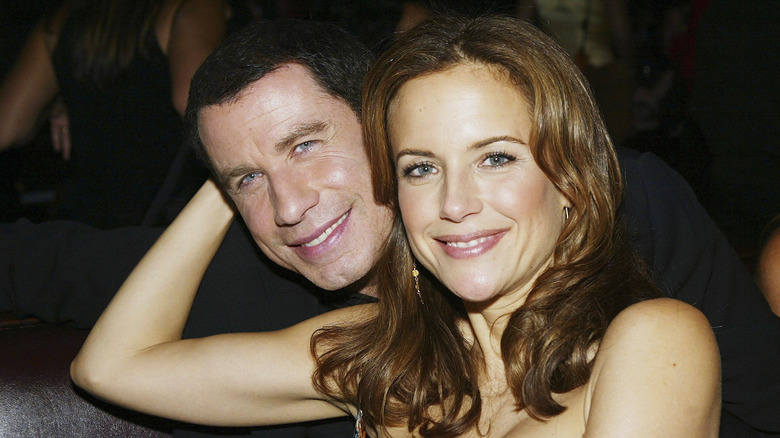 Kevin Winter/Getty Images
John Travolta met his wife, fellow actor Kelly Preston, while they were working on "The Experts" in 1987. The couple were clearly meant to be, and it was practically love at first sight, as Preston put it to Us Weekly in 2018. "I see, no lie, coming across the hall with his two dogs, this really hot guy," she said. "Then he stops and says hello. And I was like, 'Oh s***. Kill me now.' You know, like, 'Oh, my God.'" They married in 1991 and spent the next three decades together, always attending events side by side, looking as in love as they were the day they first met.
Kelly Preston's tragic death was yet another tribulation for Travolta, who had already endured the loss of their first-born son 11 years prior. On July 12, 2020, he posted a touching tribute to his wife via Instagram, announcing her death to their followers. "It is with a very heavy heart that I inform you that my beautiful wife Kelly has lost her two-year battle with breast cancer. She fought a courageous fight with the love and support of so many," part of the caption read. Preston was only 57 when she died and is survived by her husband and two children, Ella and Benjamin.
Olivia Newton-John died of cancer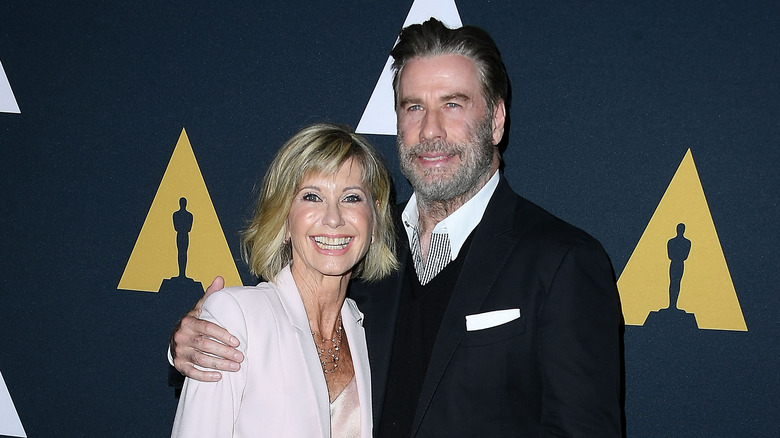 Steve Granitz/Getty Images
Before Olivia Newton-John played the "too pure to be pink" Sandy in "Grease," the English actress with an Aussie accent was a talented singer. The musical was her first big break on the silver screen, and over the course of her evolving career, she also scored chart-topping hits, including "Physical." In addition to this, she went on to co-star with her longtime friend John Travolta again in "Two of a Kind."
She was first diagnosed with breast cancer in 1992 and after a partial mastectomy and chemotherapy, she went into remission. Newton-John's disease returned in the form of a tumor in her shoulder in 2013, and in 2017, the cancer spread to the singer's spine. She died on August 8, 2022, at her Southern California ranch and was remembered for opening the Olivia Newton-John Cancer Wellness & Research Centre in Melbourne and raising hundreds of millions of dollars for cancer research. Newton-John also served as an inspiration for other cancer "thrivers," a term she preferred to cancer "survivors."
Didi Conn, who played Frenchie in "Grease," had remained a close friend of the singer over the years. The day after Newton-John died, Conn appeared on "Good Morning America" and said, "She wasn't walking anymore and then she had full-time care. But her husband John and her daughter Chloe were there all the time, and she told me that they were just so hopelessly devoted, you know."