What To Know About RHONY Star Jenna Lyons' Ex-Husband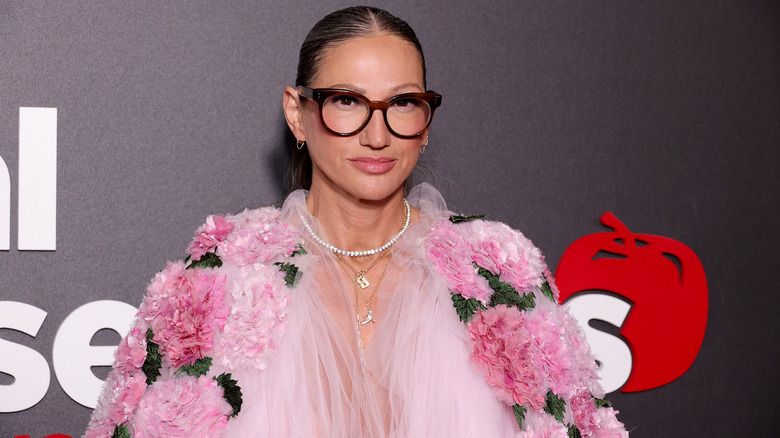 Michael Loccisano/Getty Images
Former J. Crew Vice President of Women's Design Jenna Lyons is the newest Housewife to grace the "Real Housewives of New York" franchise. The Bravo series highlights the fashion expert at the forefront of the revamped group of wealthy women. However, her current love life will remain off-limits, likely due to the tabloid frenzy that surrounded her divorce from artist Vincent Mazeau.
The two wed in 2002 and welcomed one son together. By 2011, they had sadly filed for divorce. As if the split was not traumatic enough, the New York Post ran a story soon after, outing Lyons as being gay and dating Courtney Crangi, the sister and business partner of jewelry designer Philip Crangi. Many speculated that she was the reason behind Lyons' split from Mazeau, though sources have denied such accusations (per People). Mazeau himself has refrained from releasing intimate details about his breakup, but with his ex-wife now a reality star, fans are curious to know more about him.
Vincent Mazeau exhibited his art for years before becoming a stay-at-home father
Before scaling back his career to take care of his son with J. Crew creative director Jenna Lyons, Vincent Mazeau was successful in his own right. After receiving his Master of Fine Arts degree as a graduate of Sculpture from Yale in 1995, he worked as a set designer and art director, collaborating with fashion houses such as Yves St. Laurent and Dolce & Gabbana. However, it was his paintings and 3D artwork that appeared to be his first love. He has exhibited his work multiple times, with several of his pieces still being housed in the Lehmann Maupin New York gallery. However, at some point during his relationship with Lyons, he reportedly took a step back from a blossoming creative career to be a full-time dad to their only child.
Lyons reportedly purchased Mazeau an art studio during their marriage, which afforded him the luxury of not having to work every day. However, after welcoming Beckett on October 3, 2006, the couple decided it would be best if they depended solely on Lyon's $5 million J. Crew salary while Mazeau cared for Beckett. As a result, he stepped away from his set design work. This became a point of debate in their divorce, with Mazeau requesting a settlement for apparently letting his own endeavors go for the sake of his family.
Vincent Mazeau opened his own restaurant in 2016
Several years after his divorce from Jenna Lyons was finalized, Vincent Mazeau took on a new occupation: food. After graduating from the French Culinary Institute, Mazeau teamed up with chef Julian Colcott to launch the Cherry Point restaurant in New York City in 2016. The English-inspired eatery remained open for four years before it was forced to shut its doors for good due to the COVID-19 pandemic in 2020.
Mazeau is now remarried to a woman named Natasha. The two share a daughter, though he keeps that part of his life mostly out of the public eye, with his Instagram profile remaining private. His Facebook account has not been updated since 2018, so it's unclear what he is up to now as far as an occupation, but one would hope he is still dabbling in the art sector. Hopefully, none of the marriage woes between him and Lyons are dissected during this season of "Real Housewives of New York," as he seems to be thoroughly enjoying life away from the spotlight. Instead, Lyons will likely direct much of her camera time to how she departed J. Crew just a few years before its bankruptcy filing, or possibly a style guide on the most expensive items you can purchase from the retailer. Whatever the storyline, viewers may not get any further background details on Manzeau.