Jon Gosselin Laughs Off His Negative Public Persona With Awkward OJ Simpson Joke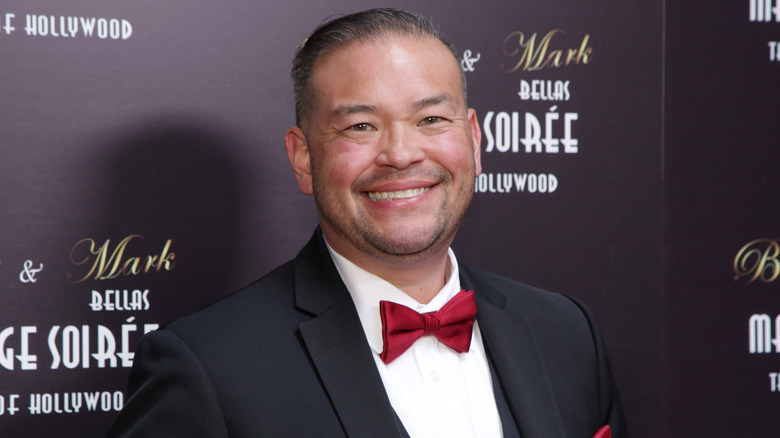 Greg Doherty/Getty Images
Back in 2007, the dawning of the reality-show era, "Jon & Kate Plus 8" was must-see viewing for millions. Fans couldn't get enough of the eight Gosselin kids — or, let's face it, the contentious relationship between their parents. But behind the fun family outings and relatable parenting moments (how do you potty train three kids at one time?), the real reality was taking place. By the middle of Season 4, Jon and Kate were separated, but they put on a happy face for the sake of the show — even  renewing their wedding vows in Hawaii.
This tidbit and more were revealed in the July 18 premiere episode of the new VICE TV series "Dark Side of the 2000s," which explored the TLC show, the Gosselins' marriage, and the additional drama that ensued when two of the sextuplets opted to live with their dad. Interviewed for the special, Collin and Hannah Gosselin made a startling claim about Kate. Collin alleged their mom was "abusive" toward him, punishing him more harshly than his siblings. Eventually, she sent him to two residential facilities for supposed behavior issues without telling the others where he was. 
Meanwhile, the tabloids were having a field day with Jon, spinning the narrative that he was a cheating husband and neglectful dad. On "Dark Side," he makes a cringey joke about his notoriety: "I'm Jon Gosselin, and in the 2000s, I was the second most-hated person in America, under OJ Simpson," he says with a laugh. "I didn't kill my wife!" Um, ouch.
Uncomfy joke aside, Jon Gosselin has moved on
Now an IT specialist and part-time DJ, Jon Gosselin admits on "Dark Side of the 2000s" his post-divorce behavior didn't help his rep. Suddenly single, with lots of TV money in his account, he reverted to college frat-boy mode. He eventually cleaned up his act, and after a hard-fought court battle, gained custody of Collin and Hannah in 2018. He's been an involved dad ever since. Meanwhile, Kate Gosselin maintained a public presence through appearances on "Dancing With the Stars" and "Celebrity Apprentice," plus the spinoff show "Kate Plus 8." 
"Dark Side" ends its Gosselin segment on a slight note of hope. Though he's still estranged from his other six children, Jon hopes to reconnect with them as they become more independent. Twins Mady and Cara are in college, and the sextuplets just graduated high school. Hannah says she is slowly reconciling with her mother, and Collin says he would like to do the same. For the moment, though, the "outcast" Gosselin has his future planned out: In his latest Instagram post, he explained he's about to report for Marines basic training — an impressive move for a young man once institutionalized for suspected behavior disorders.
Jon Gosselin's rep as America's most-hated dad is fading, too. When he recently posted a photo of himself with Hannah, a follower remarked, "Maturity is realizing Jon was the sane one all along." Another added, "Jon, you are one heck of a father! I have always thought you were so good to your children."