Who Is Robert Downey Jr's Wife, Susan?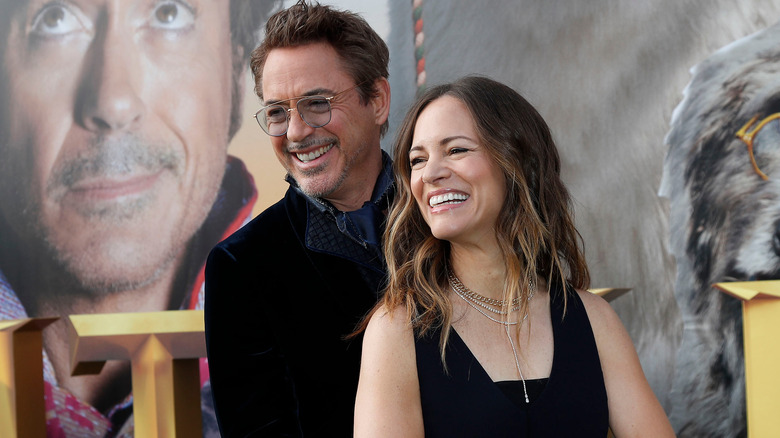 Kathy Hutchins/Shutterstock
When you think of some of the most iconic Marvel characters, it's impossible not to think of Iron Man. And it's impossible to think of anyone except Robert Downey Jr. playing the iconic role. With a personality as formidable as his, it's unsurprising that his off-screen wife, Susan Downey is nothing short of a superhero. Although she had a relatively normal upbringing as the middle child of a Sears employee father and a stay-at-home mother, she ended up joining the film industry as a producer.
From a young age, Susan was passionate about movies and knew she wanted to be a part of the filmmaking process. In a Buzzfeed interview, Susan joked about how her mother didn't push her into the career but encouraged her to stay focused on her studies. Before her golden years as a producer began, she worked as a model, but weirdly enough, her time on set for photoshoots opened the doors for her future career. She told the outlet that she had an inborn curiosity for learning the function of each equipment piece.
As her curiosities deepened, so did her passions, and Susan realized she wanted to be a producer. She started by co-producing the 2002 horror flick, "Ghost Ship." Since then, she has produced films like "Orphan," "House of Wax," "The Book of Eli," and "Unkown." Susan has also produced several movies her husband has acted in, including "Iron Man 2," "Sherlock Holmes," and "Gothika." "Gothika" is the film that introduced the pair. 
Susan Downey takes an unconventional approach to producing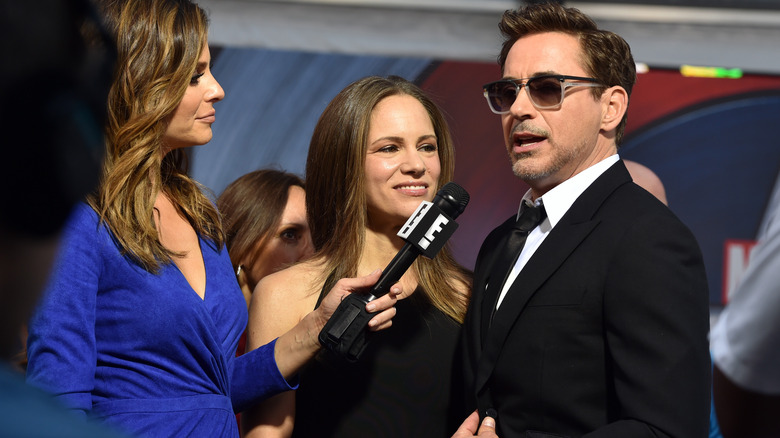 Lester Cohen/Getty Images
Before Susan met Robert, she wasn't looking to settle down. She was highly focused on her career as the vice president of production at Silver Pictures, and things stayed that way after they got married. She only quit her job in 2009 to start her own production company, Team Downey, with Robert. Team Downey seems to focus on creating content for streaming platforms, with shows like "Perry Mason," "Sweet Tooth," "Sr." and "Downey's Dream Cars." 
In her Buzzfeed interview, Susan talked about being a producer, "We're entertaining people, but we're not saving lives, you know?" she added. "[It's] one of the things I learned from Robert over the years. I was always so goal-oriented, and just put my head down [to] do the work — and he's like, 'But how 'bout enjoy the process?' Because that's what we actually have to do every day." And while it's not uncommon for a producer to indulge in ego-driven drama, Susan explained that she usually steers clear of those things and focuses on getting the best results. 
Even Robert added that it was incredibly rare to see her have an outburst, and it only occurred when someone pushed her limits. He told The Hollywood Reporter that he learned about a producer's real job after meeting Susan because he believed that a producer was an intimidating person who did everything to get their way. 
Robert and Susan have a sweet love story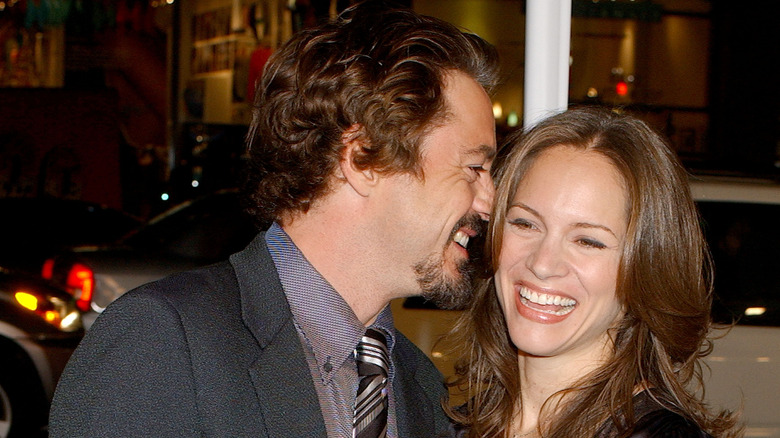 Gregg Deguire/Getty Images
Although many have found themselves instantly attracted to Robert Downey Jr., his future wife, Susan Downey, didn't immediately feel drawn to him. She told Harper's Bazaar, "I thought he was a brilliant actor, but it didn't go beyond that. I saw him more like a professor or someone's older brother." She recalled how Robert asked her out on their first date after a group workout sesh. She didn't think much of it, but when she saw Robert all dressed up for their date, something switched in her. The couple got engaged the same year they started dating.
On "The Oprah Winfrey Show," The "Iron Man" actor revealed that he popped the question minutes before she turned 30 by gifting her an assortment of presents, including the ring, and a note that said, "I was wondering if, maybe, you'd wanna, like, be my wife one day," (via People). They were engaged for two years because Susan reportedly wanted a longer engagement. They had a star-studded wedding with big names like Sting and Keanu Reeves in attendance. But their marriage hasn't been picture-perfect.
It's no secret that Robert's addiction issue caused him to get serve jail time, but they undoubtedly affected his marriage too. At one point, Susan gave him an ultimatum to get sober, or she would leave him, and that seemed to be just what Robert needed to have a stunning transformation, get sober, and stay that way.