A Complete Timeline Of Barbara Palvin And Dylan Sprouse's Relationship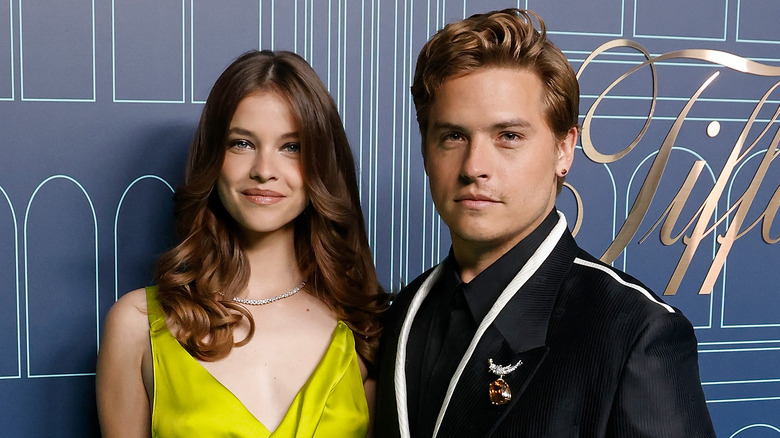 Taylor Hill/Getty Images
Dylan Sprouse and Barbara Palvin have tied the knot after five years of dating, and their sweet relationship has us believing that true love just might exist. From testing their compatibility during a whirlwind getaway in China to marrying during a secret ceremony in Hungary just a month after revealing their engagement to the world, the actor and model's relationship history is the stuff you read about in romance novels — and we're breaking it all down for you.
Though they've reigned as one of the most adorably smitten celebrity couples for years, their relationship fizzled before it began when Palvin ghosted Sprouse, after they met at a Hollywood party in 2017. Proving that life unfolds in its own time, the duo eventually found their way back to one another, thrived through the coronavirus pandemic, and became forever entwined when they said "I do" during their Budapest wedding. For a deep dive into the complete timeline of Dylan Sprouse and Barbara Palvin's relationship, scroll on.
2017: Dylan Sprouse slid into Barbara Palvin's DMs — and she didn't respond for 6 months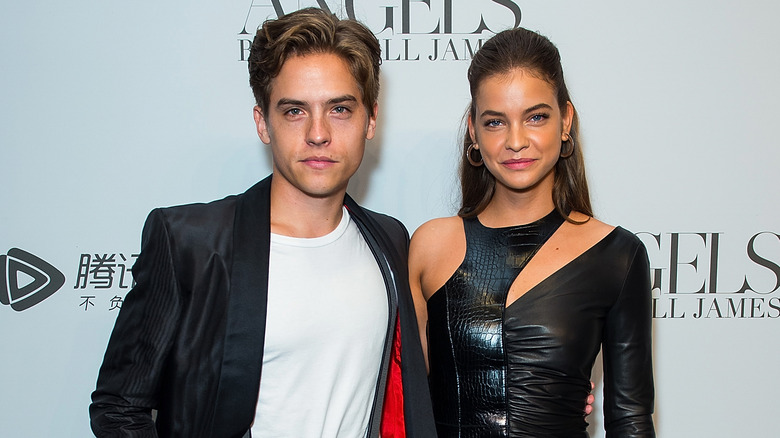 Michael Stewart/Getty Images
After meeting at a party in 2017, Dylan Sprouse decided to shoot his shot with Barbara Palvin in the way that most modern romances begin: he sent her a DM on Instagram. The "Suite Life of Zack and Cody" alum explained to "W Magazine" that the model followed him on the platform, so he messaged her. "I was like, 'Hey, I don't know if you're in New York for very long, but we should hang out if you want to. Here's my number.' And she didn't message me for six months." During the joint interview, Palvin explained, "I knew I wasn't in a good mindset at the time, and maybe deep inside I knew that it could be something more."
Sprouse continued the tale, regaling that he decided to sign up for a film project in China after being left on read. He recalled, "My manager was with me and asked, 'Dylan, is there anything you wish you had wrapped up before you left?' ... For the first time in six months, Barbara popped in my head, and I thought, 'I wish I had time to take this girl on a date.'" Then, in the most star-crossed lovers plot twist, Sprouse revealed, "Ten minutes later, Barbara texts me for the first time in six months."
2018: After ghosting him online, it was love at first sight when they met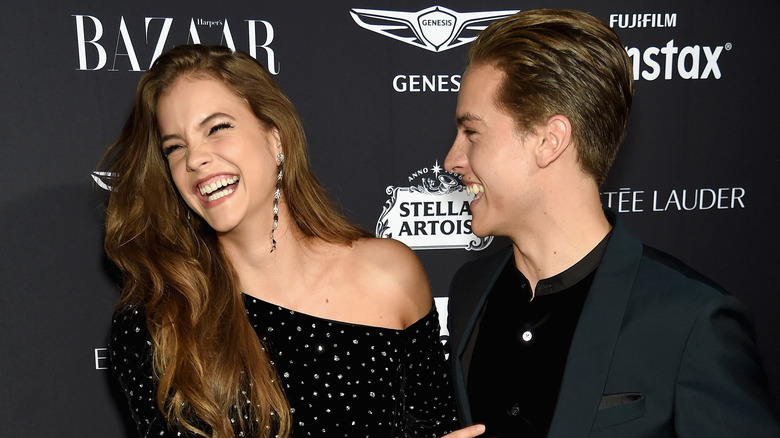 Dimitrios Kambouris/Getty Images
Coincidentally, Palvin was supposed to be in China around the same time for work, but the job ended up falling through. But fate would have it that she ended up visiting the country anyway to meet up with Sprouse, after hitting it off within the confines of smartphone communications. Not only did their connection translate seamlessly from virtual to reality, but for the Victoria's Secret Angel, it was love at first sight. During an interview with "People Now," Palvin said she knew she wanted to become exclusive with Sprouse "the first minute we met." She joked that Sprouse was eager to have her as his girlfriend, but she made him work for her love for a month. "I was like, 'No, I've got to get to know you more,'" she relayed with feigned aloofness. 
When asked what convinced her to make their relationship official, Palvin explained, "I just sat down, took a deep breath, and I'm like, 'What am I waiting for? There's no other guy I would love more than I love him, and he's got everything that I need.'" The model expanded on their instant connection during the couple's interview with "W Magazine." "With Dylan, everything seemed so easy. We had the same interests, and jokes were hitting at the right spot, and he didn't think I was disgusting or anything," she quipped.
2018: Their first kiss involved a burrito and a lot of sexual tension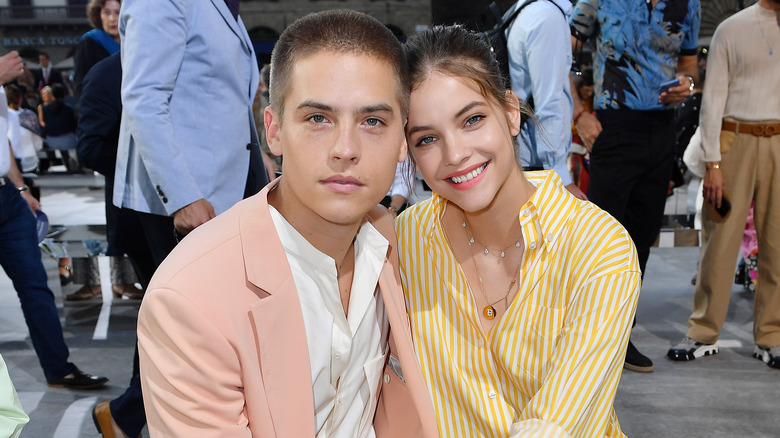 Jacopo M. Raule/Getty Images
In a video for "Vogue," the couple funnily recounted their first kiss, which took place at 3:00 AM during their first date in China, over a partially eaten burrito. Sprouse remembered, "In a single bite, you ate a third of my burrito. Then you asked me to kiss you! That was our first kiss, after you horked down one-third of my burrito," he teased Palvin. 
"I had to take control," Palvin explained. Her exasperation was palpable as she recalled the fated moment. "You wouldn't kiss me and we'd been talking and texting for like four months," Palvin lamented before adding, "Like, are you going to kiss me or what?" That late-night smooch would be the first of many, including one Sprouse and Palvin would share five years later, under the wedding altar as a newly married husband and wife.
2018: They bonded over their mutual love for anime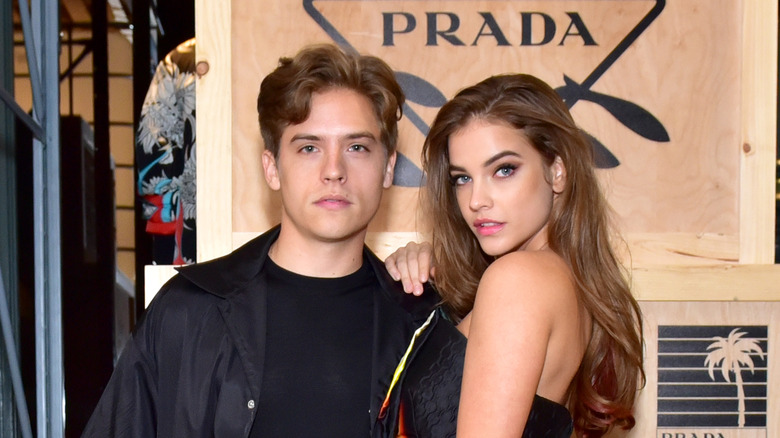 Sean Zanni/Getty Images
While they run in similar circles due to their high-profile professions, Sprouse and Palvin also share a niche interest, which they bonded over in the early days of their relationship: anime. Palvin admitted during their "W Magazine" interview, "I was hiding it. Well, not hiding it, but I wouldn't start off a conversation with that," unsure of whether or not Sprouse was interested in or even knew what anime was. The model continued, "In high school, I had a friend who would watch 'Naruto' with me, but that faded away. When [Dylan] came into my life, I was like, I'm home, baby."
The couple loves the genre so much that they've even dressed as anime characters multiple times for Halloween. They attended Heidi Klum's annual spooky bash in 2019, dressed as Ashitaka and San from the Studio Ghibli film "Princess Mononoke," and in 2018, they headed to a star-studded party as Future Trunks from "Dragon Ball Z" and Gaara from "Naruto," respectively.
November 2018: The internet deemed Sprouse Boyfriend of the Year after he went viral during the Victoria's Secret Fashion Show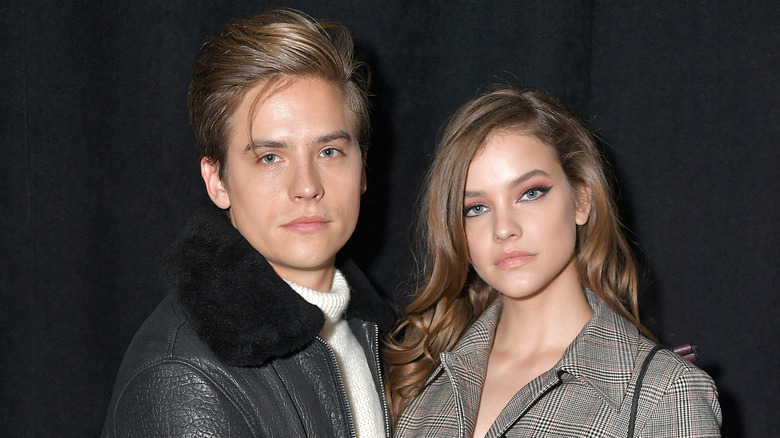 Michael Loccisano/Getty Images
In November 2018, Palvin walked in the Victoria's Secret Fashion Show, and Sprouse was the poster boy for "Supportive Boyfriend" — so much so that the internet crowned him Boyfriend of the Year when he showed up to the event with Shake Shack for his angel. While getting glammed, Palvin told "People" that Sprouse would be bringing her a bag full of burgers in celebration of the commitment she made to eating clean and working out ahead of the big night. And sure enough, the former Disney Channel star showed up with a sack of fast food goodness for his girlfriend. Recalling the moment during their interview with "W Magazine," Sprouse joked, "We've actually gotten quite a few food people reach out to us and give us stuff. I'm going to be the new food guy on red carpets, just always bringing food."
Even more swoon-worthy than supplying Shake Shack in Palvin's hour of need, were Sprouse's supportive comments about her role in the fashion show. He told "E! News" ahead of the event, "It's hard to see like from these interviews and I guess just from the Instagram posts and stuff how hard she's really worked to do this. So I think the best part for me is just knowing that like, after all of that, it really paid off. So I'm excited to see the coalescence of all that work."
March 2019: He was her biggest cheerleader on her journey to becoming a Victoria's Secret Angel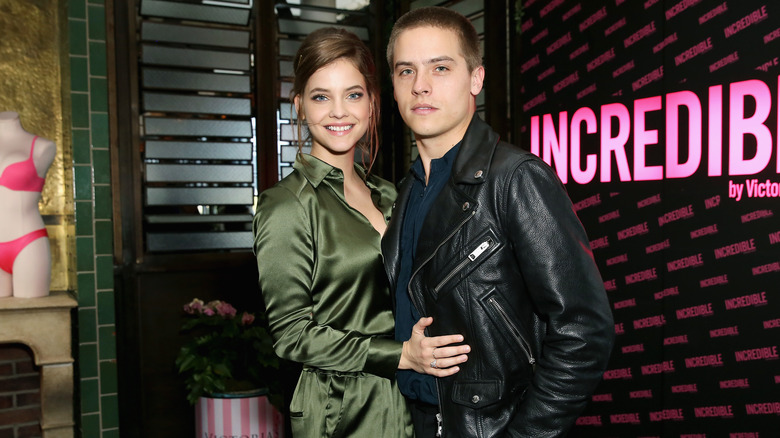 Rachel Murray/Getty Images
In addition to plying Palvin with cheeseburgers and cheering her on from the audience, Sprouse was a constant in her corner as the model prepped for her Victoria's Secret Fashion Show comeback and earned her wings soon after. The runway event marked Palvin's return from a six-year hiatus as a model in the major production, and she told "W Magazine" that she felt immense pressure leading up to the 2018 show. Ever the loving beau, Sprouse added, "It was obviously incredible. I saw all of the training leading up to it, which was very difficult, as you can imagine. Seeing her actually do it was a weight off of my chest as well."
When Palvin became the first Hungarian model to join the ranks of Victoria's Secret's Angels in March 2019, Sprouse was the first person she shared the massive achievement with. She shared his reaction with "People," telling the outlet, "He couldn't believe it. Then he was like, 'I told you. I knew it.'"
March 2020: They put their relationship to the ultimate test by living together during the coronavirus lockdown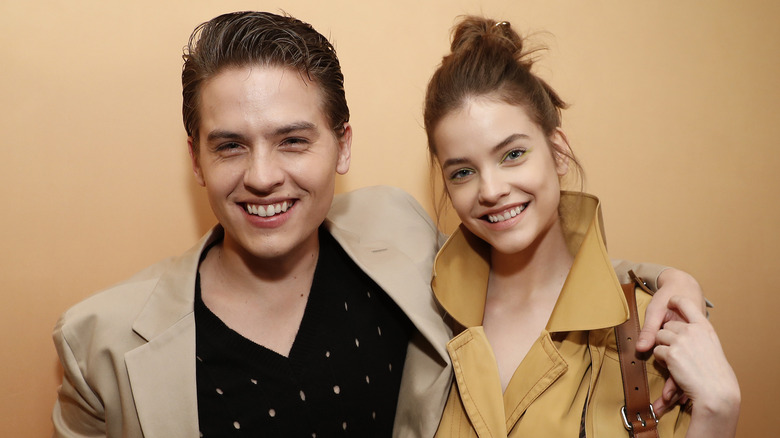 Jp Yim/Getty Images
Though they moved in together in 2019, Sprouse told "Entertainment Tonight" that the true test of their compatibility was living with one another during the 2020 coronavirus lockdown. While they were a little nervous about being cooped up together for an undetermined period of time, the couple ended up being closer than ever once the months-long lockdown ended. 
"What we've come out noticing is that we're super compatible," Sprouse explained. "It's like we know when to give each other space. We know when the other needs space. We've already divided labor around the house in certain ways — there's things we do in the morning, there's things we do at night. So, I think our relationship is stronger than ever," the actor asserted. Sprouse added that while many couples expressed annoyance with each other during and after quarantine, he's relieved and grateful that it wasn't the case for himself and Palvin.
May 2020: She was in his corner while he navigated his own passion project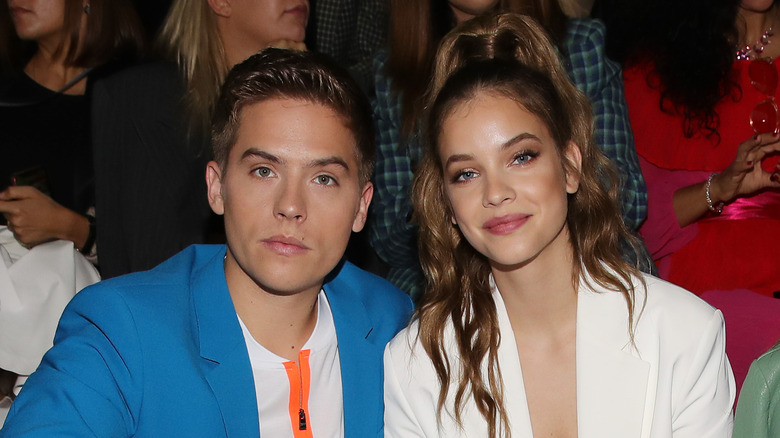 Andreas Rentz/Getty Images
As Sprouse rallied for Palvin during her journey to Victoria's Secret Angelhood, the model supported the actor-turned-author as he wrote and published his first book. During the coronavirus pandemic, Sprouse completed "Sun Eater," a comic book passion project of his. Speaking to "Entertainment Tonight" ahead of the book's release, Sprouse expressed how much he appreciated his girlfriend's encouragement throughout the process. "She's seen the progression of this series all the way through and is a huge, huge supporter. And not only that, but a voice for which I can bounce ideas off of and hear objectively from someone kind of outside of this world and empathizes with it," he said before sweetly adding, "I really don't think that I could've done it without her."
Palvin congratulated Sprouse on the major accomplishment with a playful Instagram post. She wrote, "It was just a year ago when you couldn't even brush ur teeth alone and now look at you. Your first ever ‼️COMIC BOOK ‼️ SUNEATER ‼️ is up for preorder!!!" Palvin gushed, "It is so inspiring to watch you achieve your dreams/goals! Proud of you."
2020: They show their love for one another in the kitchen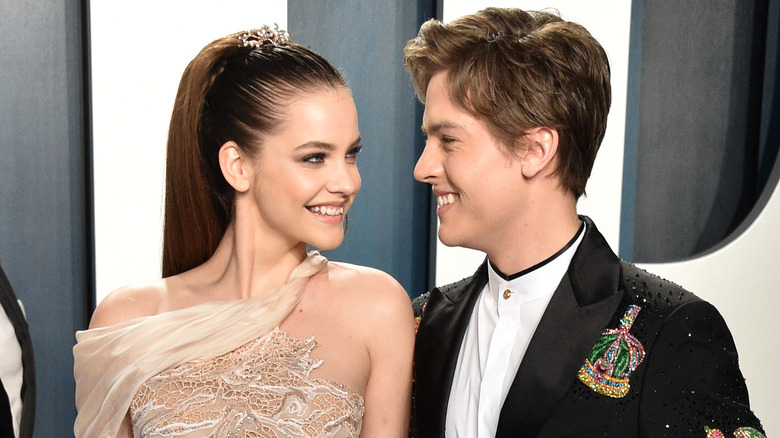 Gregg Deguire/Getty Images
In many relationships, one partner takes the reigns in the kitchen, but for Sprouse and Palvin, they take turns cooking for the other. Sprouse — who co-founded All-Wise Meadery and became the youngest master brewer in the United States in 2018 — told "People" in 2020 that the model likes to cook with mead brewed by his company. "Barbara is a fantastic chef ... and so a lot of the time I eat what she likes to make," Sprouse shared. He complimented her knack for concocting delicious glazes and reductions, deeming her quite inventive in the kitchen. 
In their 2019 interview with "W Magazine," they were both complimentary of the other's cooking chops as well. Sprouse opined that Palvin is the better cook, which she disagreed with. "I just cook more, but he's better," the model said. "I know how to cook with few ingredients and make it healthy, because that's what I had to do for VS. But when he cooks, he uses everything yummy and unhealthy, so his always tastes better," she explained before quipping, "I'm like, 'Here's broccoli and cauliflower soup made with water!'"
2022: They maintained their status as a fashion-forward couple who coordinate outfits for red carpet events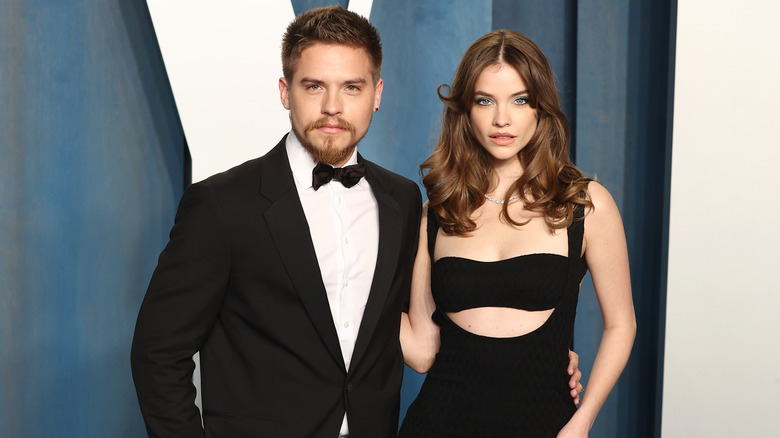 Arturo Holmes/Getty Images
In 2022, Sprouse and Palvin cemented their status as king and queen of couples' style. Ever since their first public appearances together in 2018 for Victoria's Secret Fashion Show-related events, the duo has made an adorable habit of coordinating outfits for major appearances. The Vanity Fair Oscars After Party is one of their favorite events to step out in matching designer ensembles, with their 2020 appearance marking their first fashion slay at the annual star-studded gathering. The model looked like a statuesque goddess in a nude lace dress by Atelier Versace, and the actor matched her edgy-regal vibe in a sparkling blazer embellished with colorful bejeweled crowns. Sprouse and Palvin returned to the event in 2022 donning all-black ensembles — the former in a classic tuxedo and bowtie and the latter in an elegant floor-length Missoni gown with a cutout in the midriff.
The duo also dominated couples' fashion at the 2022 Venice Film Festival. They made a red carpet appearance for the opening of "White Noise," for which they wore matching black ensembles again. While Sprouse looked dapper in his tux, Palvin stole the show in her short-sleeved, sequin-embellished Armani Privé gown, severe updo, and fierce graphic eyeliner. They also attended the red carpet for "Bones And All," during which Sprouse was debonnaire in a navy tux and gold-toed boots, and Palvin was a feminine beauty in a gold-beaded Armani Privé gown and floral crown.
February 2023: Sprouse might have proposed to Palvin on Valentine's Day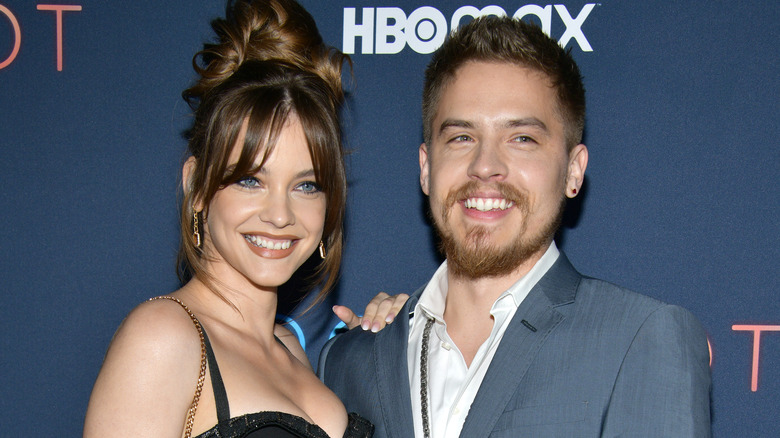 Araya Doheny/Getty Images
In March 2023, Sprouse and Palvin sparked speculation that they may have secretly gotten engaged. The couple was spotted in California at the Mammoth Film Festival, and Palvin wore a ring on "The Finger" that looked suspiciously similar to a diamond engagement ring. While the actor and model didn't comment on the rumors, a source told "Entertainment Tonight" that Sprouse had indeed popped the question. "They have been showing off her ring to people and are so happy," the source said, adding, "They're always very in love with one another and by each other's sides, but they're even happier than usual. They can't wait to start this new chapter together."
The proposal could have taken place on Valentine's Day the month prior, during which Sprouse and Palvin were visiting Yosemite National Park. In an Instagram post that's since been deleted, the actor shared a video of the model at a candlelit dinner (via People). He captioned the romantic moment, "Happy Valentine's Day to the gal who loves trumpets to the point of tears, my Calamity Jane, the mother of our furry baby. This one's for you."
June 2023: The couple confirmed their engagement with a campy wedding-themed cover shoot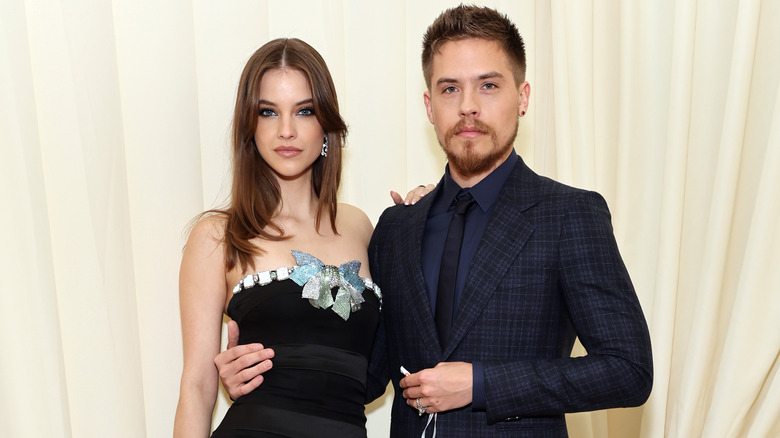 Amy Sussman/Getty Images
A few months later, in June 2023, Sprouse and Palvin confirmed their engagement with a joint interview for "V Magazine," conducted by none other than Sprouse's twin brother, Cole. Palvin revealed that they had actually gotten engaged in September 2022, and her fiancé explained that they didn't feel they owed the public an immediate announcement. The model added, "Also, we just want to do it on our time. When some people leaked the information that we got engaged, our PR team was like, 'Hey, so you guys should do maybe a post about it or talk to this magazine or talk to that magazine...' That really annoyed me because I knew we were building this story up. So, I'm very happy that we ended up doing it our way," she said.
The couple explained that they wanted to "make something that was kind of tongue-in-cheek about the nature of private versus public" while "playing with the idea of perception," which is how the exclusive interview came about. In addition to their conversation, Sprouse and Palvin modeled for a campy wedding-themed cover shoot to accompany the story, and the images really capture that "we don't owe you anything" energy.
June 2023: They planned to marry in Palvin's native Hungary, embracing the cultural traditions of Hungarian nuptials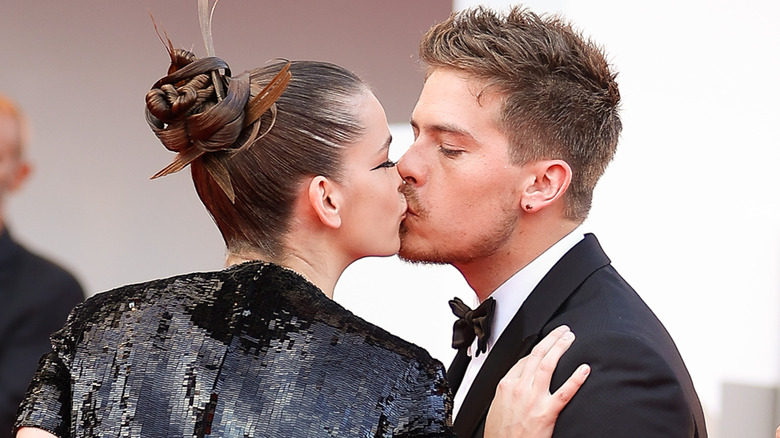 Stephane Cardinale - Corbis/Getty Images
Palvin is Hungarian, and as such, she wanted to plan her nuptials to Sprouse in her home country according to Hungarian tradition. The Victoria's Secret Angel explained during the couple's "V Magazine" interview that though she thought there would be a big difference in American versus Hungarian wedding traditions, she realized while planning their nuptials that the countries' cultural traditions are pretty similar — there are simply more traditions in a Hungarian wedding. Palvin added, "I'm excited to show that side of me and introduce my culture, the places I grew up, and the places I went to. I feel like a lot of people will learn even more about me this way. I know there was no way we would have not had a wedding in Hungary because my parents would have killed me," she admitted.
Sprouse chimed in to say he's looking forward to witnessing and being a part of a Hungarian wedding, but also to being around Palvin's large family, since he comes from a small one. He mused, "They look at her like their princess and I think it's going to be a really special moment to see them all reacting to that amidst their traditions."
July 2023: A month after announcing their engagement, Dylan Sprouse and Barbara Palvin tied the knot during a secret ceremony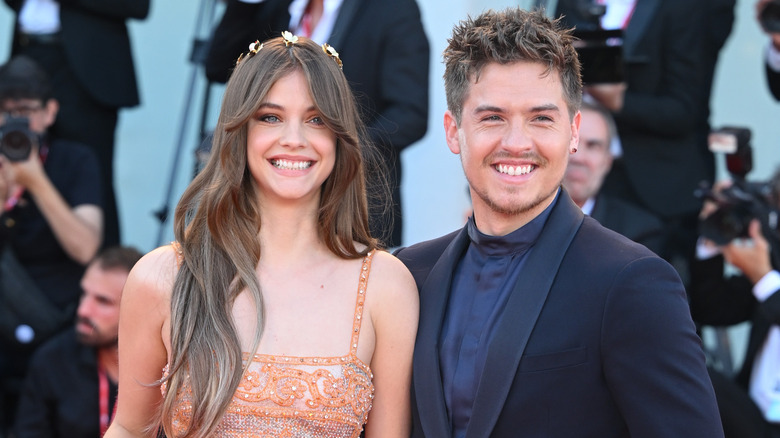 Stephane Cardinale - Corbis/Getty Images
On July 18, 2023, "Vogue" officially broke the news that Sprouse and Palvin had become husband and wife during a countryside wedding in Hungary. The couple exchanged vows on July 15, marrying in the same church the model's parents married 34 years ago. They celebrated their union with a reception on Palvin's parents' property, as the land is frequently used as a wedding venue. For the ceremony, the Angel wore a bespoke Vivienne Westwood wedding gown with a scoop neck, fitted bodice, and A-line silhouette. Her second dress was a short number by Philosophy di Lorenzo Serafini, and her third, a gown by Hungarian designer Mero, adhered to the country's tradition that designates the bride must wear a red gown after midnight. Sprouse kept his look simple and classic with a black tuxedo.
Palvin described the joy of the event, sharing, "All the people we love and care for were there. We all cried a little. The weather was perfect with a little cool breeze. It was a beautiful moment that we will never forget." Sprouse added his perspective, admitting, "Before walking down the aisle we were nervous, but as soon as we laid eyes on each other we just started laughing, and this calmed our nerves. Of course we both ended up crying." The newlyweds also plan to host a wedding celebration in the U.S. before 2023 is over.