What Is Ben Affleck's Relationship With J.Lo's Kids Like?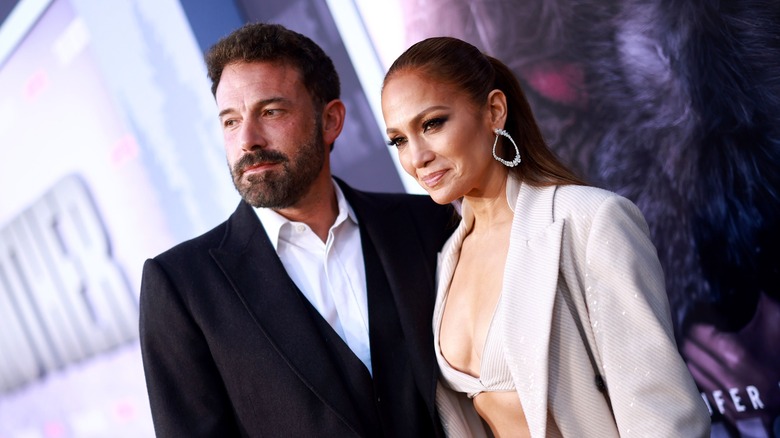 Matt Winkelmeyer/Getty Images
Ben Affleck's relationship with Jennifer Lopez is like something right out of a TV show. Long story short, they met in 2001, fell in love, got engaged, broke up, stayed friends, got back together, and finally got married in 2022. Along the way, Ben Affleck inspired two J.Lo albums, "This is me ... Then," and over two decades later, "This is me ... Now." They've given iconic on-and-off again sitcom couples like Ross and Rachel a run for their money.
After their first engagement ended in 2004, both Affleck and Lopez went on to marry other people and start families. The "Good Will Hunting" writer tied the knot with another Jennifer, Jennifer Garner, in 2005. Together, they share two daughters and a son. Lopez wed singer-songwriter Marc Anthony in 2004, and the pair welcomed twins Emme and Max into the world.
Since rekindling their Y2K romance in 2021, Lopez and Affleck (aka, "Bennifer") have been trying their best to create a happy, "Brady Bunch"-style blended family. According to J.Lo, everyone seems to be getting along pretty well. As she confirmed on "The Today Show," her kids have a lot of respect for Affleck. "They love Ben," she said, adding, "He's a wonderful, wonderful father and a father figure to them, as well." Over the past few years, the Affleck-Lopez family has planned group outings and even celebrated Bennifer's anniversary together.
Ben Affleck and J.Lo planned bonding activities for their kids
Not long after they reconnected in 2021, Ben Affleck and Jennifer Lopez took their kids — all five of them! — on a trip to Los Angeles' Magic Castle. This was just one of many blended family adventures they've booked. Earlier, the pair brought their families to see "Hamilton." "Since Jennifer and Ben are in it for the long run, it's just a natural step that they all spend time together with the kids," an anonymous source told People at the time.
Although there's constant paparazzi attention, plenty of public scrutiny, and a crew of teenagers to deal with, the it-couple has made the transition from friends to partners seamlessly. "[Affleck] teaches me about how to kinda interact with the kids sometimes," the "Jenny From the Block" singer shared on "The View," adding, "You can tell that when he had his kids he must have read every book and everything that you could possibly learn about children, and he applies it." This time around, Ben and Jen are in it for the long haul. "[Lopez] hasn't looked this happy for a long time," another source told People. 
The stars' exes have made it work, too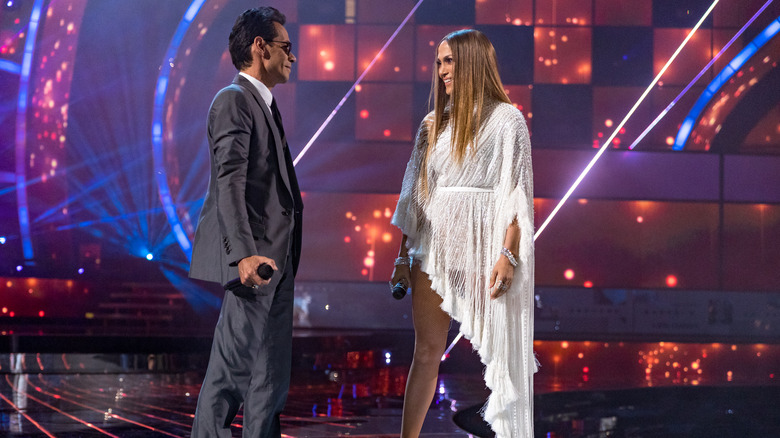 Christopher Polk/Getty Images
As is the case with most blended families, exes are an inevitable part of the equation. According to ET, Jennifer Garner and Jennifer Lopez are on good terms. "[They] are very cordial and they have a very healthy and functioning relationship," an insider revealed to the site, with one source telling US Weekly that they've even developed a quasi-friendship. Garner chaperoned J.Lo's twins (along with her and Affleck's three kids) on a trip to Disneyland.
Although Ben Affleck and Jennifer Garner decided to end their marriage in 2015, they stayed friendly. By all accounts, they're a co-parenting success story. As for J.Lo and her ex, Marc Anthony? They're also committed to building the best life for their kids. In 2019 (eight years after they separated), Anthony shared a picture of him, his daughter, and his ex-wife all holding hands. "Nothing but love between us," he captioned the post on Instagram, tagging Lopez. In the decade-plus since their breakup, the former it-couple has even continued to collaborate musically, and, in 2021, the "Hustlers" star gave him a shout-out on Father's Day.