Why Jason Aldean's New Single Is Getting Major Pushback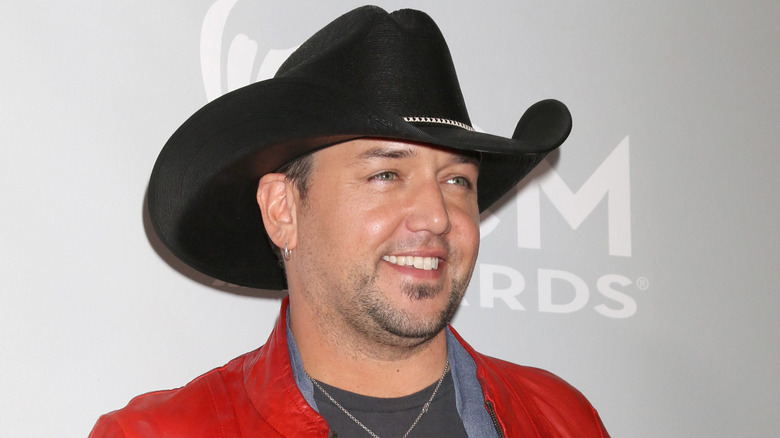 Kathy Hutchins/Shutterstock
Current events, political beliefs, and cultural ideologies have long been intertwined with popular culture. Think the 1949 novel "1984" by George Orwell, the 1969 song "Fortunate Son," by Creedence Clearwater Revival, or the 2012 film "Argo." The advent of social media has allowed for creators of all aspects of pop culture to be even more vocal about their personal views. Many celebrities now seem to double as activists. However, sometimes voicing one's beliefs causes backlash, even if said beliefs are wrapped in guitar riffs or conveyed through fictionalized characters.
The lyrics to Jason Aldean's single "Try That In A Small Town" are under fire for coming across as threatening or perhaps suggestive of violence. The lines "Got a gun that my granddad gave me. They say one day they're gonna round up. Well, that s*** might fly in the city, good luck" have particularly struck a nerve. While most of the song does not point directly to politics, Aldean's friendly relationship with Donald Trump made it easy for listeners to make connections.
Sheryl Crow spoke out against 'Try That In A Small Town'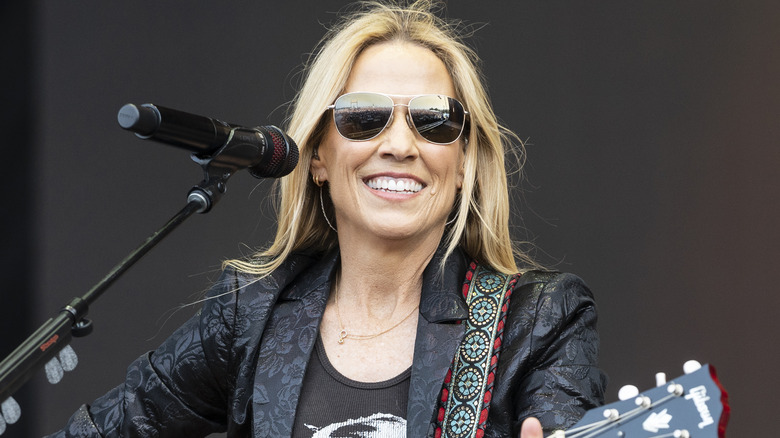 Erika Goldring/Getty Images
CMT pulled the music video for Jason Aldean's song "Try That In A Small Town" in July 2023. This came just before fellow artist Sheryl Crow voiced her thoughts on the song over Twitter. In response to a tweet about the song from Shannon Watts, an activist against gun violence, Crow posted "@Jason_Aldean I'm from a small town. Even people in small towns are sick of violence. There's nothing small-town or American about promoting violence. You should know that better than anyone having survived a mass shooting. This is not American or small town-like. It's just lame."
The mass shooting that Crow was referencing was the one that occurred at the Las Vegas Route-91 Harvest Festival in 2017. A man opened fire from the tower at the  Mandalay Bay Hotel into the crowd of concertgoers. Aldean was performing at the festival when shots were fired. It was reported at the time that approximately 500 people sustained injuries and at least 58 died. After the shooting, Aldean posted his condolences on Instagram and added a call for unity, stating, "At the end of the day we aren't Democrats or Republicans, Whites or Blacks, Men or Women. We are all humans and we are all Americans and its time to start acting like it and stand together as ONE!"
Jason Aldean defended the single on Twitter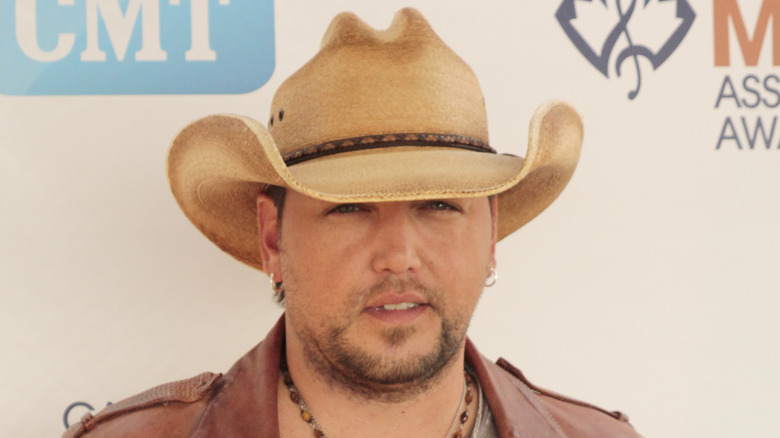 Scott Prokop/Shutterstock
A similar message of unity is what Jason Aldean insists was the message of "Try That In A Small Town." He explained the song on Twitter and aimed to refute claims that he is racist, claims that NBC News connected to Aldean's inclusion of a news clip that showed protestors near a site at which a lynching once took place. "There is not a single lyric in the song that references race . . . [The song] refers to the feeling of a community that I had growing up, where we took care of our neighbors, regardless of differences of background or belief. Because they were our neighbors, and that was above any differences," he posted.
Aldean may have been trying to celebrate the "feeling of community" in small towns, but the lyrics to "Try That In A Small Town" also reveal the rural versus urban divide in the United States. Large U.S. cities tend to support policies of the Democratic party, such as stricter gun control. Small towns lean more Republican. Reactions to "Try That In a Small Town" are more examples of the blend between real-world issues and pop culture.