Inside Jason Aldean And Donald Trump's Relationship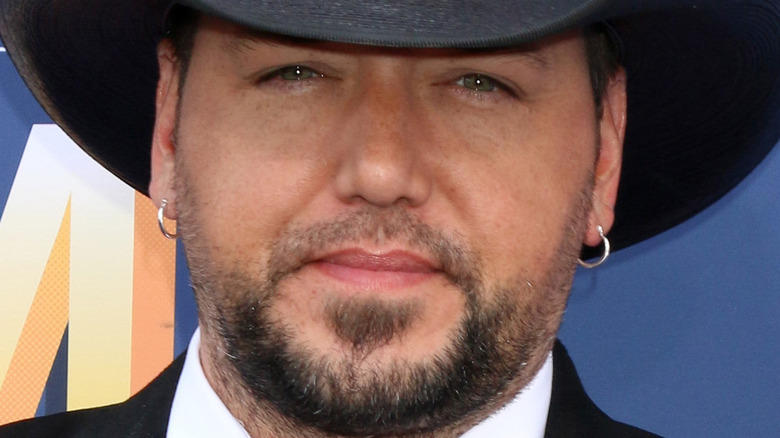 Kathy Hutchins/Shutterstock
Country artist Jason Aldean broke into the music scene and quickly made a name for himself (per Country Stars). His love for performing started with doing karaoke at age 14 and evolved into selling out stadium tours. His first album came out in 2005, and from there he has become one of the biggest names in country music.
Aside from making waves as a performing artist, he has also caused a stir with his political opinions. According to Country Rebel, Aldean had a lot to say about former President Donald Trump.
Aldean shared, "When it comes to elections, anybody just wants to feel like they're being heard. Trump, like the guy or not, he was out there busting his butt on the campaign trail, talking to these people and putting it in layman's terms for them, listening to what they had to say." He continued, "He wasn't just focusing on the big companies and the big cities. He was digging into the heartland of America. You saw those people come out in a big way to support that because they want to feel like they have a voice too."
Now it seems Aldean is more than just a Trump supporter after the former president made this comment about their relationship.
The pair have become fast friends
It was clear Aldean was a Trump supporter. Between the statements he made and his wife Brittany modeling anti-Joe Biden shirts, there was no hiding his political feelings (via Rolling Stone). Now, it seems Trump and Aldean have a deeper relationship.
According to the Daily Mail, at an event ringing in the new year, the former president introduced Aldean for his performance at Mar-a-Lago by calling him his friend. The comment was followed by these words, "He's got to be making a fortune and his wife is Brittany and she is right here. And she's a beautiful woman and she is MAGA all the way. MAGA all the way." Trump continued to gush, "Ladies and gentlemen, number one in the world. Number one in our country. Mr. Jason Aldean. We love you, man."
It seems the feelings were reciprocated by Aldean, who took to Instagram to post a photo with this caption, "Well, this [New Year's] was the best of all time. I got to spend a couple days with the G.O.A.T ... this man is unbelievable and I wish [you] all could see what he does behind the scenes. #classact."