Tina Knowles-Lawson Has A Close Relationship With Her Granddaughter Blue Ivy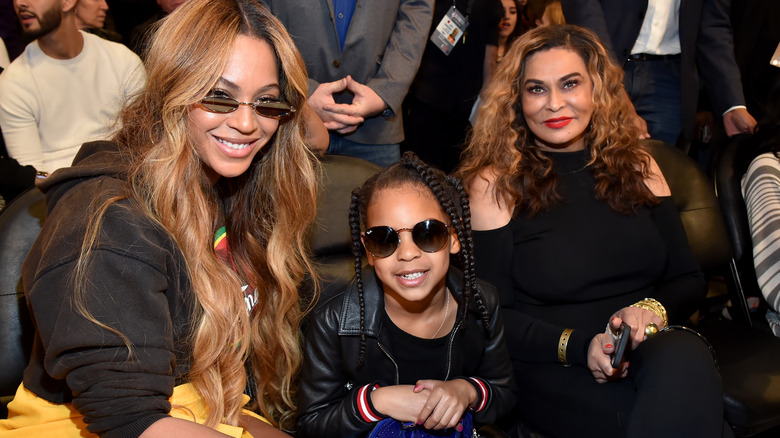 Kevin Mazur/Getty Images
Tina Knowles-Lawson is undoubtedly one of the proudest mothers and grandmothers out there. She gets to watch her enormously talented daughter, Beyoncé, kill it onstage at her Renaissance World Tour — and she also gets to witness her granddaughter, Blue Ivy Carter, blossom into an incredible performer on the same stages around the world. The 11-year-old has quickly become a star of the Renaissance shows, wowing live audiences and all of TikTok with her now-iconic dance moves to the "The Lion King: The Gift" track, "My Power."
Naturally, Tina Knowles-Lawson couldn't be more in awe of Beyoncé's eldest. She adores Carter's dancing, of course, but she also loves her granddaughter purely for who she is and everything that she does. The fashion designer never misses an opportunity to express her pride for Carter in interviews or on social media. "You are funny and beautiful and graceful, kind, and so smart," she wrote to her granddaughter on Instagram in January 2023. Needless to say, Knowles-Lawson and Carter have a special and loving relationship. 
She's proud of Blue Ivy for joining Beyoncé's tour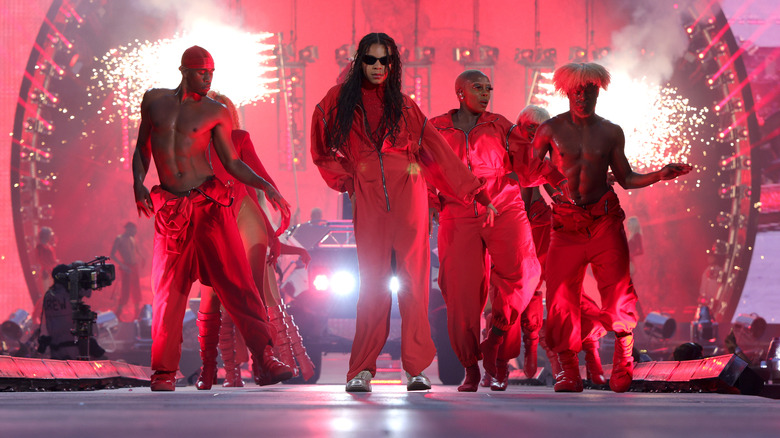 Kevin Mazur/Getty Images
During a July 17, 2023 interview with People, Tina Knowles-Lawson was happy to chat all about Blue Ivy Carter and her dancing on the Renaissance stage. According to the designer, Carter enjoyed every moment of her mother's tour since she first rocked the "My Power" dance at Beyoncé's May 26, 2023 show in Paris. "She's having the time of her life, and I couldn't be more proud of her because she really worked hard," Knowles-Lawson gushed to the magazine. 
Beyoncé's mother pointed out that the other dancers have years of training behind them, and Carter has jumped in seamlessly. "She is 11 years old, and she had one week to prepare, and she's just getting better and better," Knowles-Lawson said. "So I'm the proud grandma, always." When People asked her if her granddaughter's confidence had grown since starting the tour, she replied lightheartedly, "Oh, to the sky, to the sky. Yes." 
She expresses her love for Blue Ivy on social media
On Blue Ivy Carter's 11th birthday in January 2023, Tina Knowles-Lawson shared a sweet tribute for her granddaughter on Instagram. She posted a photo of the two of them posing on a gorgeous beach together and wrote, "The day that you were born was one of the best days of my life." Knowles-Lawson explained in the post that although she initially had hoped she and her granddaughter would share a birthday (January 4), she realized that Carter needed her own day to shine. "You can sing dance, play basketball, play volleyball, paint draw, sculpt, sew, write poetry, write songs, create, act, play the piano!" She continued her caption: "I could not ask for a better granddaughter Ms. Blue Ivy Carter! I could not be more blessed, grateful, and completely in love with another human."
The businesswoman also sang her granddaughter's praises in a May 27, 2023 Instagram post about her performance at the Renaissance tour. Knowles-Lawson shared a video of Carter dancing and complimented her impressive skills in the caption. "Blue Ivy performed in the front of a huge audience!! And yes I am a proud grandma." She added, "I am truly amazed by the courage that this brave, talented, beautiful 11-year-old exhibited last night!"