Mariah Carey And Nick Cannon's Daughter Monroe Is Growing Up Fast
Mariah Carey is the voice of a generation. A musical force to be reckoned with, Carey has sold out stadiums, broken Guinness world records, and been inducted into the Songwriter's Hall of Fame. However, her greatest accomplishment is being a mother. The celebrated "Queen of Christmas" is the mother to a set of twins, Moroccan and Monroe. She shares them with Nick Cannon, to whom she was married for eight years.
Carey often shares sweet pictures with "Roc" and "Roe," whom she has affectionately nicknamed "Dem Twins." In April, they celebrated their 12th birthday. Carey posted some photos from the joint celebration on Instagram, giving the twins a sweet shoutout. Quoting her own iconic lyrics, Carey's caption read: "Happy birthday to my favorite people on the planet!!! I thank God for you every day! 'Our love is Supernatural!!!' Ooh darlings 'cause you'll ALWAYS be my babies!!!"
While Carey is allowing them to enjoy their childhood, the twins are indeed growing up. In a post capturing their horseback-riding lesson, fans were struck by how tall Monroe had gotten. Hugging her mother as they posed in a stable, one fan commented: "Dem kids are growing up too fast!!" Certainly, Monroe and Carey share a special mother-daughter bond. The "Butterfly" singer gives fans a glimpse into some of their adventures, including designer shopping sprees, girls' nights out, and even matching ski ensembles as they hit the slopes.
Monroe is very close with both of her parents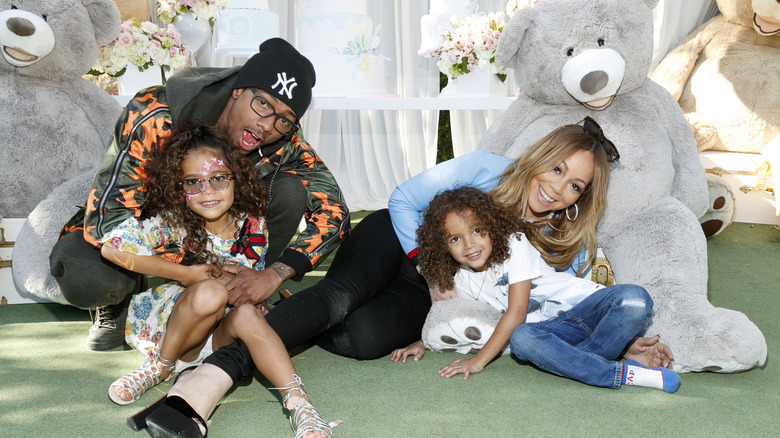 Filmmagic/Getty Images
First dubbing the twins "Dem Babies," Carey and Cannon welcomed their children in 2011. Even though they split in 2016, the two have since maintained a healthy co-parenting relationship. However, Cannon and Carey do disagree over this one issue: how young is too young for social media? Cannon shared that while he is more lenient about social media usage, their mother is quite hesitant, per People.
"So it's a balance, it's alignment. I let them run. They make TikTok videos with me and do all this stuff," Cannon told "The Jason Lee Podcast." "And they do it with Mariah too, but I let them have a little bit more freedom, especially stepping into the place of being almost teenagers." Roc and Roe also have 10 younger siblings, all fathered by Cannon within the past four years.
Cannon has shared that it is difficult to maintain tabs on all of his 12 children, but that he knows they all feel loved. He even admitted that Monroe helped him get through some of his toughest times, such as his son Zen's passing in 2021. The 5-month-old tragically passed from brain cancer. "My daughter, really, she's so in tune and in line and wise beyond her years," he explained to People. "I got a lot of therapists, but she's probably my best therapist."
Monroe is inspired by her mother's musical career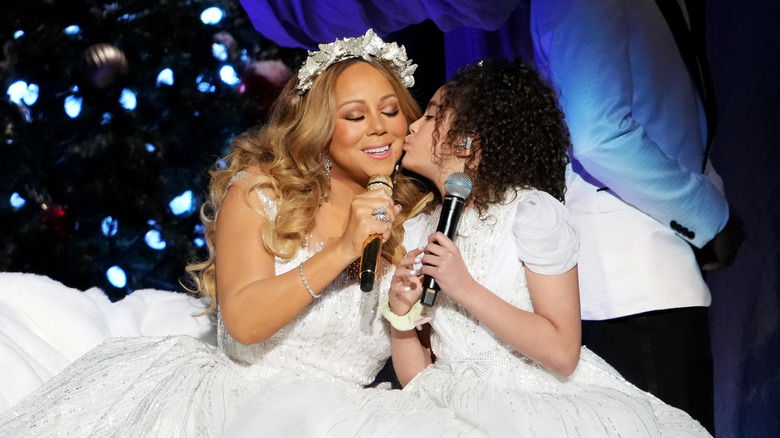 Kevin Mazur/Getty Images
Monroe appears to be following in her mother's musical footsteps. The 12-year-old takes voice lessons, which Carey hilariously crashed in an Instagram video for her "It's a Wrap" challenge. The mother-daughter duo have also taken the stage together multiple times. First, during a few of Carey's shows around the country, both of the twins would help their mother sing "Always Be My Baby" (per Daily Mail). More recently, they sang a hymn together at the pop star's "Merry Christmas to All" concert in December 2022, reported Us Weekly.
In 2021 Monroe made her modeling debut in a campaign for kidswear brand OshKosh B'gosh, per USA Today. The campaign aimed to highlight and empower children's dreams for the future, according to the press release. In the advertisement, Monroe channels a mini pop diva as she portrays a younger version of her mother. She writes in a songbook, does some spins, and even attempts some of Carey's iconic high notes in the mirror.
"Someday it's gonna be different," Monroe says in the commercial. "The melodies that live in my head, someday they'll live at the top of the charts." Meanwhile, Carey is wholly supportive of her daughter's ambitious dreams. In the press release, she shared: "As a little girl, I was determined to realize my dreams. Now as a mother, it brings me so much joy to see my children visualize and develop the dreams they hold in their hearts."