TJ Holmes' Daughter Sabine Is Growing Up To Be Her Mom's Twin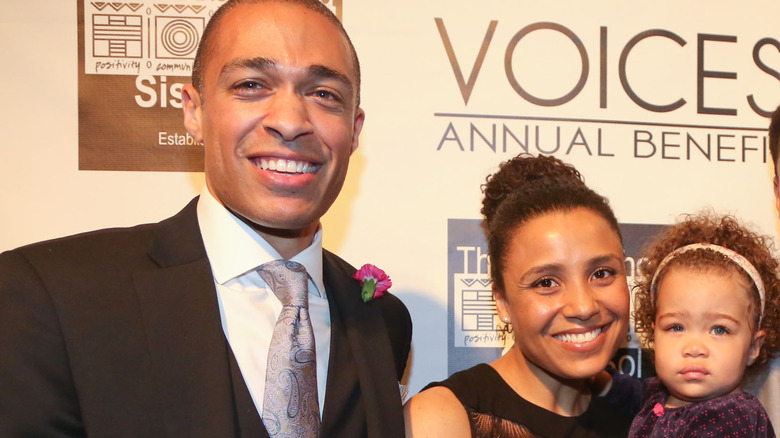 Johnny Nunez/Getty Images
Even though former "Good Morning America" host TJ Holmes is going through a divorce from wife Marilee Fiebig, the estranged couple remains committed to co-parenting their daughter Sabine. While Holmes has not been active on his Instagram since December 2022, Fiebig posts periodic updates with her followers, sharing images of the couple's gorgeous daughter, who is the spitting image of her mother.
The 10-year-old sports the same natural curls as Fiebig and seemingly loves the outdoors. In one image on Fiebig's profile, Sabine is seen playing in the woods with a friend, while a Reel shows the free-spirited youngster racing a pal in a Napa vineyard. Despite the messy breakup between Fiebig and Holmes, the dedicated mother still has old family photos on her platform, showing the trio in happier times. Unfortunately, the same cannot be said for Holmes, who appears to have scrapped most remnants of Fiebig from his Instagram before going silent on social media, though images of his precious little girl remain.
Sabine was a star on the Good Morning America set
Throughout their 12-year marriage, disgraced ABC anchor TJ Holmes and immigration lawyer Marilee Fiebig, they only had one child, Sabine, born in January 2013. She quickly became a popular figure among "GMA" staffers, appearing on set several times with her father. In her short life, Sabine has bumped elbows with several Hollywood A-listers including "Black-Ish" star Tracee Ellis Ross, with whom she got to hang out on the set before the show's cancellation in April 2022. Years earlier, Holmes shared another touching moment of Sabine alongside actor Jussie Smollett and longtime "Good Morning America " correspondent Robin Roberts. In the adorable image, Roberts and the little girl wore matching shimmer dresses while filming on set.
While Sabine is Fiebig's only child, she has half-siblings from her father's previous relationships. Holmes has two older children, Jaiden and Brianna, though they remain out of the spotlight. Not much is known about Sabine's relationship with her older brother and sister except for a 2012 Instagram post of their father alongside a baby who is assumed to be Brianna.
TJ Holmes and Marilee's divorce could get nasty over custody of Sabine
Since filing for divorce from Marilee Fiebig in December 2022, TJ Holmes has remained mostly tightlipped about their split. Sadly, Sabine may be thrown in the middle of the feud at some point. Due to his very public extramarital relationship with "GMA" co-host Amy Robach, legal experts believe this could negatively impact his custody agreement when the divorce finally reaches a settlement, per People.
There has not been much movement on the divorce proceedings since its filing. No judge has been assigned to their case just yet, so things remain amicable for now between the co-parents. Sabine appears oblivious to the parental drama, as seen in a July 10th Instagram Story post shared by her mother. She was all smiles at summer camp, posing in a red and white Rolling Stone t-shirt and her signature coils during what appears to be a foam party with her fellow campers. Hopefully, her infectious smile remains even as her family dynamic is changing drastically.