Why Kellyanne Conway Really Left Her Role In The White House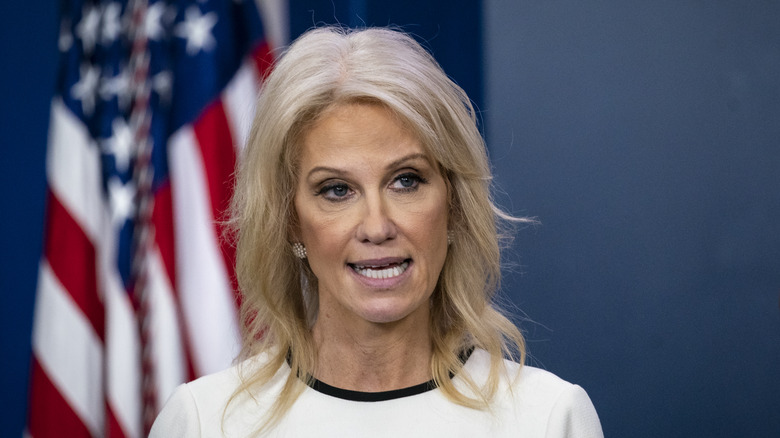 Bloomberg/Getty Images
As one of Trump's longest-serving aides, Kellyanne Conway surprised conservative America when she decided to step down as his senior counselor in August 2020. She originally helped Trump reach victory in his 2016 presidential bid and has since been a passionate advocate for the former president and his policies. However, her ex-husband George Conway is a political attorney and strongly anti-Trump — so much so that he co-founded the "Lincoln Project, a Republican committee dedicated to fighting harmful "Trumpist" rhetoric. But as of 2020, George also stepped down from his political role for similar reasons as his then-wife. Eventually, in March 2023, the Conways announced their divorce via a joint statement, according to PageSix.
When she announced she was done as a senior counselor, Kellyanne reassured supporters, "This is completely my choice and my voice ... For now, and for my beloved children, it will be less drama and more mama" (per Washington Post). The drama has certainly been rampant concerning the Conways and the oldest of their four children, Claudia Conway. Claudia has been outspoken against right-wing policies, specifically those of her mother's boss, the former president. Even though the teen said that her relationship with Kellyanne has since improved, she is still vocal about her left-leaning views.
Of her family, Kellyanne continued, "We disagree about plenty, but we are united on what matters most: the kids ... As millions of parents nationwide know, kids 'doing school from home' requires a level of attention and vigilance that is as unusual as these times."
Kellyanne's daughter Claudia is a liberal activist
In 2020, a then-15-year-old Claudia became vocal on social media about her left-leaning political beliefs. The teen has shared videos in support of Black Lives Matter, reproductive rights, and in criticism of the Trump administration. She also identifies as queer and aims to educate other young people on these important topics.
"I believe that ignorance stems from a lack of education and a lack of knowledge, and I believe knowledge is power," Claudia told Insider, adding that she wouldn't take her progressive TikTok videos down, even after her mom asked her to do so. "I'm not going to because I think I have a right to my own freedom of speech. If she works for Trump, she works for Trump ... My dad thinks it's awesome that I'm speaking for myself and expressing my views," Claudia said.
In May 2023, Claudia took her expression to new lengths and decided to join Playboy.com's X-rated subscription service (via New York Post). Following the announcement, the 18-year-old tweeted an explanation of her decision to her followers, saying that as a teenager, she was "exploited by the media, preyed upon, and was forced into portraying myself as something i [sic] wasn't. my body was taken from me. now, as a young adult, i [sic] am aiming to reclaim my womanhood and femininity in a way that is truly mine," Claudia wrote.
Kellyanne and Claudia's public political feud
When it came to her mother's central role in the White House, Claudia was very outspoken. She famously had some harsh words for Kellyanne after revealing her positive COVID-19 diagnosis in October 2020. Frustrated by the lack of safety precautions, Claudia explained that her mother attended an unmasked political event where several attendees, including Trump, also contracted the virus. She even posted a video of their argument over the incident, which set social media ablaze.
The liberal activist had previously announced in August 2020 that she wanted to become an emancipated teen. She tweeted her bid out to her followers, citing verbal and emotional abuse at the hands of her parents. In January 2021, a topless photo of Claudia was posted to Kellyanne's Twitter, and the teen angrily called for her mother to go to jail (via Vox). After realizing it was the work of a hacker, she retracted her statement.
Today, Claudia and Kellyanne's relationship has since improved. In 2022, Claudia told Bustle that she wasn't trying to "take down her mom," at all; rather, their politics simply clashed. Now, they have aligned on some unlikely views — such as reproductive rights. "She was supportive of my protests, of all the work that I did this summer, because she knows," Claudia explained to Bustle. "She's had her own experiences with reproductive health care, and I think it's actually really cool, and I hope that she'll talk about that more."