Claudia Conway Has Harsh Words About Mom Kellyanne's COVID Diagnosis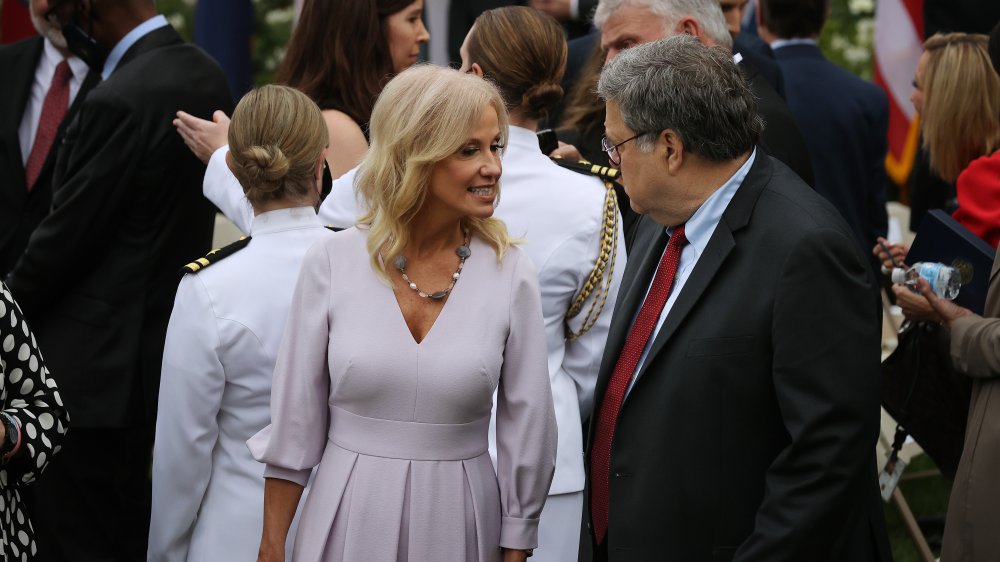 Chip Somodevilla/Getty Images
President Donald Trump's former White House adviser Kellyanne Conway had big news to share on Friday — but her daughter Claudia, who really doesn't hide the animosity she feels for her mother (and her mother's former boss) beat her to it. Kellyanne tweeted on Friday night, "Tonight I tested positive for COVID-19. My symptoms are mild (light cough) and I'm feeling fine. I have begun a quarantine process in consultation with physicians. As always, my heart is with everyone affected by this global pandemic."
But Claudia had already scooped her mother on TikTok. "Update my mom has covid," she posted in one short video, followed by another saying, "I'm furious. Wear your masks. Don't listen to our idiot f****** president piece of s***. Protect yourself and those around you" (via Vulture).
Claudia Conway may also have been infected with COVID-19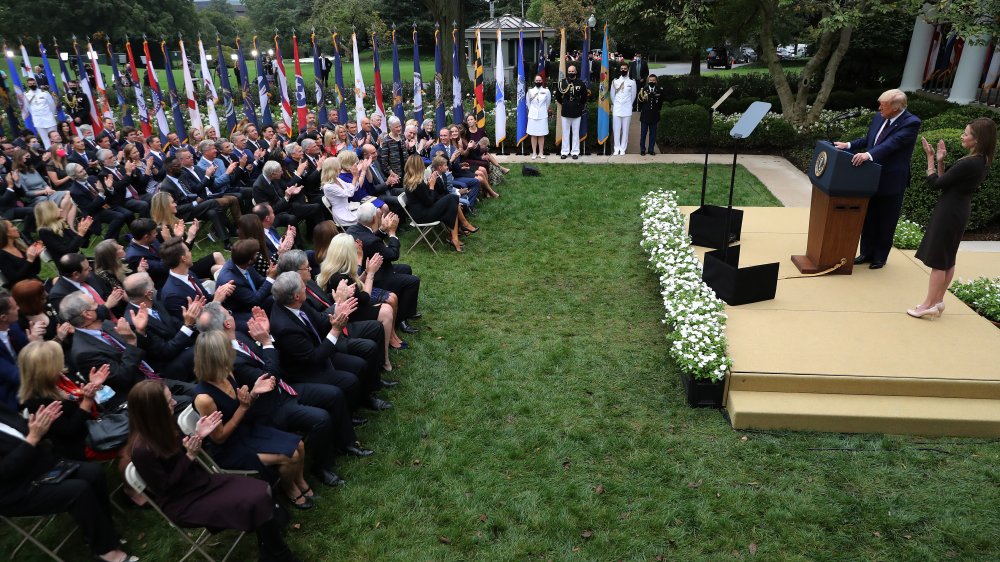 Chip Somodevilla/Getty Images
Even before Kellyanne confirmed her own diagnosis, Claudia had already posted a TikTok video with the caption, "My mom coughing all around the house after Trump tested positive for covid," with an audio clip of Cardi B's "That's suspicious" playing in the background. In another TikTok video Claudia also posted an image with the caption, "When my lungs hurt and it's hard for me to breathe." And while she hasn't been tested, the teen says she's "pretty sure" she has it (via Vulture).
TMZ notes that Kellyanne was sitting in what it called a Bermuda Triangle during the announcement naming Amy Coney Barrett as Donald Trump's nomination to the Supreme Court. She was placed between First Lady Melania Trump, Senator Mike Lee, and University of Notre Dame President John I Jenkins, all of whom have since tested positive. TMZ also said Kellyanne is the 12th person at the event to test positive for coronavirus.
Kellyanne Conway is not the only adult in trouble with a militant Gen Z'er. Notre Dame President Jenkins is facing calls to resign, after he failed to follow his own social distancing guidelines. Jenkins has sent an email since, saying: "I regret my error of judgment in not wearing a mask during the ceremony and by shaking hands with a number of people in the Rose Garden. I failed to lead by example, at a time when I've asked everyone else in the Notre Dame community to do so" (via WSBT).