It Took Jennifer Aniston Nearly Two Decades To Open Up About Her Divorce From Brad Pitt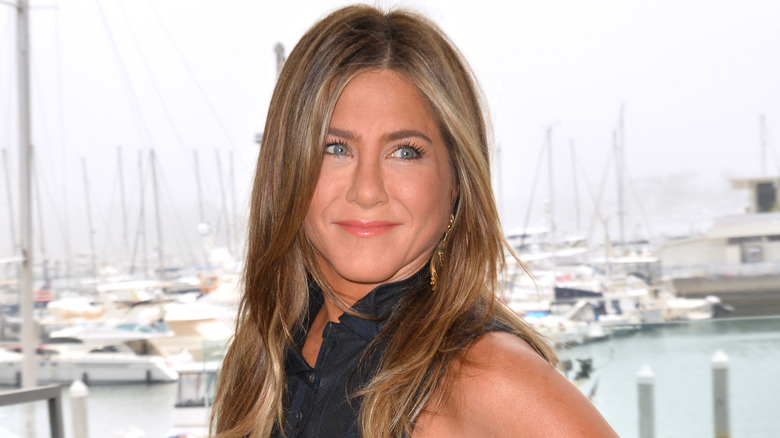 Featureflash Photo Agency/Shutterstock
Jennifer Aniston and Brad Pitt were once one of Hollywood's most beloved couples. Although they didn't start dating for a few years after they met, the duo got married in 2000 and spent five years together before calling it quits in 2005. Since that time, Aniston has stayed pretty quiet about her marriage to the actor, although the media had plenty to say about the situation. Aniston and Pitt's split took place shortly after rumors popped up that the actor had been getting close to his "Mr. and Mrs. Smith" co-star Angelina Jolie. Just months after Aniston filed for divorce, Pitt and Jolie came out as a couple in a W Magazine spread (via Glamour).
Following Jolie and Pitt going public, Aniston still opted not to speak out about her divorce or Pitt's new romance. Meanwhile, the media continued to report on Aniston, Pitt, and Jolie. In addition to the rumors about her marriage, the "Friends" star was also subjected to pregnancy rumors and speculation that she later admitted were hurtful. "I used to take it all very personally — the pregnancy rumors and the whole, 'Oh, she chose career over kids' assumption," Aniston told The Hollywood Reporter. "It's like, 'You have no clue what's going with me personally, medically, why I can't ... can I have kids?' They don't know anything, and it was really hurtful and just nasty."
Although Aniston has spoken about rumors, she's rarely made comments about Pitt. However, nearly two decades after their divorce, the actor did open up about the relationship.
Jennifer Aniston reveals how she healed after divorcing Brad Pitt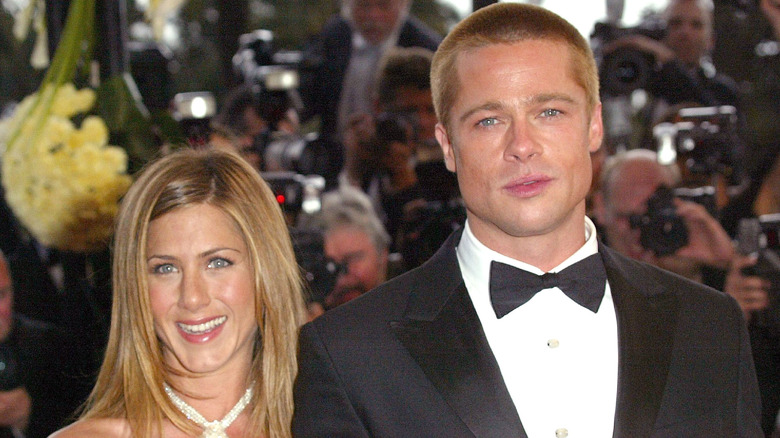 Toni Anne Barson Archive/Getty Images
Jennifer Aniston spoke to Ellen DeGeneres about how she dealt with a particularly difficult time in her life, during an appearance on "The Ellen DeGeneres Show." Aniston said that when "Friends" ended, she was forced to completely change her life after leaving her job of 10 years, starting a new project, and of course, getting a divorce from Brad Pitt. "Well, I got a divorce and went into therapy," Aniston told DeGeneres. "I just kinda leaned into the end. I just was like, 'You know what, guys? Let's make this a completely new chapter. Let's just end everything and start new.'"
Aniston's comments about her divorce from Pitt marked the first acknowledgment of their relationship in some time, as she has been known to keep aspects of her life private. However, the "Picture Perfect" star has spoken out about Pitt in the past. Shortly after their split, she told Vanity Fair that she will always have strong feelings for the A-lister. "I really do hope that someday we can be friends again," she said. "I will love [Brad] for the rest of my life. I don't regret any of it."
Over the years, the media focus on Pitt and Aniston's divorce has died down, and in the wake of the actor's split from Angelina Jolie, it seems that the former couple have rekindled their friendship.
Where do Jennifer Aniston and Brad Pitt stand today?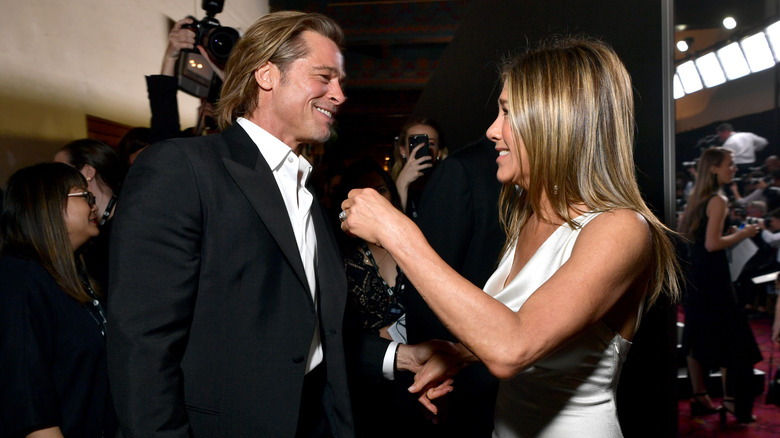 Emma Mcintyre/Getty Images
Despite their history, Jennifer Aniston and Brad Pitt have managed to reconnect over the years. In 2019, Pitt was spotted attending his ex-wife's 50th birthday party. Aniston's former boyfriend John Mayer and Pitt's ex-fiance Gwyneth Paltrow were also in attendance at the event. In 2020, cameras caught a rare sighting of Pitt and Aniston together when they reunited backstage at the SAG Awards, where they both took home honors. "Jen was happy for Brad," a source told People. "They congratulated each other and that was it."
That same year, Pitt and Aniston reunited again when they both signed on to a virtual reading of "Fast Times at Ridgemont High" for charity. Later, when Aniston was asked about the table read, she told Howard Stern that she and Pitt were friends and it wasn't awkward. "Brad and I are buddies, we're friends," Aniston said. "And we speak and there's no oddness at all, except for everyone that probably watched it and was wanting there to be, or assumed there to be," she continued. "We had fun, and it was for a great cause," she said (via CNN).
While the romantic part of their relationship may be over, Aniston has managed to remain close to Pitt throughout the years, leaving fans in awe of her grace and maturity.