Brad Pitt And Jennifer Aniston Didn't Date For Years After They First Met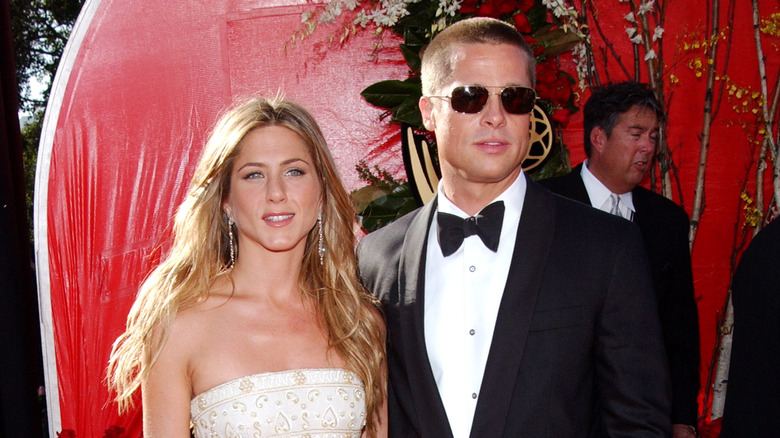 Jon Kopaloff/Getty Images
Back in the late '90s/early-2000s, Brad Pitt and Jennifer Aniston were one of Hollywood's golden couples. The A-listers dated for two years before marrying in 2000 and divorcing in 2005. Almost two decades later, they had a much-hyped reunion at the 2020 SAG Awards, where the exes embraced and congratulated each other. Pitt also sparked speculation he still had feelings for Aniston by clutching her hand as she walked away, showing that even after all this time they still have the ability to fuel rumors.
However, going back 30 or so years, it wasn't love at first sight for the actors. Aniston and Pitt actually met for the first time in 1994 through their managers, but nothing much came of it. Aniston would go on to remember how she felt about Pitt in a 2001 Rolling Stone interview, calling him "a sweet guy from Missouri." At this time, Pitt was dating Gwyneth Paltrow, whereas Aniston started seeing Tate Donovan in 1995. Still, the pair obviously didn't hit it off that well, since they didn't meet again for another four years.
Their relationship moved relatively quickly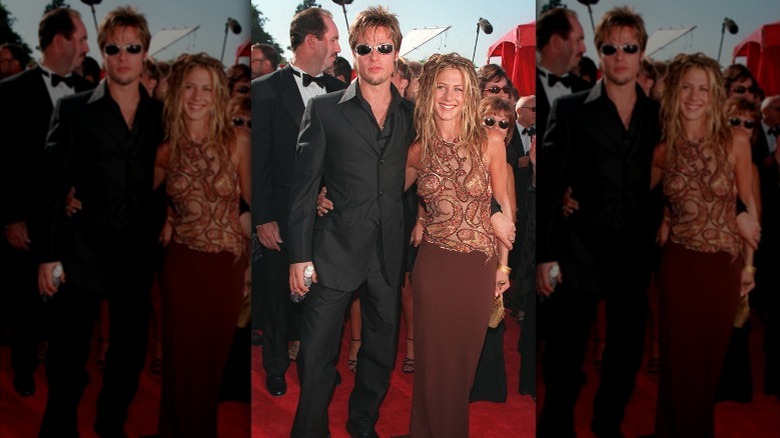 Frank Trapper/Getty Images
In 1998, Brad Pitt and Jennifer Aniston's managers conspired to bring them together again. Aniston was no longer with Tate Donovan and Pitt had famously called off his engagement to Gwyneth Paltrow. This time around, sparks flew. Speaking to Diane Sawyer in 2004, Aniston described her date with Pitt as "a really easy evening. It was really fun," (via YouTube). The following year, Aniston and Pitt made their official red carpet debut at the Emmy Awards. 
Aniston wore a brown sequined gown, whereas Pitt looked peak '90s with his tiny silver sunglasses and spiked hair. Also in 1999, Aniston and Pitt made a typically high-profile public appearance at a Sting concert, in which Aniston revealed her blinding diamond and platinum engagement ring. Not just any bauble, Aniston's engagement ring was specially designed by Pitt in collaboration with Silvia Damiani and apparently took him seven months to perfect.
On July 29, 2000, Aniston and Pitt married in California, with the "Friends" star wearing a gorgeous, sleeveless Lawrence Steele gown. That year also marked their first appearance as a married couple at the Emmys, two years after their first red carpet. When 2001 rolled around, Pitt had a cameo on "Friends" as a character who (ironically) hates Rachel Green, the beloved character played by Aniston. Up until then, things seemed perfect.
The actors were together for seven years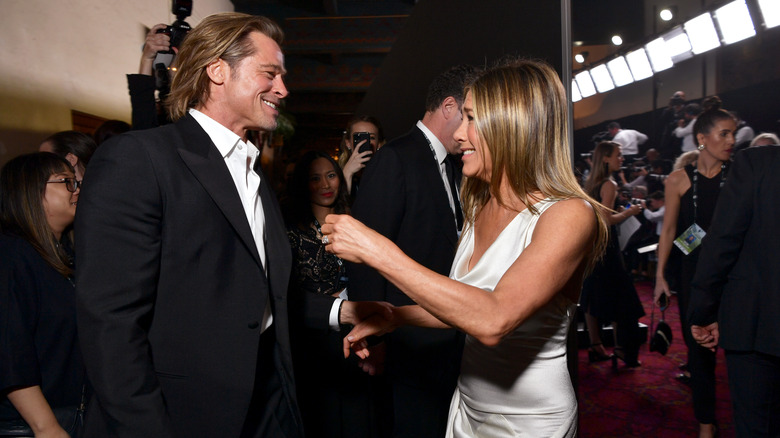 Emma Mcintyre/Getty Images
However, in 2003, things started to get interesting. During a chat with W magazine in which the interviewer referred to Brad Pitt as the love of Jennifer Aniston's life, she seemed unsure. "Is he the love of my life? I think you're always sort of wondering, 'Are you the love of my life?' I mean, I don't know, I've never been someone who says, 'He's the love of my life.' He's certainly a big love in my life," she admitted. 
Intriguingly, this interview was conducted around the same time that Aniston told The Guardian she was on board with having children with Pitt now that "Friends" was finally over. Just one year later, in a major twist of events, the couple issued a joint divorce statement (via People). Aniston and Pitt insisted that their separation was "not the result of any of the speculation reported by the tabloid media" and asked for "kindness and sensitivity in the coming months."
However, there were widespread rumors that the "Fight Club" star had cheated with Angelina Jolie, and indeed they also ended up marrying and ultimately divorcing. Fast forward again all the way to 2020, and Pitt and Aniston's moment at the SAG Awards made everyone reminisce about when they were together, proving that the power even a former celebrity couple holds never really goes away.