The Advice Clifton Powell Gave His Son About Dating Sasha Obama
Since his emergence in the film scene in the early '90s, actor Clifton Powell has been well known for his serious and comedic roles. His illustrious resume includes parts in "Deep Cover," "Dead Presidents," and his hilarious depiction of Pinky in 2002's "Friday After Next." That role has remained so idolized that Powell recently launched a YouTube series based on the festive character. While Powell has been a known entertainment figure for years, his son, Clifton Powell Jr., is just now making a name for himself and not just for his own movie profession. The young man has been romantically linked to White House royalty, Sasha Obama, who has been afforded a lavish lifestyle, thanks to her political parents. 
An accomplished commercial director, the younger Powell Jr. has directed campaigns for Dr. Martens, Apple Music, and Mountain Dew, to name a few. His career behind the lens kicked into high gear after completing his stint at the University of California, Santa Barbara. In 2022, Sasha transferred to the University of Southern California, which is reportedly how the couple met. While both parties have kept their relationship mainly out of the public eye, it was Powell Jr.'s dad who confirmed the news and has even advised the upcoming producer on how to be a perfect gentleman to the former First Daughter.
Clifton Powell advised his son to treat Sasha Obama with the utmost respect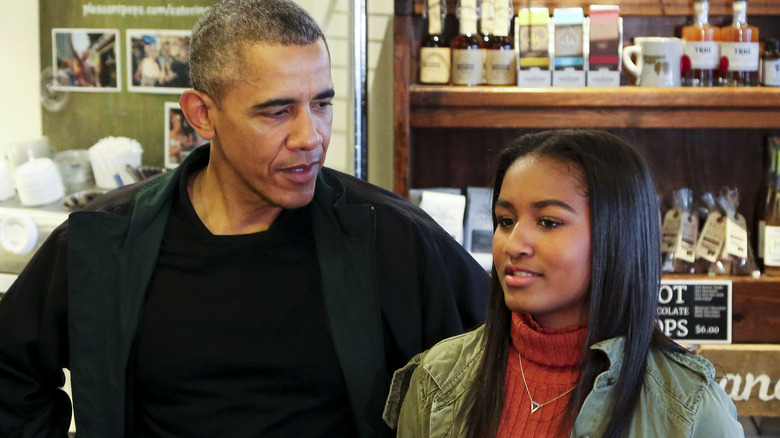 Pool/Getty Images
In June 2022, "Saints & Sinners" star Clifton Powell joined the "Dear Fathers Podcast" with hosts James Meeks and Jesse Alex. There, he opened up about his son, who shares the same name, dating Barack and Michelle Obama's youngest daughter, Sasha. Until that point, the duo had been secretly dating for nearly a year, though they had been photographed taking a stroll together in April 2022, which sparked dating chatter. With the proud father confirming that the pair were indeed an item, he explained that he felt it was his duty to instruct his son on being the best boyfriend.
"I text him all the time, and I say, 'Treat Sasha like you would want somebody to treat your daughter,'" Powell Sr. revealed. Clifton Jr. has not shared any photos of him and his girlfriend on social media. However, Mrs. Obama did hint at their relationship during an April 2022 episode of "The Ellen DeGeneres Show." Careful not to spill the beans on the identity of the lucky guy, the doting mother did confirm that both Sasha and her older sister, Malia Obama, were seeing people.
The actor admitted that he grew up not knowing how to treat women
While Clifton Powell is a married man to Kimberly Powell, during his time on the "Dear Fathers Podcast," he confessed that he had not grown up knowing how to be the best partner. For this reason, he has worked hard to make sure good qualities are instilled into his son, Clifton Powell Jr.
"I have an opportunity and a responsibility to make my son responsible, gentle, kind, loving, and supportive. The things that I did not get taught," he explained on the show. Clifton Powell did not elaborate on any past transgressions. Still, it is clear he has a tremendous amount of love for the Obama family and wants his son to demonstrate that within his relationship with the recent college grad.
The current dating status of Clifton Jr. and Sasha Obama is a mystery. The two have not been photographed in a while, and since the presidential daughter has no online platforms, there have been no new updates from her side. Life for the Obama sisters today includes Sasha currently sharing a place in Los Angeles with her sister Malia Obama, who has also refrained from commenting on her love life. As for the rising creator, his Instagram profile is dedicated to his many projects. One can only assume that the two are taking extra steps to keep every ounce of their union as private as possible, even if Clifton Jr.'s father occasionally gloats over the pair.