Signs Tiffany Trump Is Following In Big Sister Ivanka's Footsteps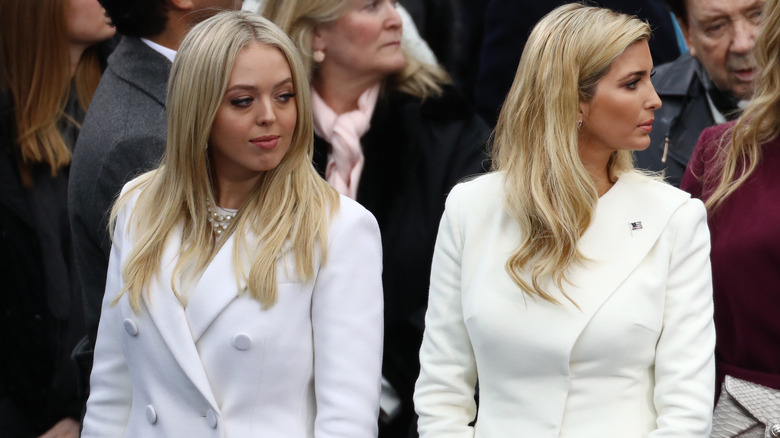 Bloomberg/Getty Images
What we know about Donald Trump's relationship with his kids is that they tend to be complicated. As the only child of Trump and his second wife, Marla Maples, Tiffany has often been forgotten, and seemingly left out of the spotlight that Ivanka always occupied. However, Ivanka's recent retreat from the public eye has left her position ripe for the taking, and Tiffany has been rising to the occasion.
Tiffany attended her father's alma mater, the University of Pennsylvania, as an undergraduate. Though his connections may have played a role in her admittance, her now-glamorous lifestyle has less to do with him and more to do with her big sister. Though Tiffany's now got a law degree under her belt, it's hard to deny Ivanka's involvement.
Ivanka took her under her wing, showing her sister her former Manhattan socialite lifestyle. Not only that but Tiffany's growing involvement in politics can also be attributed to Ivanka's guidance.
Living the socialite life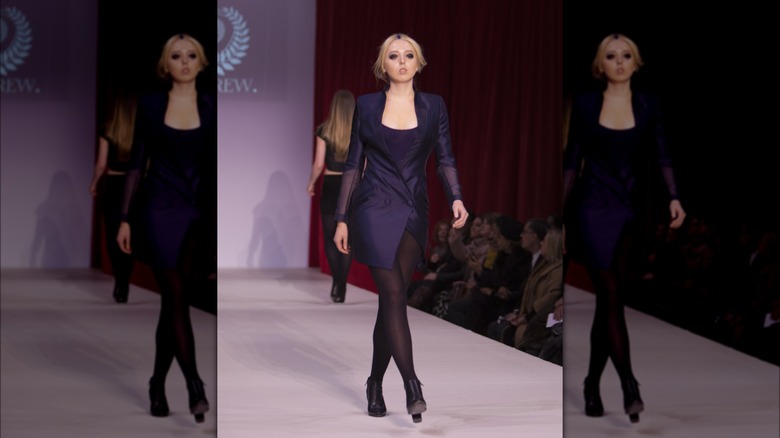 Humberto Vidal/Shutterstock
Before her political career, Ivanka was (unsurprisingly) a Manhattan socialite. Posing on magazine covers and modeling for Versace, Ivanka attended tons of fashion shows and starred on "The Apprentice" alongside her father. Clearly, she had a lot of knowledge to share with her younger half-sister — and, for better or for worse, it's been paying off.
People are buzzing about Tiffany after her marriage to billionaire Michael Boulos, and her attendance at socialite Karen Shiboleth's lavish Florence wedding. But these aren't the only times she's set the internet ablaze. Famously dubbed the "Snap Pack" in 2017 by The New York Times, Tiffany and her friends have made headlines and accrued followers for their enviable, elite lifestyle since they hit 20.
Thanks to Ivanka, Tiffany was well-prepared for all the camera action. A trusted source told Vanity Fair that not only did Ivanka give Tiffany all manner of sisterly advice, but gave her publicity tips as well. She taught her how to properly sit when filmed and which colors look best on camera.
Tiffany's political involvement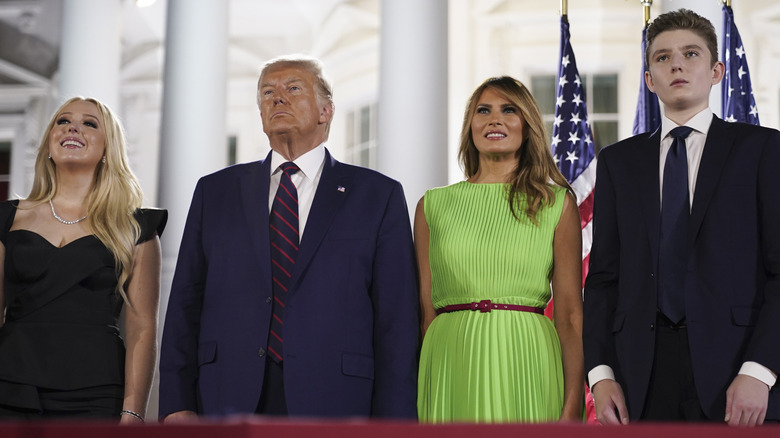 Bloomberg/Getty Images
Since Ivanka has distanced herself from politics, Tiffany may be ready to replace her. It's no secret that Ivanka's got friends in high places; she and Chelsea Clinton used to be close (among other things you never knew about Ivanka Trump). Her connections can definitely help Tiffany out, as they have in the past when Ivanka helped Tiffany score an internship with Vogue.
Though Tiffany was mostly absent from the Trump campaign trail — she only attended a few of her father's speeches — her presence at her father's post-indictment speech was made all the more noticeable because of Ivanka's absence. Love her or hate her, she's a Georgetown law graduate who's primed for political success, should she desire it (though being married to a billionaire and coming from wealth certainly doesn't hurt). Whether or not she'll ever be able to fully step out of her sister's shadow remains to be seen.