Jessica Simpson's Biggest Plastic Surgery Regrets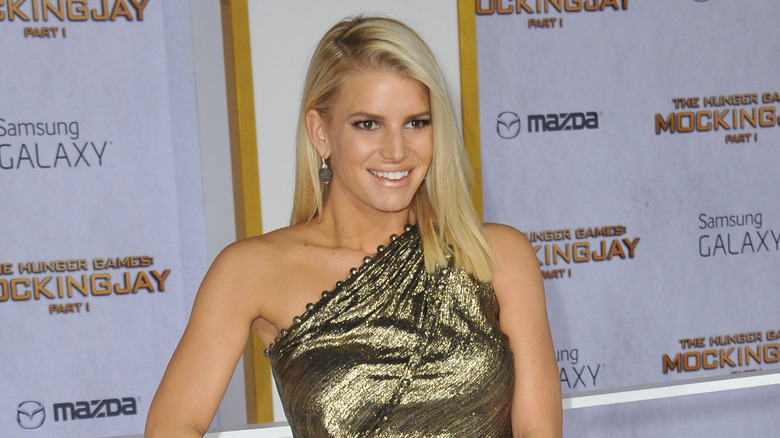 Featureflash Photo Agency/Shutterstock
Jessica Simpson is one of the few celebrities who doesn't deny having work done. The 43-year-old singer admitted to having lip fillers in 2006, two tummy tucks in 2015, and a non-surgical facelift in 2022, but her fans suspect she did more than that. In 2021, the Texas native got a lot of backlash after sharing a photo of herself and her family on Instagram. "Jessica Simpson does not look like her," someone commented. "Botched much? Girl, you look way too plastic," said another user.
The pressure to look young and beautiful is real, especially among Hollywood stars. Simpson might have had more work done than she admits, but she still maintains a natural look. "It's hard to not see your flaws first, [but] I think that, as a society, things are changing. And that's great because every body is being celebrated," the superstar told PEOPLE. In fact, Simpson threw away her scale for good on her journey to self-acceptance.
However, things haven't always been this way. In her younger years, the "Blonde Ambition" actress resorted to plastic surgery to hide her imperfections, a decision she regrets to this day.
Jessica Simpson regrets getting lip fillers
We've all witnessed the stunning transformation of Jessica Simpson over the years; and, truth be told, she always looked fabulous. Her lips were naturally full at age 26, but she still decided to get fillers. "I had that Restylane stuff. But it fades — it went away in like four months. My lips are back to what they were. Thank God! It looked fake to me. I didn't like that," she said in an interview with Glamour.
Restylane is a brand of facial fillers formulated with hyaluronic acid. Its lip fillers are supposed to add volume and reduce lip lines, creating a natural look. Unfortunately, many patients end up with swollen lips, scars, bruises, infections, and other surprising side effects of lip injections.
Simpson isn't the only celebrity who regrets having this procedure. Anna Faris, Blac Chyna, Melanie Griffith, and other stars chose to have their fillers dissolved because the procedure altered their facial features. "About seven years ago, I started doing injections, and now for the past two, three years, I have been getting it dissolved — it takes a while," Melanie Griffith told Porter magazine (via Toronto.com). "I had done [work] to my lips too. So awful. Hopefully, I look more normal now," she added. 
Her second tummy tuck could have been fatal
Jessica Simpson's marriage to football player Eric Johnson resulted in three children: a baby girl born in 2012, a son born in 2013, and another girl born in 2019. The first two pregnancies left her with stretch marks and sagging skin. She was so embarrassed about her postpartum body that she wore a T-shirt at all times, even when showering, according to her 2020 memoir, "Open Book."
In 2015, Simpson decided to have a partial tummy tuck followed by a second one to remove any excess skin. Her doctor warned her not to go ahead with it because her liver was damaged from alcohol abuse, but she ignored his advice. The first surgery went well, whereas the second took longer than expected due to complications. The singer developed infectious colitis, an inflammatory condition that can be fatal. She spent nine days in the hospital and eventually recovered, but she'll always regret having that one surgery that almost killed her.
Today, "The Dukes of Hazzard" star acknowledges that plastic surgery cannot heal emotional trauma and inner conflicts. Unfortunately, she has learned this lesson the hard way. That's one more reason anyone should think twice before going under the knife.