Tori Spelling's Dad Was The Reason Her 90210 Character Stayed A Virgin For So Long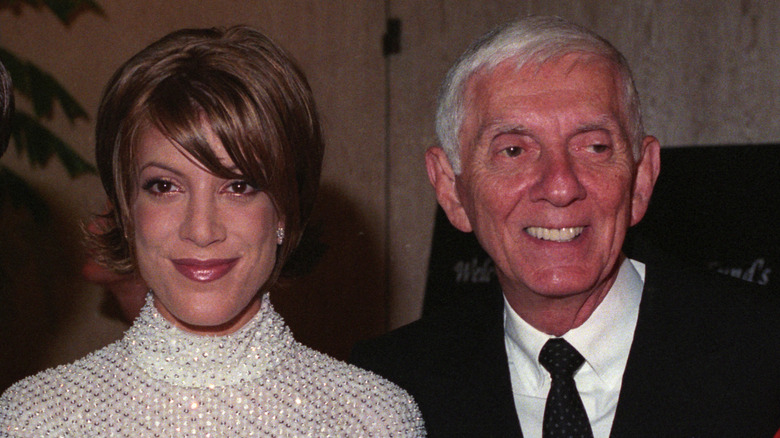 Jim Steinfeldt/Getty Images
Tori Spelling didn't have a normal upbringing. As the daughter of TV mogul Aaron Spelling, Tori's childhood was anything but modest thanks to her father's producing credits on shows like "Charlie's Angels," "Melrose Place," "Dynasty," and the show that made Tori famous, "Beverly Hills, 90210." Tori admits that she landed the role of Donna Martin in the teen drama due to her father, per Good Morning America. However, she also revealed that her character's biggest storyline — the decision about when to lose her virginity — was influenced by her famous dad, too.
"I was born into a Hollywood family, and I think my dad being as huge as he was as a producer — he was so grounded and so humble and so kind," Spelling told Fox News following the death of her father. "He was my dad, but my mentor in life and seeing how he handled people and how genuine and how much he loved his fans and just anybody," she added. "He never changed. I think that kind of transitioned onto me. That's what I saw. That's what I learned."
While Aaron may have been busy and powerful during Tori's childhood and young adult life, he still tried to do all that he could to protect his daughter, which included having a say about her "90210" character's storylines.
Aaron Spelling was behind Tori Spelling's '90210' storyline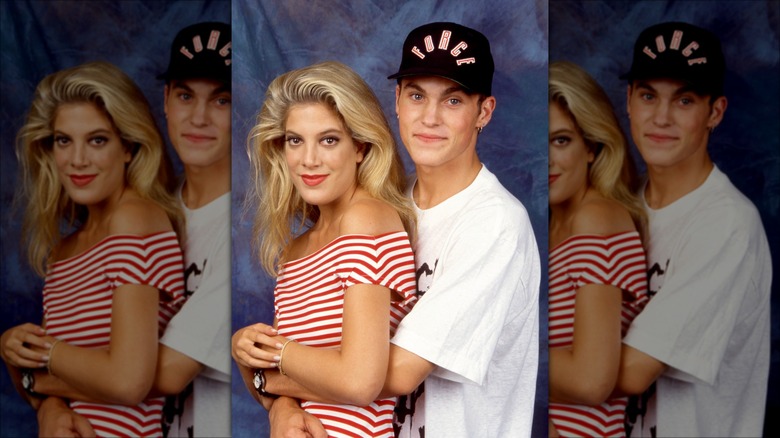 Ron Davis/Getty Images
Fans who watched "Beverly Hills, 90210" during its run will likely remember the show's most popular couples, like Dylan and Brenda, Brandon and Kelly, and of course, Donna and David. During the show's 10 seasons, Tori Spelling's character, Donna Martin, was often involved in big moments, such as getting drunk at prom, being banned from graduation, and deciding to save herself for marriage.
During the "9021OMG" podcast, Tori told her former co-star Jennie Garth that her father and writer Charles Rosin came up with the plan to keep Donna a virgin (via People). However, Tori says she never officially knew it was her father's idea until Rosin came clean. "I never knew where it came from. I always suspected, and people say, like, 'He kept his daughter virgin.'" For years, viewers watched Donna stick to her morals and save herself until, eventually, she opted to get intimate for the first time following the end of her college career.
Donna eventually lost her virginity in Season 7 to her longtime love David Silver, played by Brian Austin Green. "We knew it was inevitable," Spelling told Vulture of the storyline. "I think at one point I jokingly said, 'Come on, Dad. It's time,'" she added.
Tori Spelling got romantic with many of her '90210' co-stars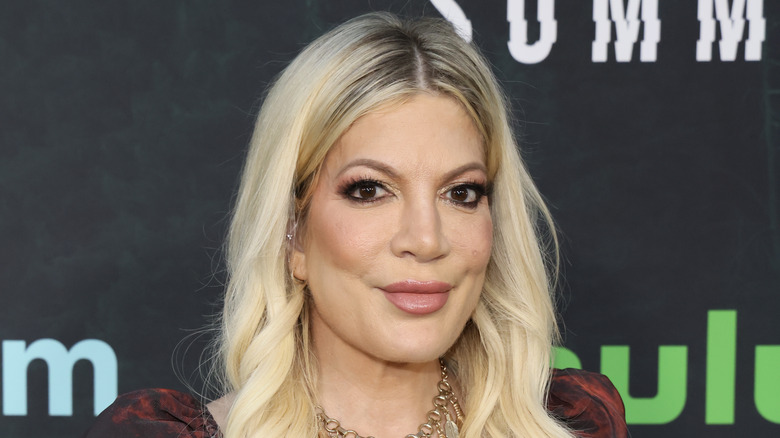 Rodin Eckenroth/Getty Images
Although Tori Spelling's character, Donna Martin, saved her virginity for several years, the same can't be said for the actor herself. Over the years, Spelling has admitted to sharing a kiss with Luke Perry, who played Dylan McKay on "Beverly Hills, 90210," as well as an intimate fling with her other co-star Jason Priestley, who portrayed Brandon Walsh, per People.
In addition, Spelling also dated her fellow "90210" co-star Vincent Young, who played the role of Noah Hunter in later seasons of the series. They dated for two years before splitting in 2001. The actor also had a romance with her on-screen boyfriend, Brian Austin Green. "[Brian] and I have different perspectives of what that was. There's the young girl version and the young boy version, so two different versions," Tori previously recalled during an interview with the "Women on Top" podcast (via Entertainment Tonight). "It's so funny because to me, I was like, 'Remember that summer we were together? You said, 'I love you,' and I said, 'I love you.' And he remembers none of that. He was like, 'No, we hooked up. We were friends.' And I was like, 'Cool, OK.' Even now, I'm like, 'OK, cool.'"
While Tori didn't know that her character's virginity was due to her father at the time, she can look back with the knowledge and smile at the way her father wanted to protect her on-screen virtue.