The Truth About Tori Spelling And Jennie Garth's Friendship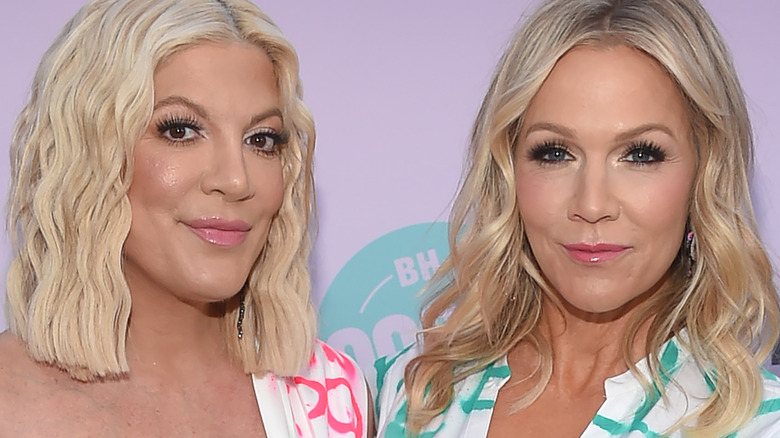 DFree/Shutterstock
Before Brenda Walsh ever arrived in Beverly Hills, California and claimed the zip code 90210, Donna Martin and Kelly Taylor were best friends. When Shannen Doherty's Brenda arrived fresh from the Midwest, the two West Beverly High School blondes welcomed her into their fold — but that friendship between Donna and Kelly remained the most solid throughout high school and into their adult years. There may have been friction you'll find on any television drama, but that's the nature of the genre.
Despite living very separate adult lives as they got married and started families, Garth and Spelling have remained friends through the years. After all, they even reunited for a 2019 "Beverly Hills, 90210" reboot simply titled "BH90210." Spelling ended up marrying Dean McDermott and the couple share five children and have starred in several of their own reality TV shows (via The Famous People). Garth married Peter Faccinelli in 2001 and gave birth to three daughters before the pair called it quits in 2013, according to The Famous People. Through it all, they have always had each other.
Tori Spelling and Jennie Garth were teenage BFFs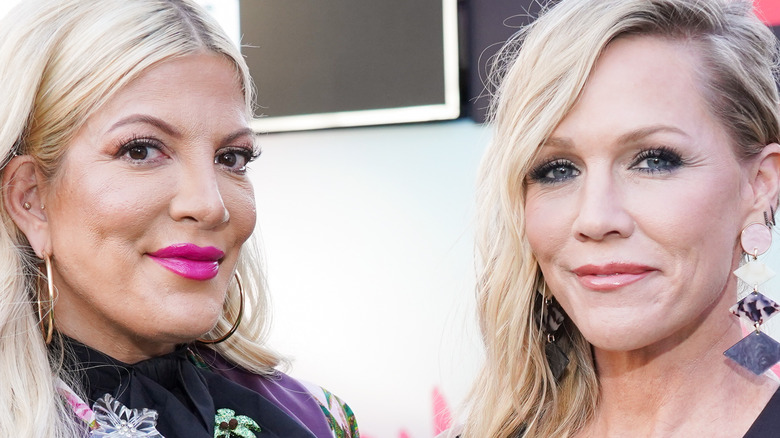 Rachel Luna/Getty Images
When the original "Beverly Hills, 90210" premiered in 1990, Jennie Garth was 18 years old and Tori Spelling was 17 years old (via Screen Rant). The two bonded quickly and were often seen out on the town together when the cameras stopped rolling. Over the next decade, they made nearly 300 episodes of the legendary coming of age series and never forgot the show that made them both household names, appearing five years after their series ended happy and together at the TV Land Awards (vis Us Weekly).
In 2018, during California wildfire season, Garth even took Spelling and her family into their home when they had to be evacuated. Spelling thanked her longtime pal on Instagram. She said "...thank you most of all to my childhood, adulthood, everything in between, and lifelong friend @jenniegarth for giving our ginormous family flesh and fur your entire house to stay at in a moments notice. I'm not good at asking for what I need. But only my best friend would know that and jump in and just make it happen!"
In 2014, Spelling and Garth reunited for the short-lived ABC Family sitcom, "Mystery Girls" and five years later they took on co-producing duties when they brought back the original "Beverly Hills, 90210" cast for a short season of "BH90210."
The pair recall their long and enduring friendship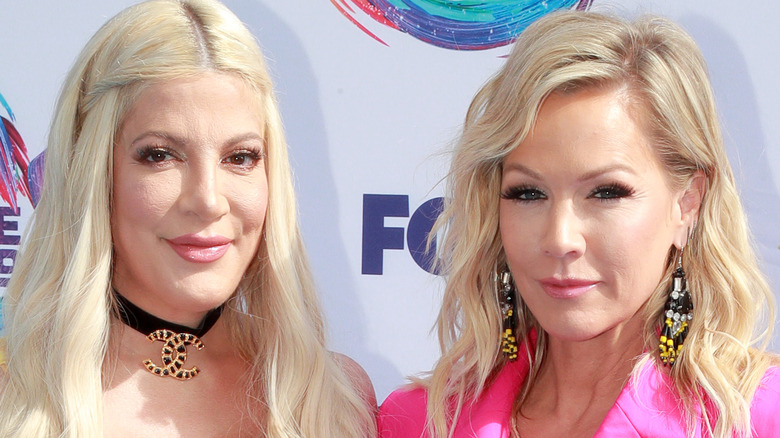 Rich Fury/Getty Images
Tori Spelling and Jennie Garth reflect fondly on their long-term friendship. "It's a true friendship," Spelling said on "The View" (via Us Weekly) before their ABC sitcom premiered. "We were friends when we were in teens. And you never know. In our 40s, you don't have those friendships that are lasting and ours have."
In 2019, when they were getting ready for the latest reboot of their signature series, Spelling explained to Us Weekly how she and Garth just knew they had to collaborate again.
"I mean, I don't know if it's art imitates life or life imitates art — but we have had a close friendship, she's one of my best friends, for 30 years," Spelling said (via US Weekly). "And we have gotten to the point in our lives where we just want to work together. Our kids are friends, and we want our families together all the time, so we wanted to develop something together. And that's when we started talking about, 'Was it the right time to do something with 90210 finally?'"