What Kody Brown's First Time Meeting Janelle Was Like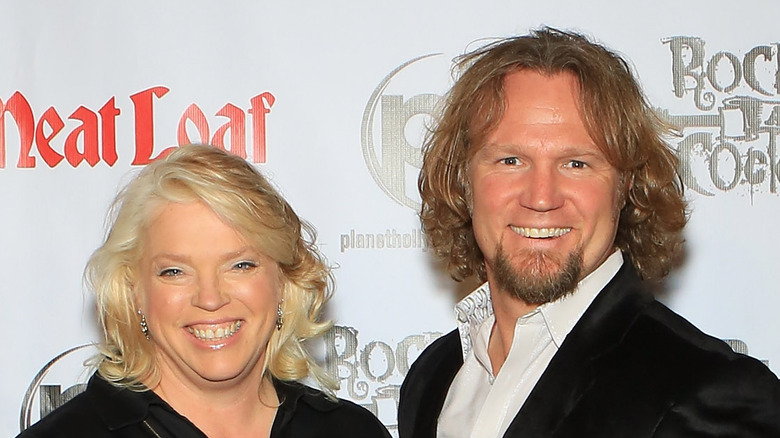 Gabe Ginsberg/Getty Images
The long-running reality TV series "Sister Wives" has captivated viewers with its portrayal of the unique and often misunderstood lifestyle of polygamous families. The TLC show follows the lives of the Brown family, which consists of patriarch Kody Brown and his four wives; Meri, Janelle, Christine, and Robyn Brown. Kody has a very different relationship with each of them. In fact, fans think Robyn is his favorite wife with the way he treats her.
When the series premiered in 2010, Kody already had four wives. And for decades, fans watched the patriarch happily living his polygamous life. While the family has been practicing for decades now, there was a time in the past when Kody lived in monogamy with his first wife, Meri. The dynamics of their marriage only turned polygamous after the father of 18 married Janelle. Their love story began most unexpectedly. 
Janelle confessed that when she met Kody, she immediately felt different. In a bio she wrote for the show, Janelle noted, "I met Kody in the fall of 1989, even though he may not remember it. When he walked into the room, I looked at him and had that feeling of remembering something I had forgotten. It was a singular experience," (via InTouch Weekly). 
How Janelle and Kody formally met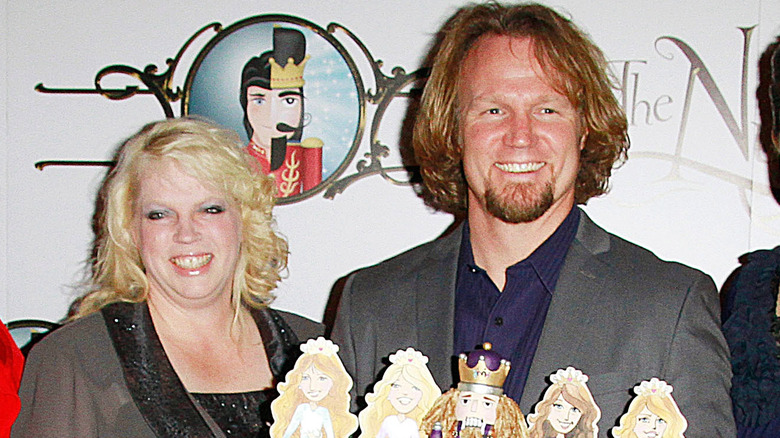 Marcel Thomas/Getty Images
Janelle and Kody Brown met while they were both in relationships with other people. They formally met through Meri Brown, and little did they know that a simple introduction would lead to a life-changing connection. It's almost as if fate brought them together through Kody's first wife since Janelle's first husband, Adam Barber, is Meri's brother. Janelle was only married to him for two years before they split. Kody then started courting Janelle. They got married just two weeks after going out on one date. 
The patriarch claimed that his romance with Janelle came about because of their "spirituality and intellectual compatibility," in addition to his obvious attraction to her. She joined the Brown family as Kody's second wife on January 17, 1993, which also happened to be Kody's birthday. This might seem a little sketchy considering they were both attached to their respective partners when they met. In her defense, Janelle didn't divorce her husband because of Kody. 
After marrying Barber, Janelle gradually realized that she was more interested in his family's religion and was dismayed that her husband wasn't as immersed in it. In the family's 2012 memoir "Becoming Sister Wives," she wrote, "My husband wasn't really interested in either his new faith or the branch of fundamentalism he'd been raised in. He had very little spiritual conviction. His family, however, fascinated me," (via ET). 
The couple split after 30 years of marriage
After three decades together, Kody Brown and Janelle Brown officially separated in December 2022. However, Janelle had been living alone long before she and Kody split. The mother of six was residing at Coyote Pass, in Arizona, in a luxury RV. At first, Kody supported her decision and they even had a date night outside her RV. It became clear that Kody wasn't fully on board with the setup, though. 
"I don't think Janelle or I are being honest or real in this relationship as we communicate with each other about this stuff. The whole RV thing. We never had a really deep discussion," he acknowledged in an episode of "Sister Wives," (via People). After they separated, Janelle focused on enjoying her life. "I'm happy, really happy," she told host Sukanya Krishnan on "Sister Wives: One on One Special," (via People). 
Despite the split, the pair remains amicable for the sake of their kids. They got together to attend the graduation of their daughter, Savannah, in May 2023. Janelle posted their family pictures, which included Kody, on her Instagram and wrote, "Savanah has graduated! My children are all grown up ❤️. Such a beautiful day. There was definitely a difference with this graduation versus others in the past — but all is well."