Why The Sister Wives Family And Fans Think Robyn Is Kody Brown's Favorite Wife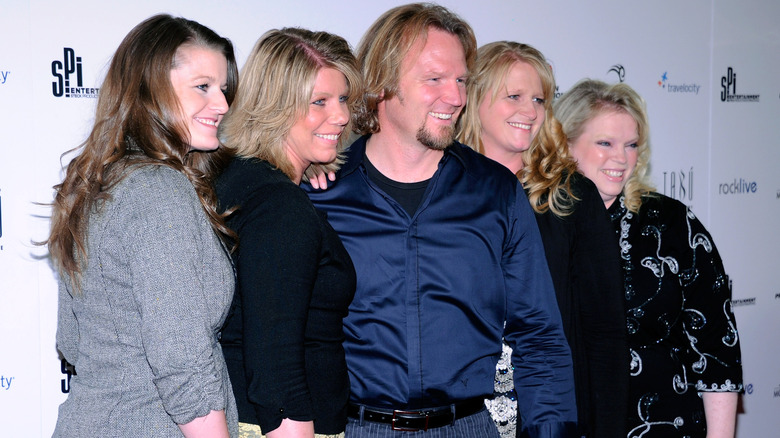 Ethan Miller/Getty Images
TLC's "Sister Wives" has been captivating the public eye for over a decade now, and their polygamous allure isn't subsiding even after 17 consecutive seasons. While we get ready for season 18, the breakups that have happened in the last couple of years have completely changed the plural family's dynamic.
Kody Brown, the family's patriarch, had four wives at one point — Meri Brown, Janelle Brown, Christine Brown, and Robyn Brown. The family shares 18 children altogether. However, their polyamorous union started to fall apart when Christine, the third wife, decided to leave Kody back in 2021, and for a good reason. It seems that Kody might have a favorite wife, and it's now more obvious who it is than ever before.
After Christine decided to end her spiritual union with Kody, his second wife Janelle followed in Christine's footsteps. To add insult to injury, Kody also separated from his first wife, Meri, amid the other breakups. He currently only has one wife, Robyn, who the family labeled as the favorite one before she was the last one standing alongside Kody.
Christine was sick of being the third wheel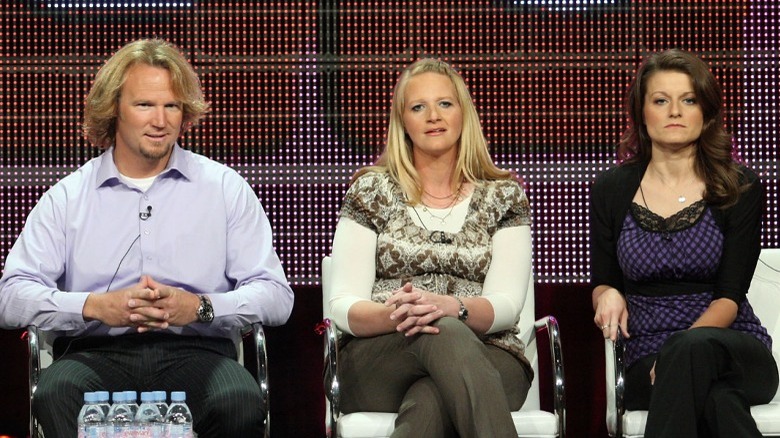 Frederick M. Brown/Getty Images
Before she left her spiritual union with Kody Brown, Christine Brown said she felt like "a basement wife," which she shared with host Sukanya Krishnan during TLC's One-on-One special for season 16. "I put everybody first most of the time. I put whatever Kody needed [first]," Christine stated back then. However, she didn't stop there. When the reality show's 17th season premiered, the fans found out Christine was motivated to leave Kody because she felt he was playing favorites with his wives, which didn't sit right with her.
"I think he has a favorite wife, and that's why all of this is like it is," Christine shared reluctantly, as per People. The third sister wife was referring to Robyn Brown, Kody's most recent wife, whom he legally wed in 2010. "I feel like, to Kody, Robyn's certainly more important than I am," Christine continued. "And I've been a third wheel for years now. I know it, and everybody knows it. It's sad ... but my relationship with Kody isn't as important."
However, Kody didn't hold back and slammed Christine in the One-on-One exclusive for season 17. "It's not about a favorite; it's about finding favor," Kody said, as reported by US Weekly. He added, "The words that Christine uses incite enmity toward Robyn. She never did anything to Christine but be kind to her."
Kody's kids also feel like dad is playing favorites
While Kody Brown hasn't publicly said that Robyn is his favorite wife in those exact words, the rest of the family sure is feeling the favoritism. Gwendlyn Brown, Christine and Kody's fourth child, shared her feelings on the topic in a YouTube video, in which she reacted to an episode where Kody and Robyn welcome their children home from their first day of school.
"I'm so happy they have a good father. Or what it looks like to be a good and active father," Gwendlyn said. "I didn't get that. I don't remember coming home from kindergarten and seeing my dad. It's terrible that I'm making this about myself. But seeing him be a good father to others hurts so much when I didn't really get that much." While she doesn't directly point fingers at Robyn, it's obvious Robyn's children get the most attention since they're the youngest ones.
"Sister Wives" fans seem to also share the same opinion. "I've noticed that Kody often says "the family" but he actually means himself, or himself and Robyn and her kids," a person wrote under Gwendlyn's video. "For years we have watched Kody show his preference for Robyn and "her" kids to the detriment of his other wives and children," another person wrote. Kody may think he's getting away with it, but it's more than obvious that his remaining wife stays because he treats her differently than he did the other sister wives.