Why We're Worried About Tori Spelling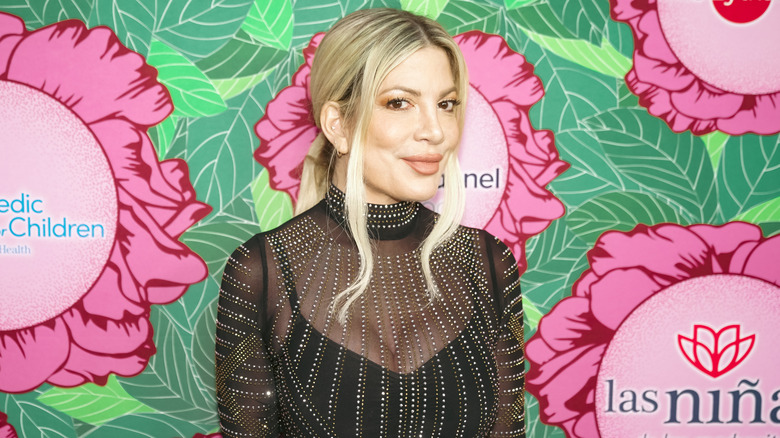 Andrew J Cunningham/Getty Images
Tori Spelling seems to be going through a lot lately. The former "Beverly Hills: 90210" star has been making headlines for weeks, ever since her estranged husband Dean McDermott took to Instagram to announce that the two were splitting up, only to delete the post hours later. "It's with great sadness and a very very heavy heart that after 18 years together and 5 amazing children, that @torispelling and I have decided to go our separate ways, and start a new journey of our own," the post read, according to Us Weekly. Shortly thereafter, a source said that a divorce wasn't actually happening. "They love each other and are not going to split," the unnamed source told Us Weekly.
Days later, there were reports that Spelling and her five kids were staying in a motel after an ongoing mold issue at the family's home (per Us Weekly). In a video shared by Page Six, Spelling was outside Target when paparazzi asked her about the motel stay, to which she responded, "Are you a parent? You know you would do whatever you can for your kids, right?" 
Meanwhile, Spelling hasn't been active on social media with the exception of three joint Instagram posts uploaded with her pal Jennie Garth for QVC's Christmas in July sale. Spelling's last solo, non-work-related social media post was on June 16 — just a day before her husband claimed their marriage was over. Outside of that, Spelling reportedly hasn't really said much to anyone — some of her closest friends included.
Tori Spelling reportedly hasn't been in contact with her friends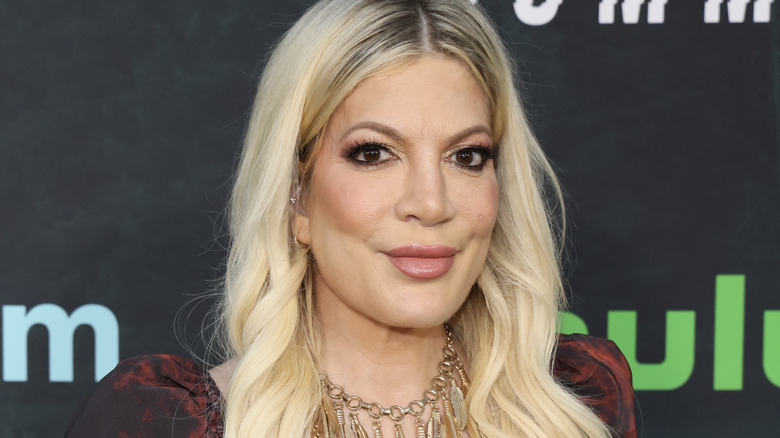 Rodin Eckenroth/Getty Images
In an interview with the Daily Mail, someone close to Tori Spelling said that they are worried about her because she has essentially been radio silent. "Tori has not been returning calls and has kind of gone AWOL, which has her close friends worried sick," the source told the outlet. "Dean is also taking up some issue with the kids being with Tori at these motels. He thinks that the kids should be at home and not motel hopping with Tori. he just believes that this is not what is best for them at this time," the source added. 
The mold situation seems to be a very serious, all-consuming issue, as evidenced by Spelling's recent social media activity. On July 21, she took to her Instagram Stories to share a text exchange. According to People magazine, Los Angeles realtor Robert Vinson sent Spelling a strange text. "Tori Spelling has been asking for a 1 month rental. If you follow her situation on TMZ it is all amusing," the text to Spelling read. Spelling shared the screenshot along with the caption, "My 5 kids are going thru Mold poisoning and we need a home and this is how you treat people? Mocking their situation?" Vinson tells People that he has apologized to Spelling. 
But it sounds like Spelling and her children can't go home, may all be sick — and Spelling's marriage may be crumbling to boot.
Sources say Dean McDermott is ready for a divorce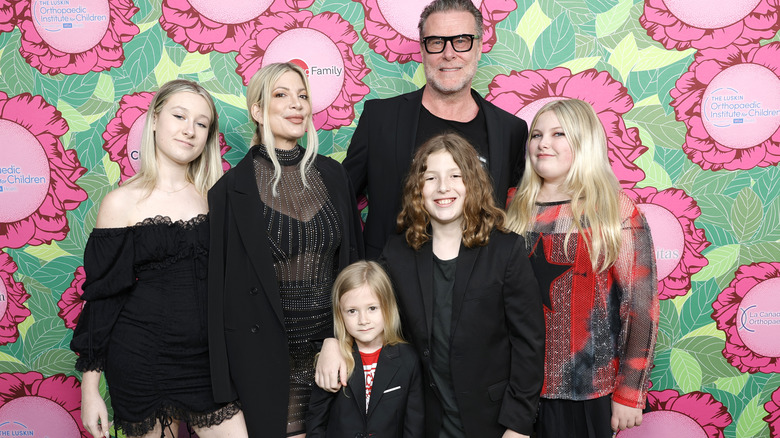 Stefanie Keenan/Getty Images
Despite Dean McDermott's divorce announcement being removed from his Instagram feed, a source tells People magazine that he's truly ready to be out of his marriage. "[Dean] 100% wants to get out of the marriage. He took down the post because Tori didn't want him to keep it up. But he's packing his bags and is 100% serious about it," a source explained, adding, "he can't take it anymore. He told her he's done."
But with Spelling choosing not to speak out about McDermott's Instagram post and essentially disappearing from her social circles (allegedly), worries about her well-being are increasing by the day. And some fans have even left messages on her most recent Instagram post to show their support. "You're a fantastic mother. Considering you didn't exactly have a decent role model it's especially true. Hang in there. Know you have the love and support of many," one Instagram user wrote on July 21. It's clear that everyone hopes that Spelling is okay during this trying time in her life.