Meet Days Of Our Lives Star Eric Martsolf's Teenage Twins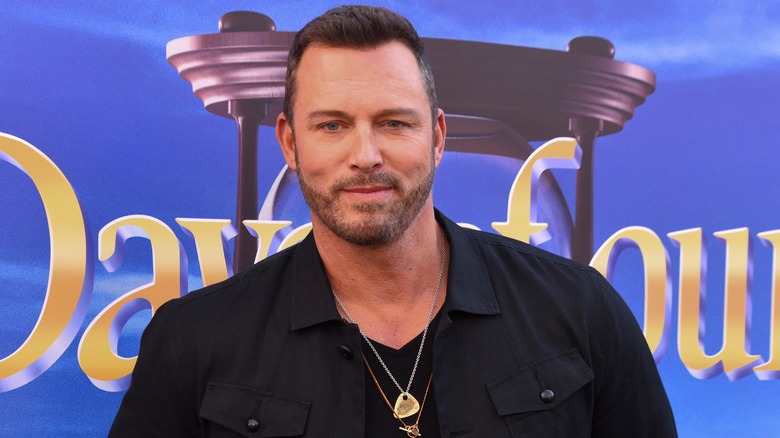 Michael Mattes/Shutterstock
"Days of Our Lives" viewers have watched Eric Martsolf play the legacy character Brady Black since taking over the role from Kyle Lowder in 2008. Martsolf, who previously wowed fans as Ethan Crane on the now-defunct soap opera "Passions," has become a huge favorite among fans. Over the years, Martsolf has brought life to Brady in a way that has entertained the audience, as well as keeping them on the edge of their seats with dangerous drama, heartbreaking moments, and epic love stories. Brady is also the father of two children, Tate and Rachel. In reality, Martsolf has quite a fairytale life himself, as he and his longtime love Lisa Kouchak and their twin boys, Chase Evan and Mason Alan.
Martsolf and Kouchak met when they were both cast in a performance of "Joseph and the Amazing Technicolor Dreamcoat," per The Knot. Lisa worked as a dancer, and Martsolf played the role of the Pharaoh. The couple eventually began dating and the soap star popped the question at Christmas. Lisa and Eric Martsolf then married in October 2003, and in 2006, the couple took another huge step in their lives when they welcomed their two boys. According to People Magazine, the twins were born on April 7 and were given simple first names to pair with their unusual last name.
Chase and Mason Martsolf are water polo players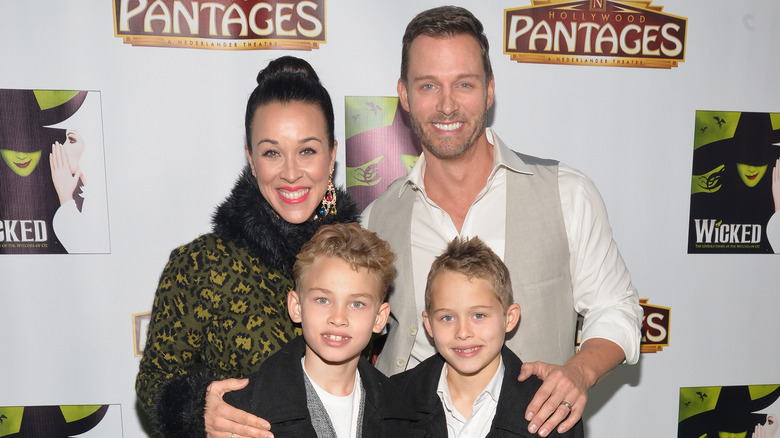 Michael Tullberg/Getty Images
Over the years, Eric Martsolf has documented the growth of his twin boys, Mason and Chase. The "Days of Our Lives" star has shared plenty of family photos of his sons on social media, dating back to their time as young children, per Soaps. However, the twins quickly grew into teenagers, and Martsolf couldn't believe it. "I love these little men more than anything. God help me — they're teens," he captioned one sweet Instagram snap of himself with the duo. As they grew older, it was clear that Chase and Mason were very interested in sports and have proven themselves to be quite the young athletes, with a love for water polo.
In 2019, the pair even attended a camp in Malibu where they were coached by Olympians Terry Schroeder and Merrill Moses. In 2023, the actor shared another update about his son's high school sports career, posting a photo of the twins wearing their water polo gear and sporting medals around their necks. "Congrats to my boys doing their thing today," Martsolf captioned the snap, revealing what a proud father he truly is.
However, Mason and Chase have other interests besides sports, and they may actually be looking to follow in their father's footsteps.
Eric Martsolf and his son Mason co-starred together in a movie
In 2019, Eric Martsolf's son Mason took a page out of his father's book and landed a gig in the teen film "To The Beat: Back 2 School," alongside his father and fellow "Days of Our Lives" star Martha Madison (Belle Black Brady). Of course, Martsolf loved watching his son's acting debut. "I had the time of my life watching him," the actor told TV Insider. However, he did admit that Mason had some complaints about the long hours on set.
When it comes to his sons wanting to follow in his footsteps and act, the soap opera star says that he'll leave that decision up to his boys. "I'm not going to steer them away from or towards the business," he told the outlet. "They'll have to decide that for themselves. I just hope that they become brain surgeons and take care of me," he added.
Martsolf's sons are still in high school, and they have plenty of time to decide what they want from their future. However, fans likely wouldn't object to seeing Mason and/or Chase get the acting bug. Maybe they could even appear on "Days of Our Lives" with their father.