Kate Middleton's 5 Best Jackie Kennedy-Inspired Looks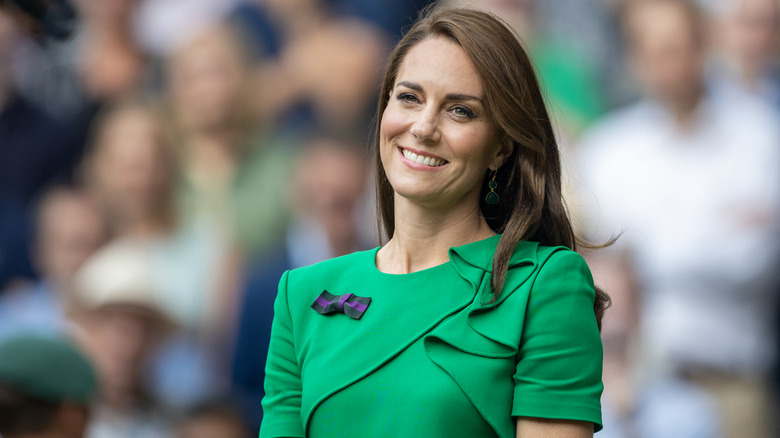 Tim Clayton - Corbis/Getty Images
Jackie Kennedy was undeniably a fashion icon, even before she became First Lady. And while her peak fashion influence may have been in the 1960s, many of her looks are considered timeless. You don't have to look beyond the royal family to see how Kennedy's style influence still echoes through the years. Her looks seem to have been a fashion guide for the current generation of royals with Kennedy inspiring fashion choices by both Meghan Markle and Catherine, Princess of Wales. As an American, it makes sense that Markle would emulate Kennedy; you can see her style in Markle's fondness of wearing sheath and boat neck dresses and in the pillbox hat she wore to the Commonwealth Day service in 2019.
But with Kate, born in England and set to be the next British queen, her Kennedy-inspired looks show the lasting legacy of the former First Lady's fashion choices across the ocean and through the years. Kate Middleton has had her fair share of fantastic fashion moments, but here are some of the best ones in which you can see her take the classic style of Kennedy into the 21st century. 
Kate Middleton shows the everlasting style of a pillbox hat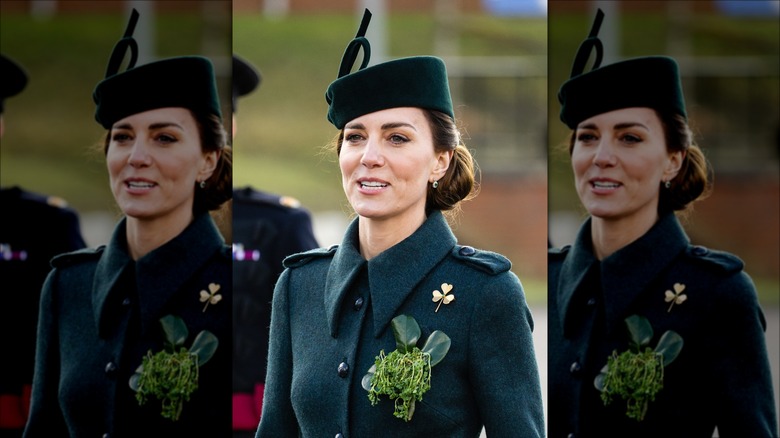 Pool/samir Hussein
Out of all of Jacqueline Kennedy Onassis' looks, one stands above the rest — the pillbox hat. It's a hat that Catherine, Princess of Wales has frequently worn. Kate wore a bright blue version with a knotted bow on the side to Easter service in 2023, and a green version of the same hat for St. Patrick's Day in 2022. Kate has worn a more classic silhouette of the pillbox in multiple colors as well — often matching her coat. It was brown for the 2018 Easter service, cream in 2017, and red during the 2014 royal tour to Australia and New Zealand.
Opera gloves are an accessory that stand the test of time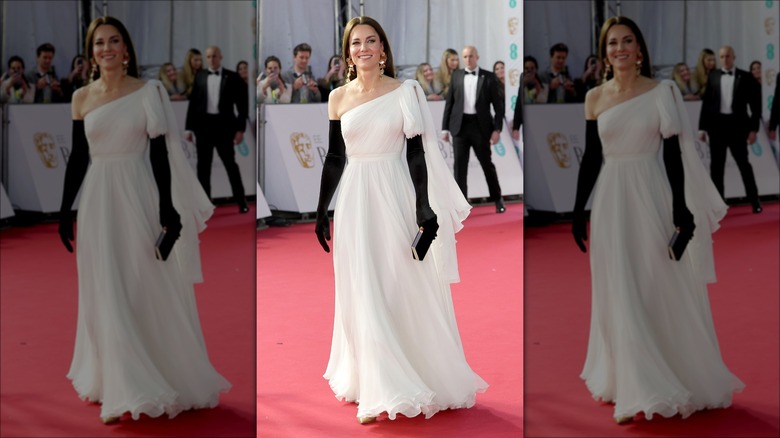 Chris Jackson/Getty Images
Jackie Kennedy frequently wore white gloves when out in public — it's something she and Queen Elizabeth II had in common — and for formal occasions, Kennedy would often bring out the full-length, over-the-elbow opera gloves. Catherine, Princess of Wales looked stunning as she took a page from Kennedy's fashion book, and walked the red carpet at the 2023 BAFTAs wearing a pair of black velvet opera gloves with a white, one-shouldered gown. Opera gloves have been a luxury status symbol over the years, and as we can see from Kate, they're still as glamorous as ever.
Jackie Kennedy would surely approve of Kate Middleton's pearls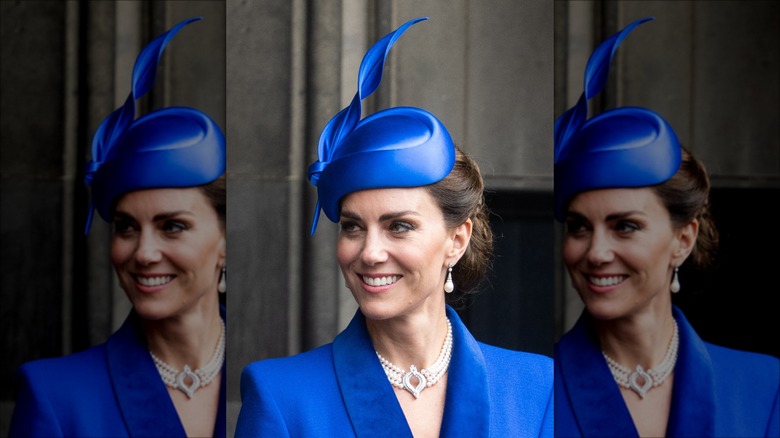 Samir Hussein/Getty Images
Jackie Kennedy reportedly once said that "pearls are always appropriate," and it was clearly something that she lived by as she often accessorized with a multi-strand pearl necklace. For Catherine, Princess of Wales, it's hard to narrow down her best pearl necklace look, but it's pretty easy to choose her best pearl necklace — Queen Elizabeth's four row Japanese pearl choker. The accessory makes any outfit a stunner. Kate wore the pearl and diamond necklace with black to both Queen Elizabeth and Prince Philip's funeral as well as with a bright blue coat dress to King Charles III's Scottish coronation celebration.
The streamlined silhouette of a sheath dress looks good on first ladies and princesses alike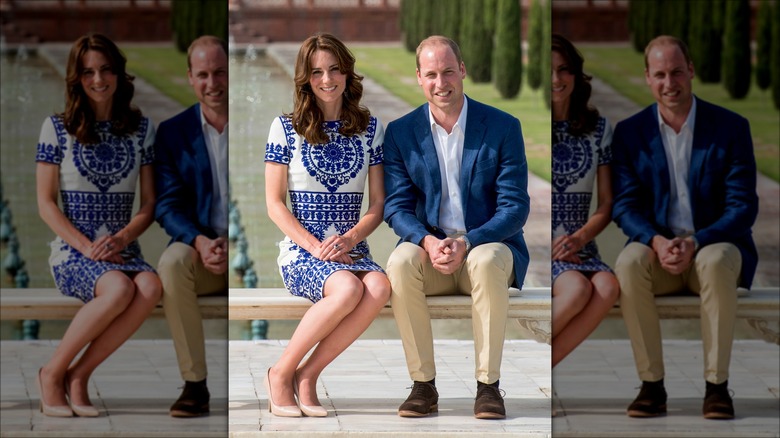 Samir Hussein/Getty Images
The sheath dress — a straight cut dress that's fitted at the waist — was popular in the 1960s. Jackie Kennedy, ever the fashion plate, made the sheath dress one of her go-to outfits. It makes for a sleek silhouette, and it's a dress style that's been worn by other first ladies as well as some princesses. Catherine, Princess of Wales often wears form-fitting sheath dresses, accentuating her slim waist without being revealing. One of Kate's most beautiful sheath dress looks was the white and blue embroidered sheath dress she wore to the Taj Mahal.
Monochrome suits looked good on Jackie and Kate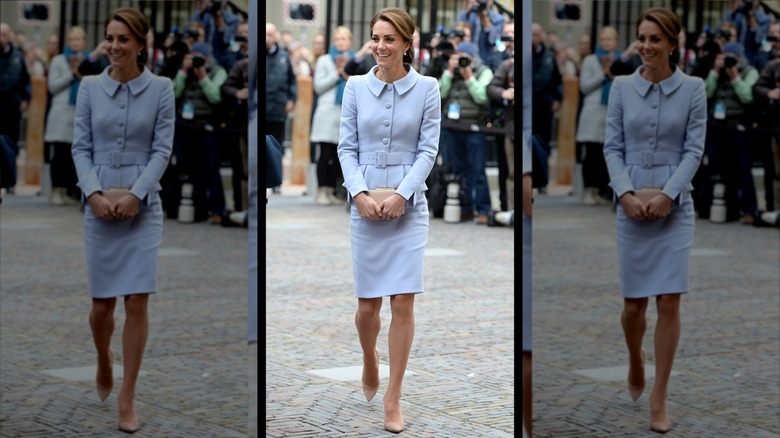 Pool/samir Hussein
One of Jackie Kennedy's most infamous looks was her pink suit, made of a textured boucle tweed, that she was wearing when her husband John F. Kennedy was shot. And while that may be the one she's perhaps best known for, she often wore matching dress and skirt suits as does Catherine, Princess of Wales. Kate's pale blue peplum skirt suit that she wore to her first solo overseas appearance after joining the royal family looked amazing on her. In fact, Kate looked elegant and classy without seeming dated, proving that a matching suit never goes out of style.