Hallmark's Luke MacFarlane Expected To Have A Very Different Hollywood Career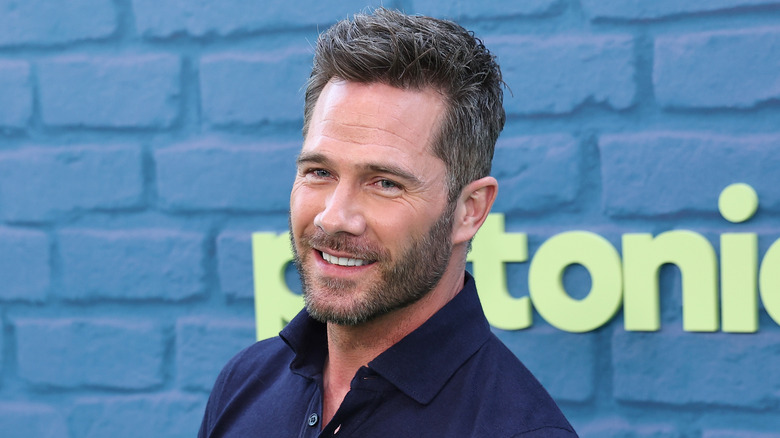 Leon Bennett/Getty Images
From romantic kisses under fake snowfall to falling in love on a Christmas tree farm, Luke MacFarlane is a Hallmark fan-favorite, especially around the holiday season. Still, the "Birthday Wish" star expected to have a very different Hollywood career. The actor graduated from Juilliard in 2003 with a B.F.A. in drama. Other alums of the prestigious program include Jessica Chastain, Adam Driver, and Viola Davis — although not a guaranteed path to fame, Juilliard certainly increases your odds. In 2005, MacFarlane landed a role in "Over There," a drama series documenting U.S. soldiers' lives in Iraq. "I really thought that was going to be the moment," he told The Hollywood Reporter. Unfortunately, the series was canceled after just one season, and the actor was left to reevaluate his future.
MacFarlane's next role changed his Hollywood trajectory. He appeared in approximately 100 episodes of ABC's "Brothers & Sisters," playing one of network TV's first openly gay characters. His role coincided with his own coming-out journey. "If I closed my eyes when I was 25 years old and imagined my future, I'd have said I'd be chasing a tank down the street in an Iraq war movie or something," MacFarlane explained. Now, he's redefining what masculinity means in Hollywood.
Luke MacFarlane faced his fair share of rejection in Hollywood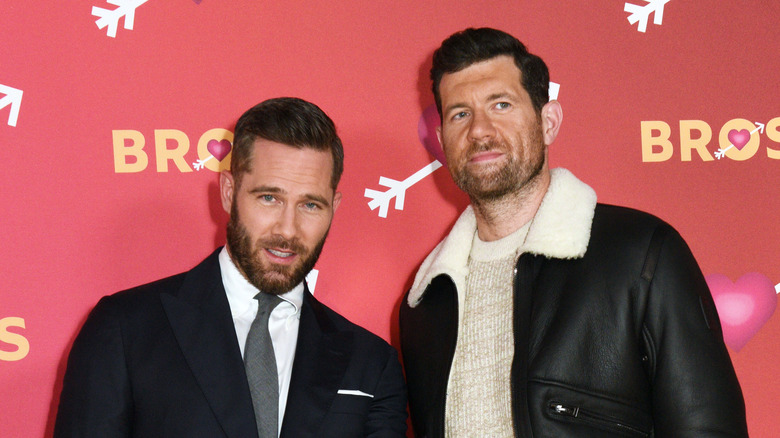 David M. Benett/Getty Images
When Luke MacFarlane was starting out in the industry, he pictured himself starring in action blockbusters. Hollywood had other plans. "I can literally remember an agent once saying to me, 'Superman can't be gay' — like just straight out," he told later Gay Times, recounting how he struggled to find roles after coming out in 2008. "I do remember being frustrated, seeing other actors and straight guys my age — and I never want to make it about that, but — thinking, Why are they getting [the parts]? Why am I not getting them?" he added. Hollywood has a long history of casting straight actors to play queer characters — "Brokeback Mountain," "Modern Family," and "Dallas Buyers Club" are just a few examples. "I think anytime as an actor you step out and choose to engage with the media in any sort of way that reveals your personal life, it can be frightening," MacFarlane explained to The Juilliard Journal.
These days, he's made a career out of playing mostly straight leads in Hallmark movies. That being said, he appeared in "Single All the Way" in 2021, a queer-led romance flick. In 2022, MacFarlane headlined the LGBTQ rom-com "Bros" alongside Billy Eichner, playing a Hallmark-inspired love interest. The characters even went on a date to a Christmas market, which is definitely in MacFarlane's wheelhouse.
Luke MacFarlane wasn't sure he'd ever be in a studio film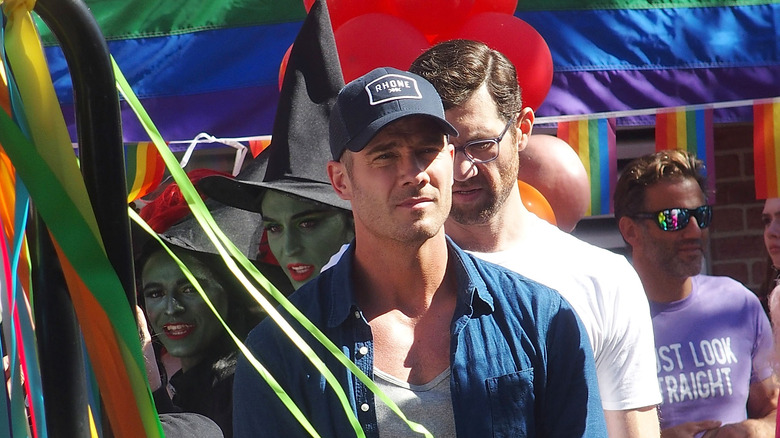 Bobby Bank/Getty Images
Before he landed the role of Aaron, Billy Eichner's love interest in "Bros," Luke MacFarlane decided that big-budget Hollywood movies probably weren't in his future. "I didn't know if [a major studio movie] was ever going to come around for me," the "A Magical Christmas Village" star told IndieWire, adding, "[T]he fact that they did make ['Bros'] for LGBTQ people was my foot in the door." The film gave him a chance to play a character authentic to himself. "I represent another side of the queer community. One that has put a larger foot into this heteronormative space," he continued, referring to his history playing straight leads on the Hallmark Channel. Aaron breaks down traditional queer stereotypes while still recognizing he has a lot to learn from the community — all in all, he challenges his preconceived idea of masculinity.
Although Hallmark has adapted more diverse love stories in recent years, it has a history of sticking to straight plot lines. Candace Cameron Bure, who's appeared in movies like "If I Only Had Christmas" and "Switched for Christmas," left Hallmark for its main competitor, Great American Family, in 2022 when the channel expanded its repertoire. "I think that Great American Family will keep traditional marriage at the core," Bure told The Wall Street Journal, clarifying that the network will not feature LGBTQ couples. Although some corners of the industry are making strides when it comes to representation, other networks are doubling down on prejudice.