Royal Expert Predicts When Prince Harry And Meghan Markle Will Call It Quits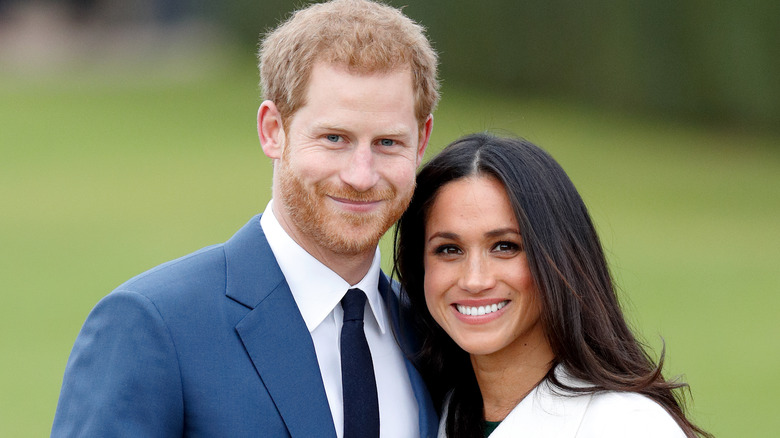 Max Mumby/indigo/Getty Images
Prince Harry and Meghan Markle's relationship has been scrutinized from the very beginning. However, just three years after the Duke and Duchess of Sussex stepped down as senior members of the royal family and moved to California, rumors that their marriage is on the rocks have become abundant. "They're trying to figure out what hit them. Harry doesn't fit in Meghan's tacky Tinseltown world," an unnamed source told RadarOnline in mid-July. Shortly thereafter, another source told Page Six that the report wasn't true and said: "It's literally made up." But while the couple may be doing just fine now, another royal commentator doesn't think the two will last long-term.
During a segment on TalkTV, Kinsey Schofield predicted that Harry and Meghan wouldn't be together past another decade. "Are they splitting up? No. Everyone I talk to says they see it happening within 5-10 years," she explained. She said that she's talked to a few people and that the consensus is that the duke and duchess just don't have staying power. In those discussions that Schofield has been involved in, she revealed some pretty bold claims about Harry — and why it seems his wife won't be sticking around.
Meghan Markle may get fed up with Prince Harry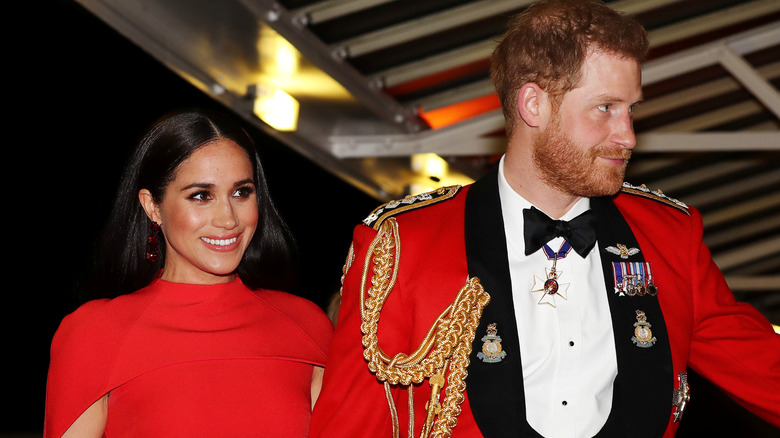 Wpa Pool/Getty Images
While chatting about Prince Harry and Meghan Markle on TalkTV, Kinsey Schofield said that she spoke with a friend of Bill Simmons — the Spotify exec who called Harry and Meghan "grifters" following the end of their deal with the streaming service — who said that Harry "did not want to work" and "just wanted to sit around and smoke pot all day." These are supposedly the signs that the ambitious Duchess of Sussex may end her marriage. And Schofield isn't the only person who seems to be acknowledging a potential struggle within Harry and Meghan's marriage.
In light of the rumors, royal expert Katie Nicholl shared her take based on her personal experience with the couple. In an interview with Entertainment Tonight, Nicholl noted that Harry and Meghan remain close and have "a spark between them that always struck me as being very authentic." However, she knows that it hasn't been an easy road, mainly due to Harry's feud with his family and the fallout from his memoir, "Spare." The book has "left a bad taste in people's mouths. It's further alienated him from his friends and his family, and I think, inevitably, that has put a strain on them," Nicholl said. Nevertheless, Nicholl doesn't see the two splitting up anytime soon. "There's no evidence," she concluded.
An ex-friend claims Meghan bit off more than she could chew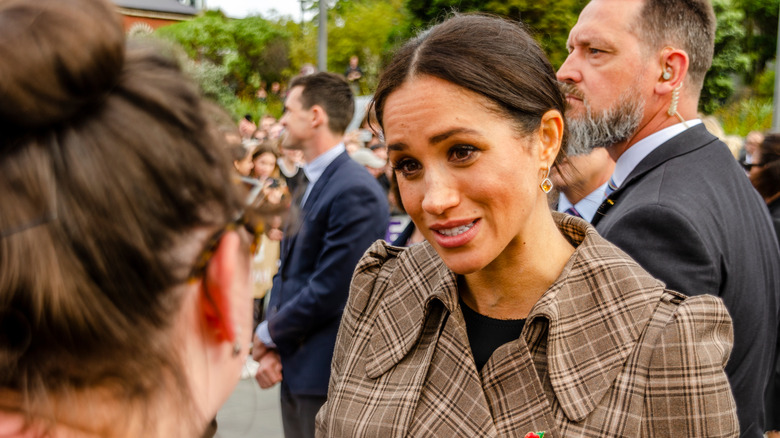 NataliaCatalina.com/Shutterstock
It's nice to imagine that the royal life consists of nothing more than glittering crowns and bedazzled, horse-drawn carriages. But meetings with well-dressed officials, fine dining at palaces, and rubbing elbows with the top celebrities in the world are only a small part of the job. An ex-friend of Meghan Markle's says the Duchess of Sussex wasn't too keen on putting up with the harder parts of being a royal.
"She didn't want to put the hard work in opening hospitals and doing all the roles that royals do," Lizzie Cundy told the Mirror. "It's not easy, it's not glamorous, it's not like on the red carpet." Unfortunately for the duchess, that glamorous vision just never did materialize, and now Cundy believes the non-working royal may be living with regrets. "I think Meghan thought she was going to be the top dog, star of the show and Princess Kate was always going to have that role," she stated.
Cundy, who met Meghan at a charity event, says she is not shocked at all by the divorce rumors swirling around Harry and Meghan. "We could all see the writing was on the wall," Cundy commented. "It's very different when you're a celebrity princess than being a royal princess and frankly Meghan just wasn't up for the job."