Sasha Obama Once Spent A Summer Vacation Serving Seafood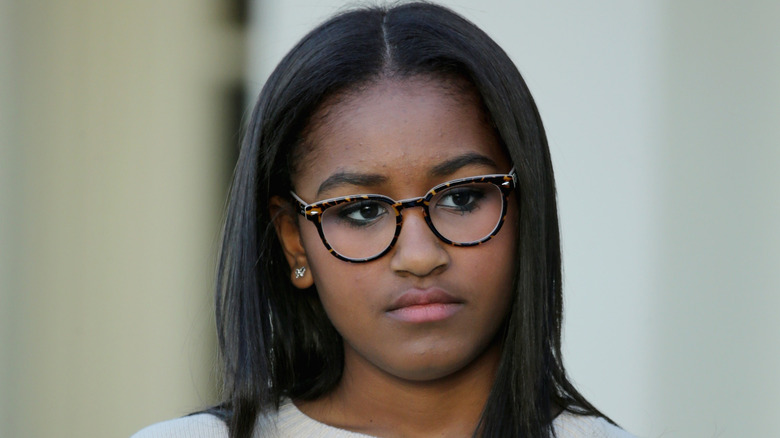 Chip Somodevilla/Getty Images
Sasha and Malia Obama's childhood was far from normal. They grew up in The White House, followed their father, President Barack Obama, on the campaign trail, and had family gatherings with the Bidens. That being said, certain aspects of their upbringing could still be called "traditional," at least to some extent. They got a family dog, Bo (although Secret Service followed them on all their walks) and Sasha even got a summer job serving seafood.
While the Obamas summered on Martha's Vineyard in 2016 — admittedly, the verb "summered" points to a pretty atypical experience in general — Sasha snagged a job at Nancy's Restaurant; she was 15. "She's been working downstairs at takeout," another server told The Boston Herald, adding, "We were wondering why there were six people helping this girl, but then we found out who it was." During Sasha's shifts, a team of security kept an eye on her. At the end of the day, the first daughter would bring them classic New England seafood and climb into a massive SUV with tinted windows. In the words of another employee, "She's been around for a few days . . . It's pretty random." Allegedly, Sasha went by her given name, Natasha, at work. According to The Herald, the first family were long-time patrons of Nancy's and even enjoyed a friendship with the owner.
Michelle Obama wanted her daughter to have a normal childhood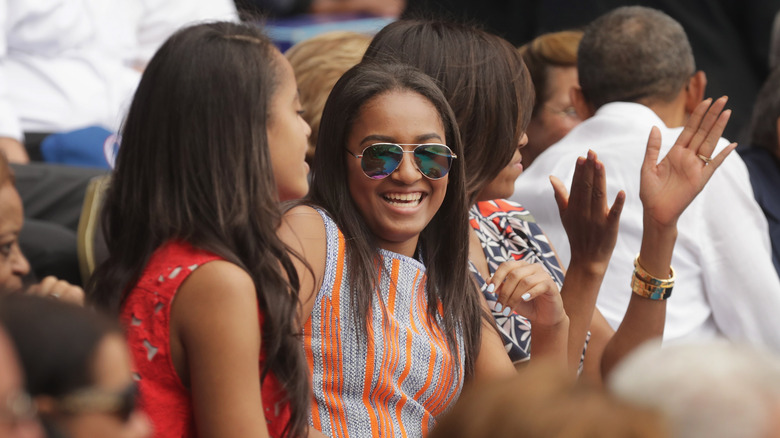 Chip Somodevilla/Getty Images
100% normalcy is hard to achieve if you're one of the most famous families in the world. However, former First Lady Michelle Obama tried her best to give her daughters, Malia and Sasha, a typical upbringing. "What's true for you all in your homes is the same for us," explained the "Becoming" author in a 2011 White House roundtable discussion later documented by Essence. "It's really the interaction that we have as a family that makes it feel like home," she added. "It's sitting down at the dinner table and having Barack's day be the last thing anyone really cares about." Malia was 10 and Sasha was 7 when they moved to Washington D.C. Sasha played basketball with Maisy Biden, Joe Biden's granddaughter, and the two became fast friends. 
What's more, the Obamas weren't too busy to oversee their kids' TV time . . . especially if that involved changing the channel when "Keeping Up With the Kardashians" came on. Parenting is kind of like running a country, sometimes it involves pressing the "off" button and sending everyone back to their rooms. "It takes a couple of times to be, like, 'That didn't sound like math to me,'" Michelle said during the roundtable discussion. "They can have limited access [to TV] on the weekends, and then I try to fill up their weekends with a lot of stuff like . . . sports and games." Michelle Obama also talked her daughters out of getting tattoos.
Martha's Vineyard is a go-to vacation spot for presidents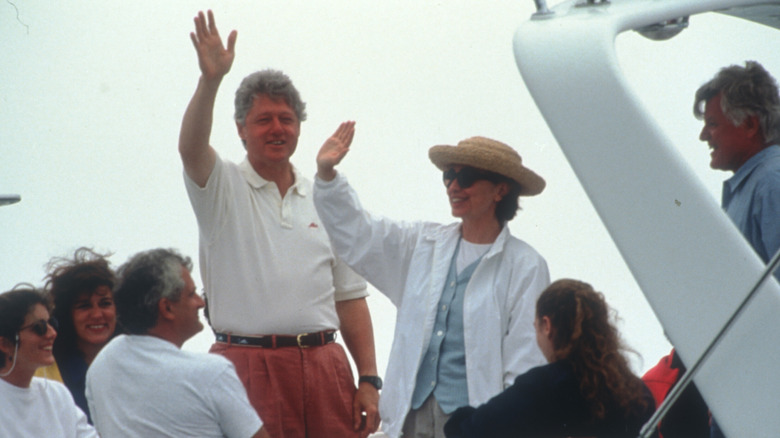 Dirck Halstead/Getty Images
The Obamas aren't the only presidential family that's discovered the appeal of Martha's Vineyard. The Clintons also spent summers on the small Massachusettes island, although Chelsea never took up a job serving seafood like Sasha. According to Boston Magazine, Bill Clinton had a special muffin named after him at Espresso Love, his favorite Vineyard bakeshop, and the former first family crossed paths with Jackie Kennedy during their stays. Barack Obama, too, is represented on local menus (although not at Nancy's where his daughter worked). Allegedly, there was a drink called the "Obamarita" at Sharky's Cantina, and Mad Martha's ice cream shop sold a flavor called "Barack My World." In 2020, the Obamas officially went from summertime renters to homeowners, purchasing a beautiful Martha's Vineyard estate for over $11 million.
As for what Sasha's been up to since her restaurant job? She began her college career at the University of Michigan before transferring to the University of Southern California in 2022. In 2023, she graduated with a degree in sociology. The former first daughter has also become an unintentional TikTok fashion influencer, with countless users praising her "earthy girl" wardrobe.