A Look At Jessica Simpson's Relationship With Sister Ashlee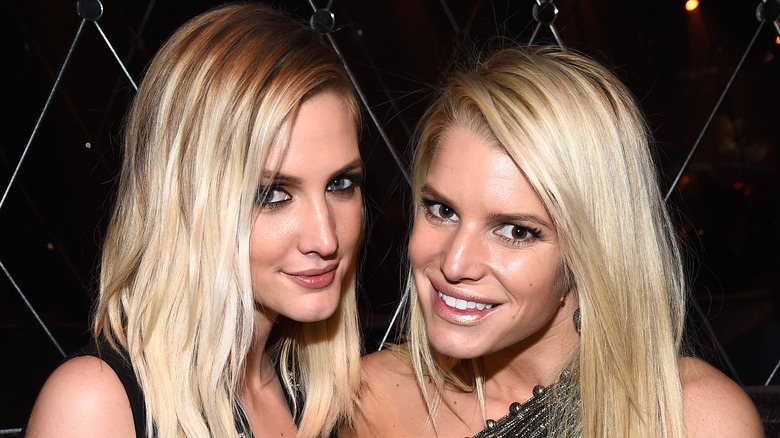 Frazer Harrison/Getty Images
One sister was a hit-making pop star. The other was the younger sibling living in the shadows and trying to find her own fame. This might sound like the premise of a wholesome, albeit unrealistic, movie, but it was real life for Jessica Simpson and her sister Ashlee Simpson in the early 2000s.
Jessica first burst onto the music scene with her debut album "Sweet Kisses" in 1999, when Ashlee was just 15. A few years later in 2003, the elder Simpson added "reality star" to her résumé when she appeared in the MTV show "Newlyweds: Nick & Jessica" with then-husband Nick Lachey. By 2004, Ashlee followed in her sister's footsteps when she launched her own career as a singer and reality series star, and the media was quick to pit the two against each other.
However, even if the sisters were competing for radio plays and TV airtime in a professional sense, behind the scenes, they insisted they were on the same team. "We're sisters," Ashlee Simpson told The Associated Press (via Today) around the time of her first album release. "For us it's not about competition. If she succeeds, then I'm happy, and if I succeed, then our family wins no matter what."
Jessica and Ashlee Simpson stuck together through hard times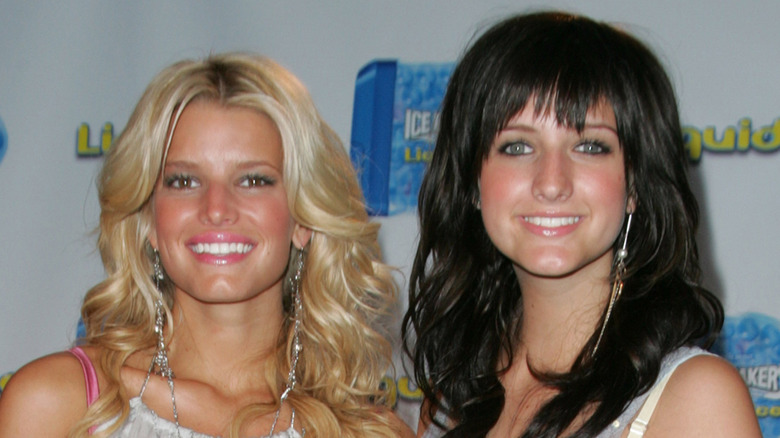 James Devaney/Getty Images
Like most other sisters, Jessica and Ashlee Simpson have experienced their fair share of personal setbacks. But unlike most other sisters, they've gone through it all in front of millions of people. Even with the pressure — and, sometimes, public backlash — they've continued to support each other.
One early blunder came when Ashlee performed on "Saturday Night Live" in 2004 and was caught lip-syncing, perhaps making it one of the most notable live performance bloopers of all time. Big sis Jessica was quick to defend Ashlee after the mistake. "Ashlee is an amazingly talented person and the fact that people are calling her 'Milli Vanilli' is absolutely obscene and ridiculous," Jessica told Access Hollywood (via Digital Spy). "She's already sold three million records which is more than I sold in two years. She's proved herself."
Fast-forward a few years to 2009 when Jessica was the subject of some brutal body-shaming in the press. According to TV Guide, Ashlee responded to her sister's bullies in a now-deleted blog post, saying, "I am completely disgusted by the headlines concerning my sister's weight . . . All women come in different shapes, sizes, and forms and just because you're a celebrity, there shouldn't be a different standard." Even after their 2000s spotlight started to dim, they continued to be there for each other. For instance, when Ashlee divorced Pete Wentz in 2011, she reportedly stayed at Jessica's house for emotional support (via Independent).
Jessica Simpson remains close to her younger sister
It's been a long time since the Simpson sisters had a single land on the Billboard Hot 100 charts — both Jessica and Ashlee haven't released a hit since 2008 — but they continue to support each other's work. In 2018, Ashlee starred in a reality show titled "Ashlee+Evan," and Jessica made an appearance on the finale when Ashlee held her first live performance in years. "My sister and I have a really cool relationship. We've always definitely supported each other through everything that we've done," Ashlee shared in the episode.
In 2020, Jessica released a New York Times best-selling memoir, "Open Book," and Ashlee was quick to praise her sister. In an Instagram post, the younger Simpson wrote, "I am so very proud of my beautiful, brave, kind, loving sister!!! It's beautiful to see you sharing your truth with the world. You are so inspiring. I love you so much. You are a #1 best selling author 😜"
Celebrating each other's live performance on a reality show or the launch of a best-selling book might not be relatable for most siblings, but Jessica and Ashlee still make time for normal sister stuff too. In 2022, Jessica posted an Instagram photo of the two posing for the camera recalling a fun night out dancing.